Super-Affordable (Or Free!) & Delightful Easter Decor Ideas
Tightening your budget this 2021? We're with you! But we also know you don't have to completely cancel your Easter celebration. Even with pandemic safety guidelines, it's possible to create some cheer and have fun with your family on this day.
We rummaged through basketfuls of decor ideas and party suggestions, and compiled these top tips for a budget-friendly yet charming Easter Sunday. Enjoy!
1. Marbled Easter eggs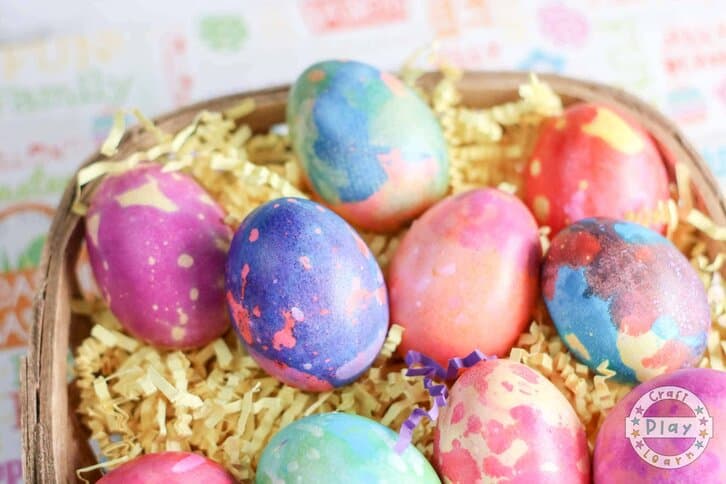 Marbleizing eggs can be a fun and easy activity for kids, and the results look chic for the adult table, too! There are various techniques to achieve this finish: some use nail polish with ceramic eggs, others use wax, but our favorite method is using common kitchen ingredients like food coloring and vinegar. Those eggs above were done by our friends at Craft Play Learn.
2. Festive paper garlands
Forget balloons and plastic streamers. They're not completely safe for children, and only add to environmental waste. DIY some paper decor instead! Easy-to-make paper fans, medallions, and garlands can spruce up your party with more colors and patterns. You can find tons of tutorials online on the many different ways to make paper decor.
3. Napkin bunny ears
You don't need to buy anything extra for an Easter-themed table setting! To get adorable bunnies all over your table, all you need are your pastel-colored table napkins, a little bit of string, and some folding magic. We found an easy how-to at DIY Joy. (Match these napkin bunnies with paper egg place cards -- see item 8 below!)
4. Bright backdrop
Photo booths or photo walls are a great new feature in today's parties. It's a specific setup for picture-taking and selfies, with a themed backdrop and some cute props like bunny-ear headbands and whiskers
Professional party organizers usually set up the photo booth, but you can make one yourself, too. You can hang a large piece of decorative fabric or an oversized artwork print that doubles as dining room decor. We love the one above because of its pastel colors and lovely spring-themed borders.
Wall art pictured above: "Food, Family, Love" Watercolor Premium Canvas
5. Cottontail garland
Here's another super-cute idea for your Easter garlands: cut out some paper bunny shapes and glue a fluffy pompom tail to each one. Attach them all to a length of yarn and tadaa -- an adorable bunny bunting! This one was made by crafty mommy Jenn at Clean & Scentsible.
6. Hanging sprigs
Wreaths are a common feature in Easter decorating, but for something even more effortless yet pretty, hang your spring botanicals directly on the wall. You can opt to place them in a wall-mounted container first, like above. Or you can just arrange them in sweet little bunches, wrap with ribbons or decorative paper, and attach to the wall like sconces.
Wall art pictured above: "Prayers Go Up, Blessings Come Down" Premium Canvas V2
7. Potted herbs table accents
Another lovely alternative: instead of spending $$$ on floral centerpieces, accent your table setting with small potted herbs and flowers! You likely already have these in your garden or on your windowsill. If you want, you can carefully replant them in prettier pots, or just jazz up your current ones with a little paint.
Wall art pictured above: "Eat Well, Travel Often" Premium Canvas
8. Paper egg place cards
This year, we're discovering the endlessly charming ways to decorate with paper. For example, just look at this super-cute 3D egg place card, made of scrapbook paper! We bet you can use these crafts not just as dining table decor but also as coffee table accents, hanging garlands, or party game props. Thanks to the Lars blog for the tutorial!
9. Spring-themed pillows
Whether you're having your Easter party indoors or in your backyard, adding cushions can make the setup much cozier. For a vibrant ambiance, don't be afraid to mix and match pillow designs while still sticking to your spring theme. Our best bets are pastel-colored cushions with floral or botanical prints, like the ones above and below.
Pillow pictured above: Personalized Name Pillow With Floral Print
Pillow pictured above: "It's Always Better When We're Together" Floral Design Pillow
10. Egg carton basket favors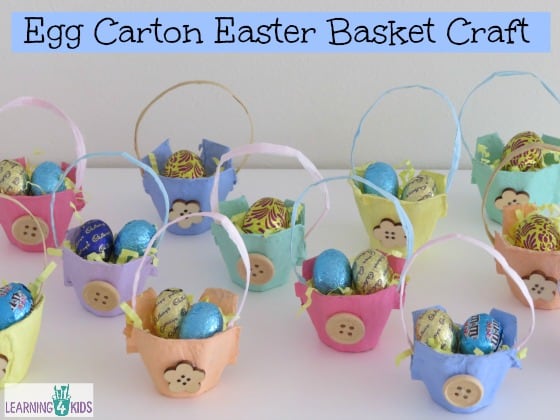 This classic Easter craft continues to delight kids -- whether they're making them or receiving them! Enlist your little ones in an afternoon of crafting. We found one child-friendly tutorial from Learning 4 Kids, which results in cute-as-a-button kiddie baskets. You can also make grownup versions of these Easter baskets stuffed with little trinkets as favors.
11. Rustic accent
Farmhouse interior design is perfect for Easter. Think barn motifs, quaint upholstery, wildflowers, and plenty of weathered wood. If you feel like adding more farmhouse style into your home, we highly recommend hanging wood-like canvas prints. They bring a nice, rustic feel without the cost of real wood! Hang a large print in your entry, dining room, or kitchen, and notice the difference.
Wall art pictured above: Personalized "This Is Us - Crazy, Loud, Love" Premium Canvas
12. Colorful canvas
Meanwhile, if you want to inject more color into your Easter party setup, colorful canvas prints are also a fab option! They're inexpensive, they don't need a glass frame, and they don't require as much care and maintenance as photo prints. When you have a vibrant, spring-themed artwork as your focal point, you don't really need expensive floral arrangements or ornaments anymore. You already have something to wow your guests.
Did any of these Easter decorating ideas capture your fancy? Or do you have a decor tip of your own? Tell us in a comment!
And if you liked the home items and decor featured here, we have tons more on GearDen.com -- browse now, and happy Easter decorating!
Leave a comment
Comments will be approved before showing up.
---
Also in Gift and Decor Guides
The best interiors are those that strike the perfect balance between comfortable and beautiful. So how do they do it? Here are some of their 'secrets' -- which aren't really secrets, but tips and habits that you can apply in your own home.
The search for your Mother's Day present stops here! After lots of feedback from our real-life customers, we've realized that 
a custom wall art is the best (material) thing to give to mom
 this year. Here's why.
If you'd love to make a good impression on your guests -- or just really love decor that can't be found anywhere else -- we got you! These wall art ideas are unique, one-of-a-kind, and charmingly attractive, they'll add character to your home.