10 Awesome Wall Decor Ideas for a Teen's Room
A teenager's bedroom is sacred space. This is the most personal spot for any adolescent, a hideout from all the drama of life, and an exclusive hangout for the closest friends. So it goes without saying that a teenage bedroom is a reflection of its owner's truest personality.
Still, this doesn't mean that the room always has to be filled with old posters and messy collages. There are plenty of ways to redecorate a teenage bedroom without losing its personality. If you're looking for ideas for your own bedroom -- or if you're a parent looking for gift suggestions for your teen -- check out these great decor tips that'll make that space a real personal haven.
1. Cool bedroom mural
An accent wall easily transforms any space, like the bedroom above. Thankfully, you don't have to repaint an entire wall to get your own flavor. Just browse the endless wallpaper and wall mural options out there, and you'll surely find one that perfectly matches your personality.
2. Personalized wall art
Hanging a piece of artwork with your name on it is instant style. Just look at this classy but absolutely personal monogram art! The best part is, you can have this piece customized so it's your name, initial, and birth year showcased on the canvas.
3. String lights and neon lights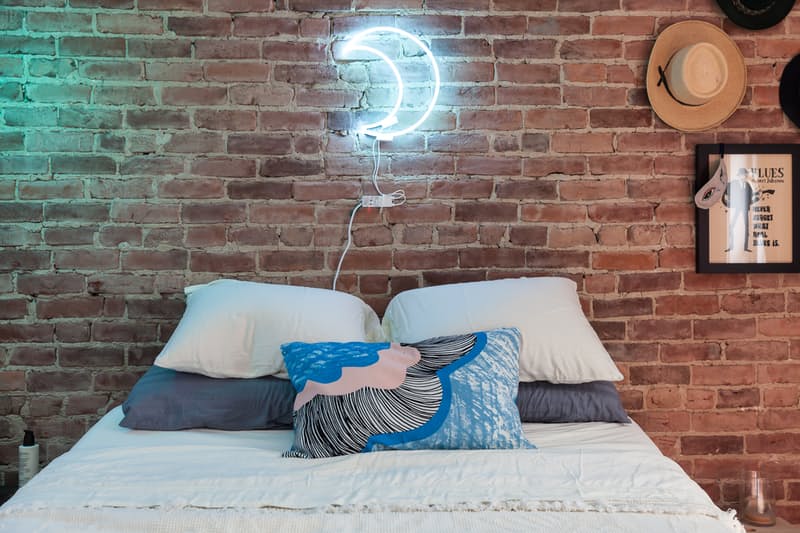 String lights are a classic way to spruce up a teen bedroom. For a more modern and trendy look, opt for a neon sign instead! Yep, these bright lights are not just for dive bars and diners anymore. There are plenty of cute (and cheeky) neon lights that go so well into a youthful bedroom.
4. Cute wall decals
Maybe you already like your wall color, but there's just something missing. Try adding wall stickers or decals! The great thing about these wall decorations is that they're cheap and easily removable, so you can always change them up to match your mood.
5. Funky pop art
Who says art always has to be serious? We love this bright and colorful canvas print that reminds us of vintage comic books. This artwork just pops no matter which wall you hang it on!
6. 3D wall decor
Take your wall decoration one step further by doing it in 3D! Add three-dimensional stickers to jazz up your wall, mirror, door, or window frame. These 3D butterfly stick-ons even glow in the dark so you can (secretly) keep that childhood fascination with luminous objects.
7. Custom portrait
Posting a new selfie may be cool, but having a unique, professionally-made portrait is even cooler. Can your Instagram filter do it this good?
8. Inspirational wall art
Motivational art doesn't have to be boring! There are lots of inspiring artwork that incorporate fresh, attractive designs, so you can get that dash of inspiration you'll actually want to look at every day. We love this dandelion wall art that's soothing and hopeful at the same time.
9. Clever DIY wall frames
You want to organize all those photos displayed on the wall, but picture frames can cost some money. Here's a genius lifehack: use tape to border your photos directly on the wall! Hunt for washi tape (Japanese decorative tape) that suit your taste -- or pick multiple tape designs for extra jazz.
10. Typography
Typography is the art of creating designs from text or words. And since teen-speak is rich with hot new vocab, why not use your favorite expression to accentuate your wall? This "YOLO" wall art, for example, looks so stylish in gold and black.
Which one of these teen bedroom ideas is your favorite? Tell us in a comment!
For more of the fantastic canvas prints featured above, head on over to the best-selling Gear Den collection.
Leave a comment
Comments will be approved before showing up.
---
Also in Gift and Decor Guides
The best interiors are those that strike the perfect balance between comfortable and beautiful. So how do they do it? Here are some of their 'secrets' -- which aren't really secrets, but tips and habits that you can apply in your own home.
The search for your Mother's Day present stops here! After lots of feedback from our real-life customers, we've realized that 
a custom wall art is the best (material) thing to give to mom
 this year. Here's why.
If you'd love to make a good impression on your guests -- or just really love decor that can't be found anywhere else -- we got you! These wall art ideas are unique, one-of-a-kind, and charmingly attractive, they'll add character to your home.