11 Quick and Gorgeous Thanksgiving Decor Ideas
Can you believe Thanksgiving is less than a month away? If you're still looking for quick ways to decorate your home before that all-important dinner, we've got you covered. The autumn season provides plenty of decor inspiration -- it's all just a matter of bringing the festive fall into your home. Check out these easy tips that instantly produce cozy, beautiful results.
1. Thankful and blessed
Of course, Thanksgiving is all about gratitude, which is why this canvas wall art is so apt for the occasion. But really, this piece is a reminder not just for this season but for every single day of the year.
2. A warm welcome
Wreaths are a staple in fall decorating, but another way to make your guests feel right at home is to spell it out! This canvas wall sign is just perfect for this season of entertaining.
3. Fall on the wall
Speaking of walls, you can easily make fall-themed wall hangings with materials you can find in your backyard. Autumn colors and textures are naturally gorgeous, so you don't need much effort to craft wall decor like the one pictured.
4. Blooms in the air
A floral chandelier over your Thanksgiving table is sure to wow your guests! We like this particular DIY tutorial as it includes water for your hanging flowers, but you can also order a custom flower chandelier if you're pressed for time.
5. Wine rack upgrade
When entertaining at home, sometimes all you need is a little unexpected twist to make regular items remarkable. Take your functional wine shelf, for example, and upgrade it to this stylish wine rack that guests will remember.
6. Rustic flower vases
Forget buying new vases specifically for this season. You can make your own and they could be even lovelier! These DIY vases have that rustic feel that goes so well on your sideboard or mantel.
7. Gathering and dining
It can't get any easier than this: Put up this charming dining room art and you've instantly set the tone for a pleasant dinner. Cheers to friends and family!
8. Autumn lights up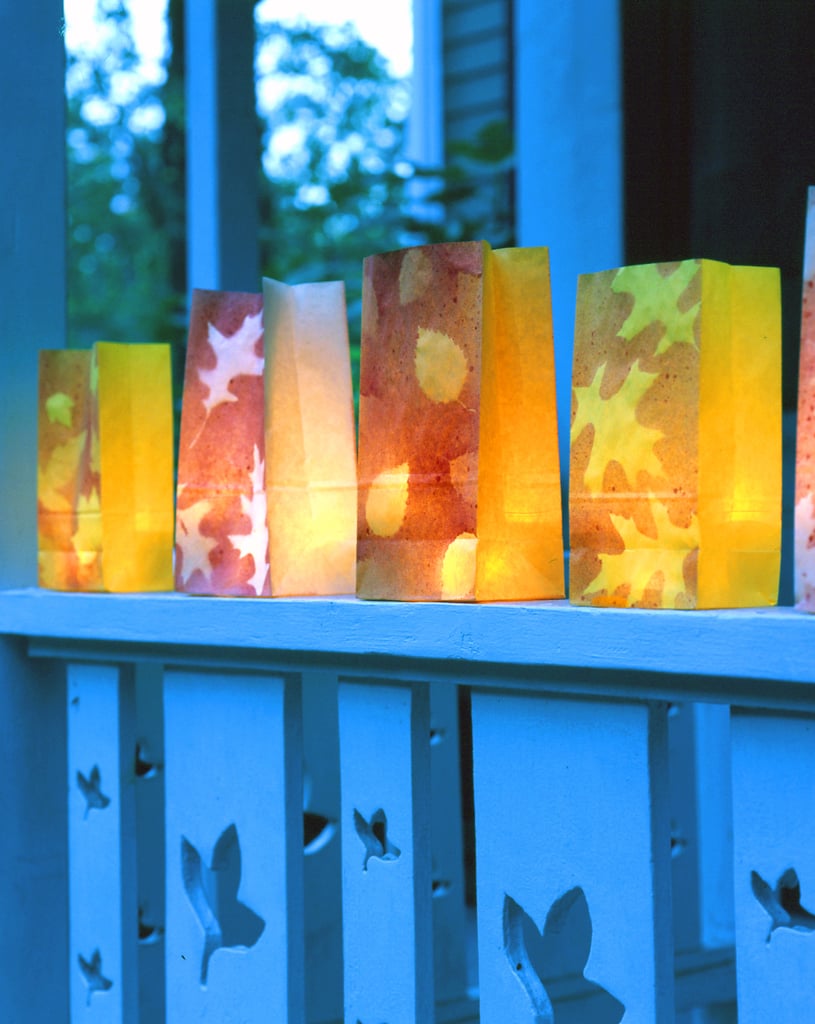 An easy way to make your home feel cozy? Use mood lighting in the form of luminaries! Additional tip: Use battery-powered candles for safe and stress-free decorating.
9. Pretty pinecones
Last-minute fall decorating? Gather some pine cones, bundle them together with a nice ribbon, and hang them up on doors. Voila -- autumn in less than five minutes!
10. Gratitude all around
Here's a piece that's great not just for Thanksgiving but all year round. This rustic-inspired wall art is a pretty reminder of gratitude anywhere in the house.
11. Fanciful drinks
And finally, we sprinkle this list with a dash of whimsy. This kitty bottle holder is just too cute not to include here -- and on your Thanksgiving table! Plus, it comes in a nice coppery finish that will match your autumn-inspired home.
Which ones on this list are you going to try this season? Tell us in a comment! For more decor ideas and home items you'll love, see our best-sellers at the Gear Den shop. Happy Thanksgiving!
Leave a comment
Comments will be approved before showing up.
---
Also in Gift and Decor Guides
One of the best things to pair with wall art is
your beautiful indoor plant! Many interior decorators and home magazines use this trick. Want to see tips and examples of art-and-plant 
combos
? Read on!
We found a fresh way to customize your wall decor: feature a special date in it! The result is a wonderful and lasting memento for you, and an impressive conversation-starter for your guests. See these personalized date wall art examples!
What does "Mediterranean style" or "Scandi style" mean? What decor elements make a "Zen" home? And what in the world is "Florida design"? Here's an intro to various interior styles from around the world, with tips and examples.