Don't Skip These 5 Essential Pro Tips for Choosing Wall Art for Your Home
You have a blank wall, and you know it's just begging for artwork. In many ways, this can be daunting: wall art is something you will see every day, and something that will draw your guests' eye. You don't want to purchase a piece that looks awkward on your wall, or worse, becomes an eyesore!
Don't fret -- you can choose the perfect wall art with a little help from the pros. Here, we've compiled five vital tips from professional decorators on how to choose artwork for any room in your house.
1. Account for size and scale.
"Size matters!" is the number one mantra in picking wall decor. Artwork ends up looking awkward when it's too small or too big. And it's not just in relation to the wall but also to the size of surrounding furniture and of the room itself.
As a guideline, artwork should nicely cover about half of a wall. If you're hanging it above furniture like a sofa or a bed, the sweet spot for the artwork's width is 3/4 of the furniture's, say the creative folks at Jones Design Co.
One thing we'd add is to always be conscious of the dimensions before buying a wall piece. And don't forget to convert between centimeter and inch when needed!
Art pictured above: "Water Color Tennis"
2. Consider color.
A very basic yet important concept in art is that colors can either contrast each other (like gray and yellow) or be analogous to each other (like blue and green).
You can go either way when picking art for your wall. A piece with a contrasting color can serve as an accent, while artwork that's analogous to your wall color can easily create a harmonious, put-together effect.
Art pictured above: "With You, I Am Home"
3. Matching a theme? Find a 'genre' instead.
Sticking to a theme is an age-old guideline for designing your space, but you may find this principle difficult to uphold and also cliché. In lieu of this, we recommend what the lifestyle mavens of Used York City call the 'genre' of the room. It's not the specific motif but the overall feel or tone of your space.
You don't have to stick to "Japanese Zen" or "1950s Cinema" -- you can simply go with minimalist, glam, or cozy. With this, you are not limited in your art choices, but can still decorate with compatible and coherent pieces.
Art pictured above: "You & Me (And The Dogs)"
4. Buy where you like.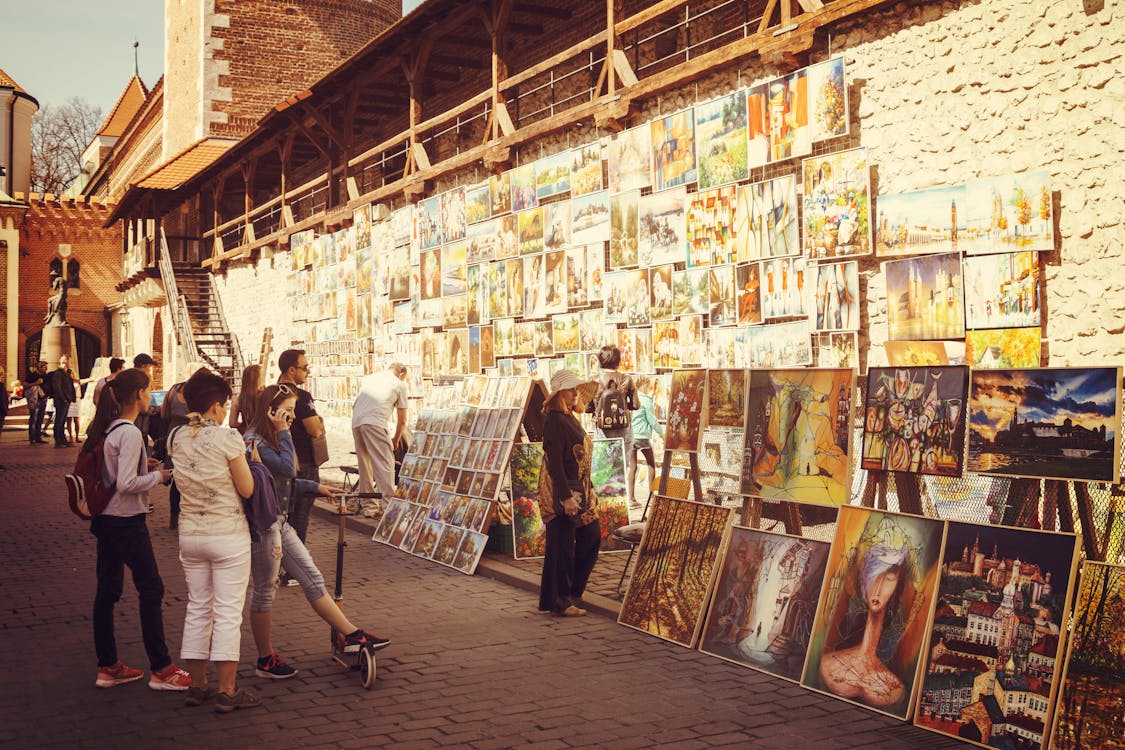 When we talk of wall art, it doesn't always mean expensive paintings from galleries. There's an endless array of artists and suppliers out there using various channels to sell their pieces, including plenty of affordable ones! In fact, many decorators would tell you to scour the internet for accessible art, especially if you are still exploring your tastes.
Bonus tip: A good way to find art sources is through referrals. Next time you're at a friend's house and see wall decor that you like, don't hesitate to ask them where they bought it!
5. Buy what you like.
We've heard what various decorators have to say, and this is by far their most important advice. Don't be afraid to go with your instinct and buy what you like! It is, after all, your home that you're decorating, so your preference is the number 1 rule. As artist Zoë Pawlak says, "Choose art at a heart level."
Plus, if you keep hunting for pieces you love, you'll gradually develop and get to know your own artistic taste, which is itself one of the good finds in life.
Art pictured above: "YOLO" Gold Typography
Do you have a trusty tip when it comes to wall decor? Share with us in the comments! Or if you're ready to find your perfect wall art, head on over to the bestselling Gear Den canvas collection!
Leave a comment
Comments will be approved before showing up.
---
Also in Gift and Decor Guides
The best interiors are those that strike the perfect balance between comfortable and beautiful. So how do they do it? Here are some of their 'secrets' -- which aren't really secrets, but tips and habits that you can apply in your own home.
The search for your Mother's Day present stops here! After lots of feedback from our real-life customers, we've realized that 
a custom wall art is the best (material) thing to give to mom
 this year. Here's why.
If you'd love to make a good impression on your guests -- or just really love decor that can't be found anywhere else -- we got you! These wall art ideas are unique, one-of-a-kind, and charmingly attractive, they'll add character to your home.