Beautiful Through Generations: 10 Family Heirloom Ideas
Every parent and grandparent wants something valuable and beautiful to hand down to their family for many generations. But while not all of us get to keep a Ming Dynasty vase or an original Rembrandt painting, we can always preserve some treasures that are unique to our family. Because these items are one-of-a-kind and personal, they're inherently valuable -- but also, who knows, maybe one day, they'll turn out to be an unexpected goldmine, too!
Here are lovely family mementos, keepsakes, and projects that you can start to preserve for your children and grandchildren.
1. Letters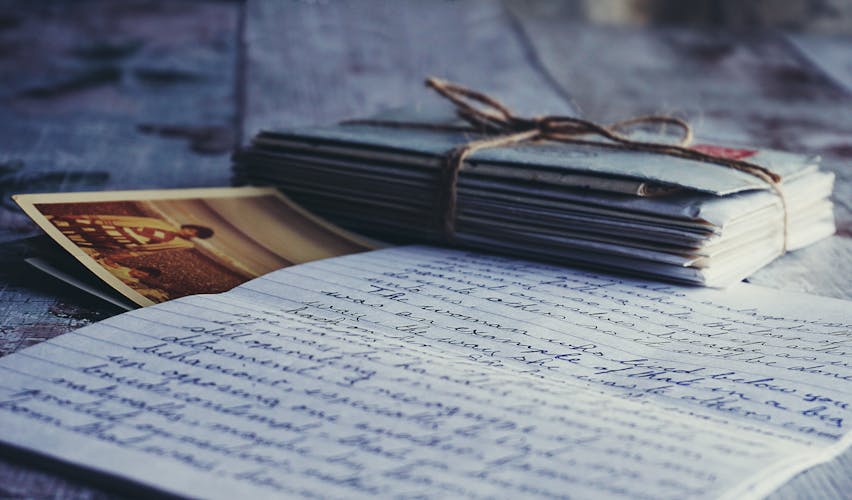 Paper letters -- especially handwritten ones -- are becoming more and more rare. Perhaps it's a communication from a long-distance loved one, or a postcard from someone on a holiday. No matter how simple the message is, it will only become more interesting over time. Sometimes, even the most mundane details ("I've begun outlining my novel" or "Talking to you was a delight") can later become meaningful bits of history.
Protect those communications in a dust-free, waterproof container to serve as an irreplaceable time capsule for your kin.
2. Portraits
Some of us have commissioned family portraits, some have excellent original works by their own family members, others simply print premium photos. Whichever family picture you have on your wall right now, you want it to last for a long time. Our suggestion for a high-quality yet affordable family art? A premium canvas print personalized with your family photo.
3. Literature made rare
Do you have a favorite book with a meaningful inscription in it? Or maybe an old edition that's difficult to find these days? It may be worth more than you think, money-wise or sentiment-wise. What's more, its value could go up over time.
Whether or not you plan to cash in on your volume, its inherent value is right there: the text, the literature. And that's definitely something good to pass on to the next generations.
4. Family name art
A classic family nameplate, monogram, or emblem is the quintessential heirloom. If your family doesn't have one right now, it's never too late to create it! Thankfully, there are many easy ways to do this now, especially with the customizable art options available online. Try a personalized name monogram that's printed on premium canvas. The one above even includes the year that your family began!
5. Family linens
There's a reason why quilts, blankets, and comforters are very popular as keepsakes. They are some of the most personal items that family members share, and they are useful representations of comfort and home. Plus, they can be personalized to reflect an episode in your family's journey. Think baby blankets and graduation quilts. And if you can't craft these yourself, you can have a customized one made for your own household.
6. Memorial art
It can be tricky to memorialize a loved one who has passed on. You want to celebrate their wonderful life and legacy, but you also want to keep it tasteful and timeless. You can do this with a nice memorial art, like the customizable canvas print above that features a photo of your loved one alongside a fitting message.
7. Family recipes
This is an idea we so love! Since home-cooked food will never go out of style, your secret family recipes will always be sought after. Why not preserve them in their original form, kitchen stains and all? You can proudly display them in glass frames (that look charming as kitchen decor), or you can opt to protect them in a paper-friendly case to keep in your private collection.
8. Jewelry
Needless to say, jewelry made of gold, silver, or precious gems make valuable family property. But an item doesn't have to be expensive for it to have worth. Perhaps you have a bracelet that your mom crafted for you, or a simple ring that has been passed on from your great-grandfather. It can even be a gift that was given to you to mark an important occasion like a graduation, wedding, or birthday. The beaded necklace above, for instance, is made from simple materials but is beautiful as a keepsake.
9. Locale photos
Simple photographs can be amazing snapshots of history. Take a look at your grandma and grandpa's old albums, and you'll notice how your neighborhood or city has changed. Sometimes, these old photos even capture a momentous event, like the construction of a huge building or the performance of a would-be music legend.
Protect these photos in cases lined with acid-free paper. And if you haven't already, start taking your own pictures, too! Make it a point to actually print them out so they don't lie forgotten among your digital files.
10. Dedicated quote art
Each family has its own wisdom, encapsulated in sayings and proverbs. Remember when your father told you, "Family is not just an important thing -- it's everything"? As we grow older, we realize that such wisdom rings true and is absolutely priceless. Immortalize it in a beautiful way by turning it into personal typography art that your children and grandchildren can learn from.
These heirloom ideas are so wonderful that we can't wait to make our own! Do you have a family keepsake you're proud of? Share with us in the comments!
For more family art gifts and ideas, browse GearDen.com for items that American homes love.
Leave a comment
Comments will be approved before showing up.
---
Also in Gift and Decor Guides
If you'd love to make a good impression on your guests -- or just really love decor that can't be found anywhere else -- we got you! These wall art ideas are unique, one-of-a-kind, and charmingly attractive, they'll add character to your home.
We picked the easiest, most practical, most appealing decor tips and storage tricks for you! No complicated handiwork, no expensive purchases, no shabby-looking results. Just simple, clever solutions. Try these today!
Even if you're tightening your budget this 2021, you don't have to cancel your Easter celebration. We rummaged through decor ideas and party suggestions, and compiled these top tips for a budget-friendly yet charming Easter Sunday. Enjoy!