For A Cozy Home, Try the Scandinavian Art of Hygge and Lagom
Browsing through home decorating articles, you've probably come across references to Scandinavian or Nordic interiors. What is it about this part of the world that makes them a huge inspiration for interior design? Well, in a nutshell, they've mastered the art of creating a cozy, balanced, beautiful home. And it could all be ascribed to two Scandi lifestyle concepts: hygge and lagom.
Let's get to know these decorating concepts through their definitions, examples, and tips. Read on for some major interior style inspiration.
What is hygge?
In Danish and Norwegian, hygge (pronounced 'hue-guh') is a word that means a cozy, content feeling of well-being. There is no exact English translation for this, but you've surely experienced this in various situations.
When you're winding down at night with your favorite candles and some good music, that's hygge. When you're taking a stroll -- alone or with a loved one -- and the air is crisp and clear, that's hygge. When you're comfortably curling up with a book and a hot drink on a slow, snowy day, that's definitely hygge. 
This beautiful way of being is so ingrained in Nordic culture that their homes easily reflect it. Here are some examples of hygge interiors that you can copy for your own home.
1. Rustic charm
Hygge works so well in small spaces, as this tiny corner nook shows us. The designer has created that snug, intimate ambiance by filling the space with rustic elements: wood paneling, indoor plants, and dainty lighting (we highly recommend candles and warm bulbs). Carve out a corner like this in your home and you'll have a happy haven for those long winter days.
2. Light-filled bedroom
Natural light is one of the most important elements for a relaxing indoor atmosphere. Just take a look at this beautifully-lit bedroom! A space like this is perfect for those days when you just want to lay in bed all morning, having breakfast in bed or reading a good book.
Wall art pictured above: "Five More Minutes" Premium Canvas and "Art Deco Sky" Premium Canvas
3. Lovely dining nook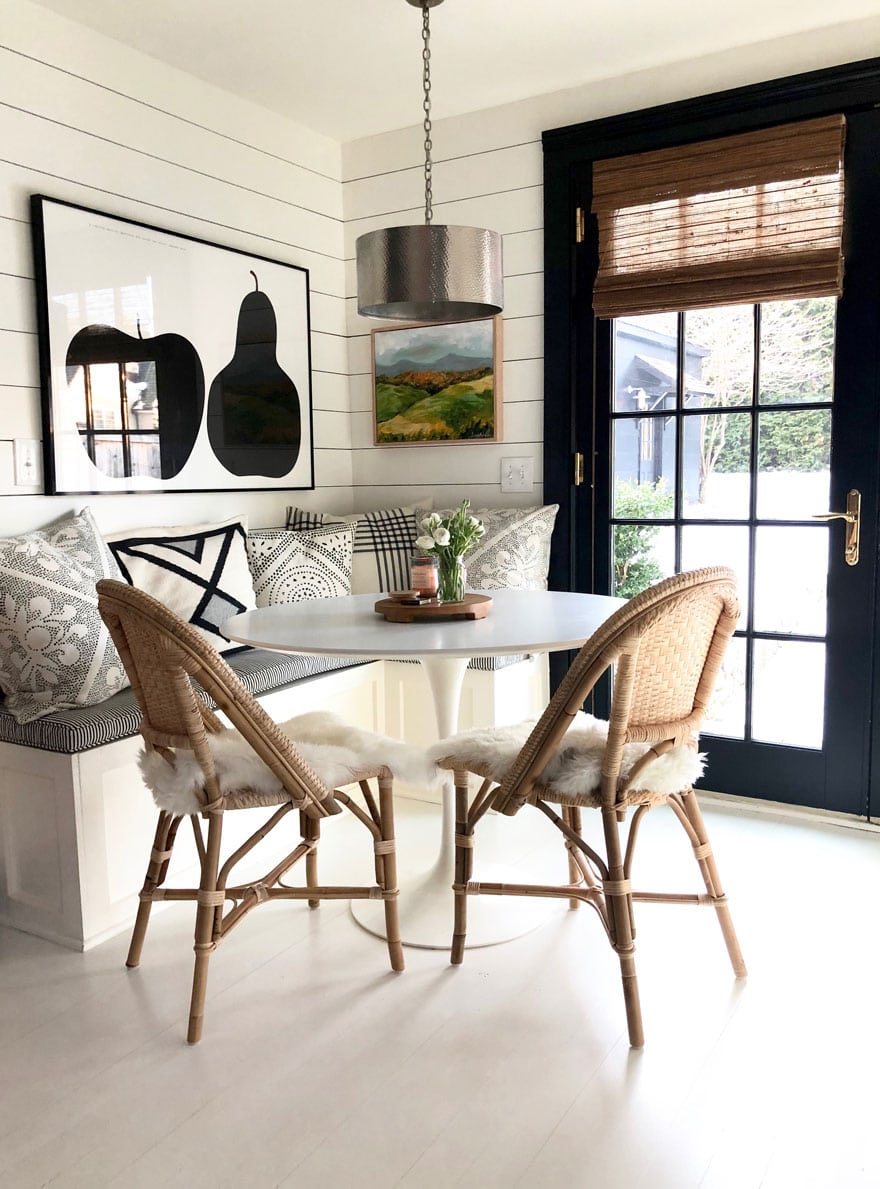 We're in love with this kitchen banquette created by decorator Annie Diamond! First, she maximizes a small corner space with clever seating and a circular table -- so now it seats four or more. Then she outfits the space with cushy upholstery and relaxing art pieces that create an ultra-homey vibe. You'd never want brunch to end here!
4. Filled with fluff
As we have now learned, a space instantly looks cozy when decorated with stylish cushions. We highly recommend throw pillows that you can mix and match. Don't forget to pick ones that go with your relaxing color scheme.
Pillow pictured above: Personalized "Mr. & Mrs." Pillow With Name And Year
5. Bathroom naturals
Another thing that Scandinavia is known for? Spas and saunas! So it makes sense that hygge style fits right in the bathroom or shower.
Now, we can't all get outdoor tubs and retreat-style bathscapes, but we can emulate the feel. Start with clean, bright walls -- declutter and organize. Let in as much light as possible, then equip your bathroom with natural materials like wood and stone. Our favorite tip is to add a wooden bath tray, which you can fill with your soaking essentials. Don't forget the scented candles!
What is lagom?
Lagom (pronounced 'law-gohm') is a Swedish word that means "balanced moderation" or "just right." It can be an adjective for anything (e.g. just the perfect dress fit, just the right amount of sugar), but in the context of interior decorating, it refers to the balance between livability, practicality, and aesthetics. In other words, just the right amount of decorating.
Homes that have lagom style are not grandiose or showy, but also not too starkly minimalist. They're clean, spare, and practical, but also utterly comfy and inviting. Achieving this style means being mature and deliberate about your decor choices (a cohesive decor scheme is a must!), while also allowing a natural ease to the space.
If this sounds like your style -- or if you want a better idea of what it looks like -- take a look at these doable examples of lagom interiors:
1. Crisp whites and natural neutrals
Clean, bright white is the quintessential base for lagom decorating. You can also pick another base color that's clean and easy to the eyes, like light gray. From there, you can accentuate your room with a calming color or two. Warm, natural neutrals are a foolproof color family, which includes light wood and soft grays. If you want more color, opt for a soft, pastel palette of blues, yellows, or pinks. 
2. Cozy textiles
Swedish winters call for a lot of snuggling, so lagom interiors typically feature a lot of blankets, coverlets, and throws. To keep your room from looking frumpy, make sure your throw blankets are stylish and in line with the overall decor scheme. And of course, pick ones that actually keep you warm. Fleece fabrics are a top choice.
Blanket pictured above: Personalized "We Should Probably Cuddle" Premium Fleece Blanket
3. Plant some vitality.
For a style that prefers to be sparse, lagom sure doesn't feel clinical. One secret to keeping it cozy is to add living greens to your indoor space. In particular, lush leafy houseplants lend softness and ease to the room. See if you can fill your home with low-maintenance but beautiful indoor plants such as monstera, fiddle-leaf fig tree, pothos, and snake plants.
4. Clutter-free
Easy living is possible when the house is free of stressors like disarrayed shelves and topsy-turvy countertops. Apart from full-on decluttering, our favorite trick to keep rooms neat is to invest in concealed storage (cabinets and closed shelves) so you can hide away the stuff you're not letting go of.
Bonus tip: You'll also love the effect of having uniform containers! This is especially great for the kitchen (see above), where spice jars and bottles just have to stay on the counter. To keep them from looking cluttered, place them in cohesive container sets instead.
Wall art pictured above: "But First, Coffee" Premium Canvas
5. Streamlined furniture
In keeping with the easy elegance of lagom, you'll notice that it leans towards simple furnishings that don't bring a lot of visual weight. Couches and sofas are in basic, uncomplicated shapes. Tables and desks are made of lightweight materials such as light wood and slim metal frames. Even lighting fixtures are so simple yet sophisticated.
Wall art pictured above: Elegant Pink Flamingo Premium Canvas
We hope this primer on Scandinavian style has been helpful and inspirational to you. Tell us favorite decor tips in the comments!
If you're ready to redecorate, GearDen.com has tons of wall art, throw pillows, and blankets that are highly rated by customers like you. Click here to start browsing!
Happy Scandi decorating!
Leave a comment
Comments will be approved before showing up.
---
Also in Gift and Decor Guides
If you'd love to make a good impression on your guests -- or just really love decor that can't be found anywhere else -- we got you! These wall art ideas are unique, one-of-a-kind, and charmingly attractive, they'll add character to your home.
We picked the easiest, most practical, most appealing decor tips and storage tricks for you! No complicated handiwork, no expensive purchases, no shabby-looking results. Just simple, clever solutions. Try these today!
Even if you're tightening your budget this 2021, you don't have to cancel your Easter celebration. We rummaged through decor ideas and party suggestions, and compiled these top tips for a budget-friendly yet charming Easter Sunday. Enjoy!