WOW: 12+ Fantastic Ideas to Embrace Maximalist Decor
We know everyone's a fan of minimalism these days, and for many good reasons. Minimalist homes are relaxing, balanced, and comfortable. But recently, there's also a growing interest in maximalist decor -- the big, the bustling, the vivaciously elaborate. When done right, maximalism in home interiors can be mood-lifting and aesthetically appealing -- it just might be your perfect style!
Don't believe us? Take a look at these amazing tips and examples of maximalist decorating, and see which ideas can liven up your own home.
Tips For Decorating In Maximalist Style
Start with one base color or motif, and pile on your patterns and ornaments from there.
Don't sacrifice space. Leave lots of floor footage, and maintain an adequate amount of lighting in the room to avoid it looking cramped.
When in doubt, apply in small doses. Choose just one corner, nook, or wall in your house to experiment with. (Thank goodness accent walls are in!)
Fab Examples of Maximalist Interiors
1. Concealing flaws with a gallery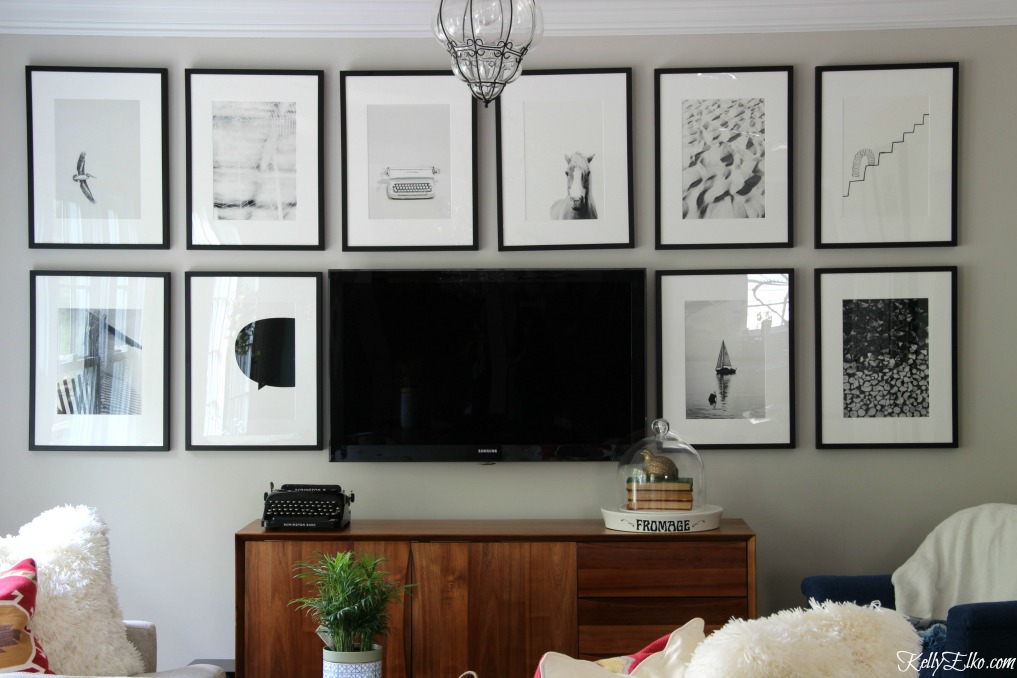 Gallery walls are an easy focal point, but they can also ingeniously hide eyesores in plain sight! Just take a look at what blogger Kelly did above. She wasn't a fan of how her TV stuck out like a sore thumb, so she flanked it with lots of artworks. The result is a huge yet tasteful wall of art where the black appliance fits right at home. You can also use this trick to disguise other wall attachments like switches, thermostats, and circuit boxes.  
See more tips on hiding household eyesores here!
2. Romantic bedroom in monochrome
Maximalism doesn't have to mean piling on bright, garish colors. As this lovely bedroom shows us, a monochromatic color scheme can wow with some ornate pieces. This bedroom doesn't just stop at the extended carved headboard, it also tops it off with a large romantic calligraphy artwork. The overall look is grand yet graceful.
Wall art pictured above: "My Favorite Place Is Next To You" Premium Canvas
3. Spa-like jungle bathroom
Here's a wonderful surprise: maximalism can be relaxing, too! The above bath area, decorated by Reddit user Kblazed15, is a stunning oasis with lots and lots of indoor plants. Can you imagine soaking here with the lights dimmed and your favorite scent in the air? It must be heaven!
4. Up to the ceiling
Who says you have to keep your decor away from the ceiling? This bedroom proves that you can always top your bed with a high headboard plus an artwork if you please. What makes this design work are the proportions: because the wall sign and the headboard are so proportionally matched, and because they are more wide than tall, it's easy to stack them up without looking cluttered.
Wall art pictured above: Personalized "We Decided On Forever" Premium Panoramic Canvas
5. Floored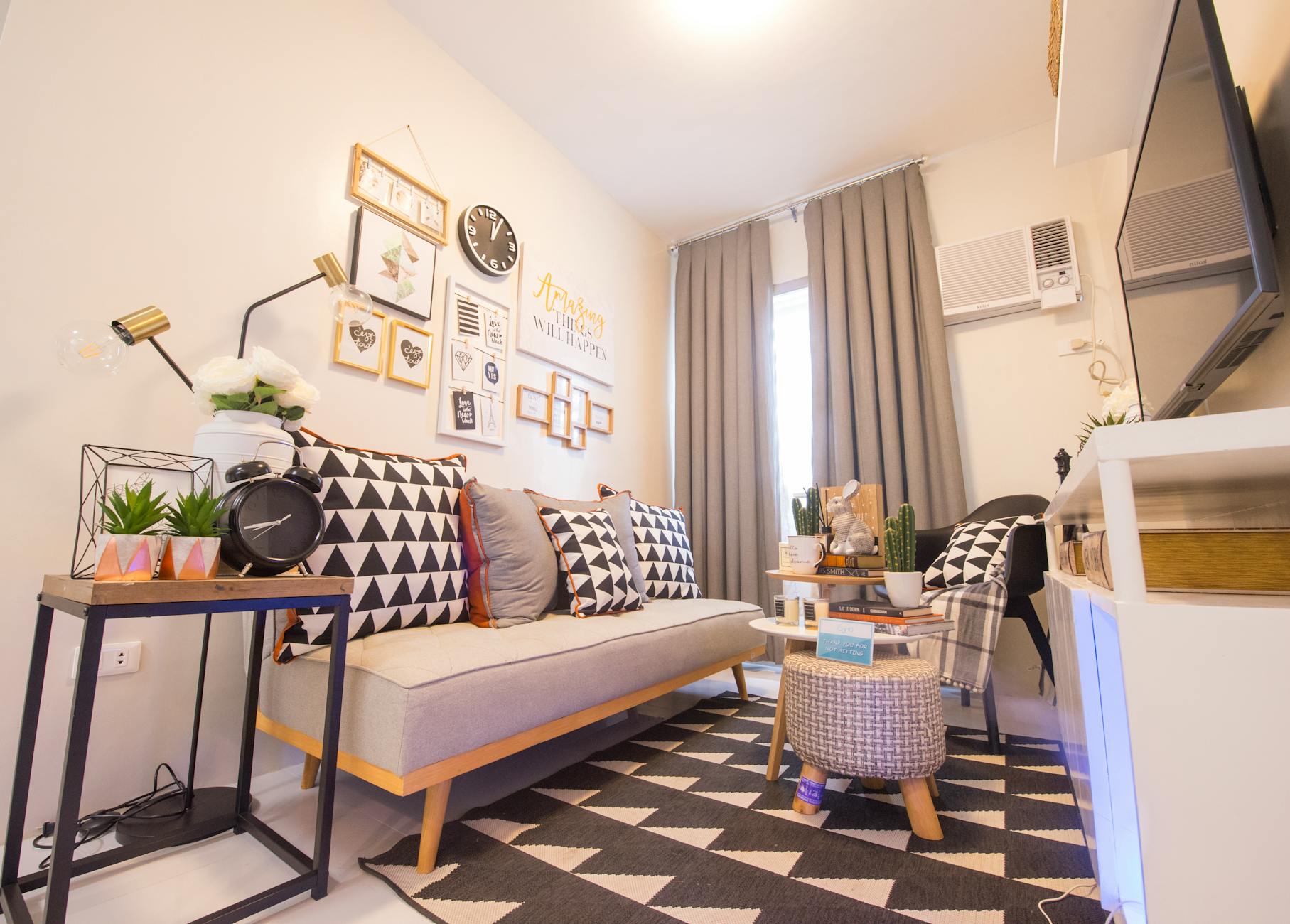 Sometimes, floor styling is really what gives the room that needed oomph. Check out how the area rug completes the living room above, adding visual appeal without straying from the overall design scheme. The overall result is lively yet put-together. See if you can jazz up your flooring with rugs, carpets, paint, or even tiles.
6. Pile on prints
Patterns on your pillows, ornate designs on your blankets, and a choice art print on your wall -- the overall look can be fun yet unexpectedly cohesive. See our guide on mixing and matching decor patterns here.
Blanket pictured above: Celtic Knots Design Premium Irish Fleece Blanket
7. Plush and glam
The living room above checks several boxes in maximalism: a bold color choice, plenty of cozy fabrics, and a rich variety of textures (we spot velvet, fleece, glass, wood, and even driftwood!). It even sprinkles some shiny metallic elements to complete the glamorous look. Lots of style elements to copy from this one!
8. Big and bold
Tired of looking at gallery walls? Try the polar opposite: a single piece of high-impact artwork. Choose a unique, oversized piece instead of another generic landscape that your guests will soon forget. Hang your choice wall art at a prime spot where it can immediately command attention. Maximum impact!
Wall art pictured above: "YOLO" Gold Typography Premium Canvas
9. Color-blocking
Color-blocking is arranging together various objects of different solid colors. If that sounds like fun, that's 'cause it is! Throw in green and blue and yellow pillows. Paint your chair legs a contrasting hue. Juxtapose furnishings in various colors. See a playful example above, and a dainty one below:
Wall art pictured above: "Make Your Dreams Happen" Premium Canvas
10. Mural support
In recent years, interior designers have embraced elaborate walls, be it with moldings, wallpapers, or actual murals. They're always so stunning! They also dictate the atmosphere of the room, so if you're planning to cover your wall(s) with a pattern or scenery, pick one that evokes a feeling you like. See how the green mural above is evocative of a calm hidden garden.
Bonus tip: Take note of those giant lighting fixtures, too! Premium lamps and chandeliers are not only eye-catching accents, they can also be investment pieces for your home.
11. Stylish storage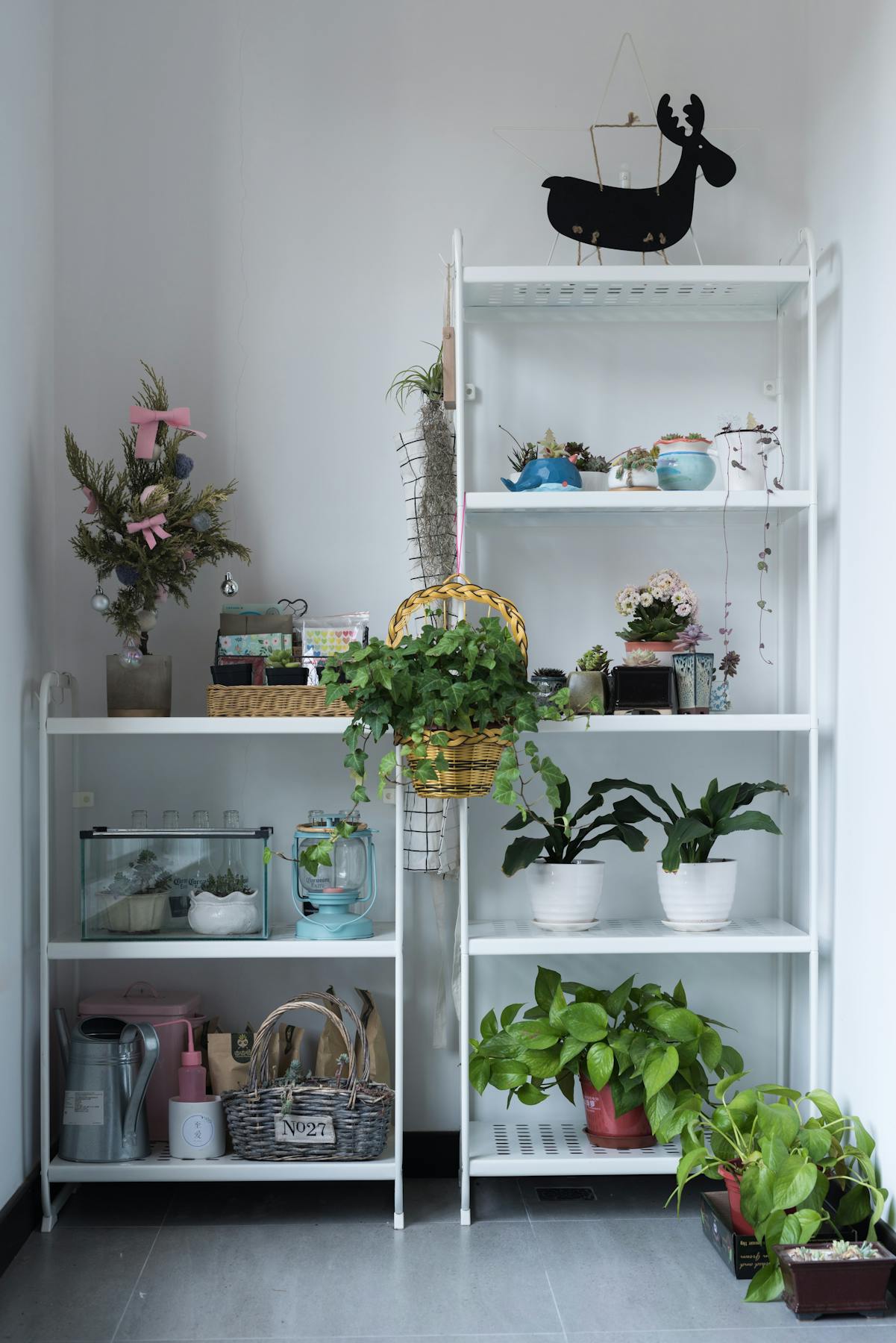 Now here's a maximalist idea we fully support. If your home has that one spot where stuff just seem to pile up no matter what, turn it into storage haven! How? By deliberately decorating the spot to become a fun focal area.
Note how this entryway/all-purpose shelf looks intentionally and artfully busy, by combining the usual knickknacks with decorative items. It makes it look like all those odds and ends are there on purpose. It's also another example of how plants can make maximalism look luscious!
See our guide on styling an open shelf here!
12. Boho chic
Bohemian interiors are characterized by the natural and the earthy: woven fabrics, light wood furniture, and ethnic inspiration. The living room above is an epitome of maximalist bohemian. One look at it and you can find plenty of ideas to steal, from the layered rugs to the rattan chairs to the mishmash of cultural iconography.
Which of these maximalist interiors got your attention the most? Pretty much all of them got us excited to redecorate!
So if you're looking for more home decor items to fill your home with, shop now at GearDen.com for highly-rated wall art, pillows, blankets, and more!
Leave a comment
Comments will be approved before showing up.
---
Also in Gift and Decor Guides
Interior decor enthusiasts have spoken: the 2021 Colors of the Year seem to be hit-or-miss. Let's take a look at various experts' Colors of the Year 2021, from Pantone, Benjamin Moore, Sherwin-Williams, and more.
For an instant decor refresh, you don't have to buy any new decor at all! Just move certain home items from one room to another, repurposing or rearranging them to create a new twist in the space. Read on for some easy, no-cost decor hacks!
The world greets 2021 in a subdued manner, but that doesn't mean it will be completely cheerless! If you're staying at home and celebrating with just your family, here are great decor tips and activities for a festive New Year's Eve 2021.