Decorating With Patterns: Key Rules And Fantastic Examples
When your home interiors start to feel a little blah despite your go-to decorating tricks, try jazzing it up with patterns and prints. Some homemakers tend to shy away from these design choices because they can be a challenge to mix and match, and can quickly look garish. But if you keep in mind a few rules of thumb, you can actually get away with fun prints all around your space, even making them look beautifully stylish!
Read on to learn the rules of mixing and matching patterns for your home, and see some amazing examples below.
5 Rules For Mixing And Matching Patterns
Restrain the amount of prints you put in one room. A maximum of three different patterns should be enough. (If you need help identifying or naming the patterns you like, we found a super-useful glossary here.)
Vary the size of your prints. Start with a pattern that's big or bold, then complement that with smaller ones.
Make sure the colors are cohesive. You can achieve this via two ways: Either pick patterns that are of the same color family, or, if they're multicolored, have a common 'repeating' color that appears in the various patterns. See how this living room makes use of a repeating blue across its pillow prints:

Distribute the patterns evenly throughout the space, and break them up with solids. (E.g. Alternate printed throw pillows with solid-colored ones.)
When in doubt, apply patterns in small doses only, such as in a well-placed wall art or a statement rug.
Decor Inspiration: Prints And Patterns
1. Floral wallpaper
Big, beautiful flower wallpapers have been a huge design trend for some time now. Love the look but want to tame it? Limit the wallpaper to just one side of the room to serve as your accent wall, like above.
2. Floral pillows
Sweeten your sofa or bed with flowery beddings. The personalized floral pillow above is equal parts sweet, subtle, and stylish. Plus, you can customize it with your own name!
3. Botanicals
Beyond flowers, there's plenty of leafy green design inspiration we can draw from nature. Take a look at this living room we found on Ideal Home: it mixes and matches various botanical prints everywhere -- from the wall art to the throws to the upholstery -- but the overall look is so peaceful.
4. Stripes, stripes, stripes!
These are probably the easiest patterns to work with, and they're always a classic. Experiment with using big stripes in the background and small ones in the foreground (see above). Or use crisp lines to add appeal to your favorite wall sign, like in the motivational wall art below:
5. Stripes + Florals
Can you combine two patterns in one piece of art? Of course you can! Stripes and florals are a particularly pleasing combo -- like on the pink "Enjoy Today" wall art above. So chic, feminine, and peppy! Wouldn't it look gorgeous on your wall?
6. Gingham galore
There's something very homey and cozy about ginghams. A close cousin of the checkered pattern, gingham works best on summery fabrics, perfect for tablecloths, brunch napkins, and picnic blankets. If you're going for the farmhouse interior look, this is your go-to print!
7. Geometric accent wall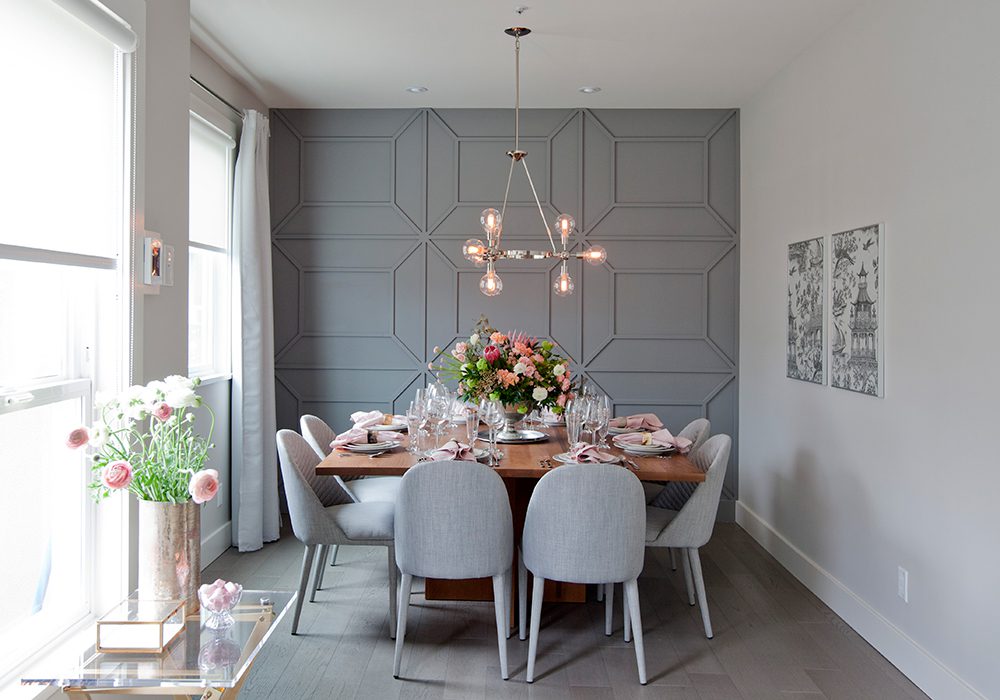 It's all about strong lines and angles, squares and triangles. We have a huge crush on this dining room by designer Jillian Harris, who used wood moldings to create a geometric pattern on an accent wall. So sophisticated!
8. Geometric art
If you love the geometric design trend but can't commit to a full-on accent wall, hang an artwork instead. One of our favorites is the Art Deco-inspired cloud art above, which beautifully combines hard angles with a pastel-hued sky background.
9. Celtic charms
Celtic knots, borders, and flourishes aren't just for Irish families anymore! They can add a touch of personality to any room without looking over-the-top. Get your Gaelic patterns in an elegant shade of green, just like the moss-green Celtic blanket above.
10. Ethnic rugs
There are so many beautiful ethnic patterns from all around the world: Aztec, batik, ikat, kilim, Navajo, shibori, and hundreds more! These can adorn modern home items, especially textiles like rugs, carpets, coverlets, and tapestries. Word to the wise: It's best to keep your ethnic patterns closely similar, if not from the same family. And always, always try to learn more about the ethnicity or tribe that created your decor, so you can get a richer sense of how to respect them.
Have you found your favorite decor patterns for the home? Tell us about them in a comment! And if you're eager to redecorate with prints, head on over to GearDen.com to see a wide selection of canvas art, pillows, and blankets in the homiest designs!
Leave a comment
Comments will be approved before showing up.
---
Also in Gift and Decor Guides
Celebrating Thanksgiving 2020 is so important, as we should cherish the things that we can still be thankful for. Here are wonderful decorating ideas to fill your home with joy and coziness for your Thanksgiving dinner.
Among our favorite home interiors are those of our customers. No, really! Check out this new batch of real-life homes with great interior decor. No staged magazine photos or unrealistic interior styling here. Just loads of doable styling tips for you!
Move over, gallery walls. Displaying one oversized wall art is the freshest decor trend loved by both interior designers and real home dwellers. Check out these tips and examples that may just convince you to go big!