Gorgeous Ways To Add Color To Your Home Without Painting
Does the idea of painting your walls just not sit well with you right now? We're with you! Using paint can be a daunting way to redecorate -- it requires a lot of time and effort, and it's a long-term commitment. Many of us, too, just don't have the freedom to paint because of the rules on their rentals.
So how do you beautify your home of whites and neutrals without painting (just yet)? Here, we've compiled some of the most doable and fabulous tips to add color to your home, sans paint.
1. Hang colorful art, of course!
Wall decor is the most obvious color candidate in lieu of paint. And of the multitudes of wall art options out there, we highly recommend getting premium canvas prints, as they're of great quality but so affordable. These multicolored motivational signs are lovely examples:
Wall art pictured above: "Today Is A Brand New Day"
Wall art pictured above: "Begin Each Day With A Grateful Heart"
2. Color that couch.
Dare to pick a bold piece of furniture! Luckily, richly-hued couches are among the top interior trends these days -- from ruby reds to emerald greens to midnight blues.
If colored couches aren't your cup of tea, you can also just spice up your trusty set with bright sofa blankets and throws.
Wall art pictured above: "Make Your Dreams Happen" 
Wall art pictured above: "Family Tree - Roots As One"
3. Fill it up with flowers.
Ah, what can top the colors of nature? Floral arrangements are such timeless decor elements, and also the prettiest! Try a bouquet or two today for effortless color.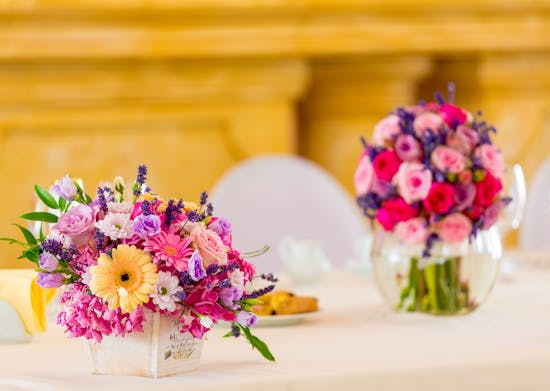 4. Display your collection.
Let your colorful knickknacks take centerstage! A simple open shelf can effectively become the room's focal point if you fill it (neatly) with your multicolored books, figurines, and memorabilia.
Wall art pictured above: "My Daughter Forever - Love, Mom"
5. Throw in some attractive rugs.
A single rug can indeed make a room. If you're not investing in anything else, choose a well-made rug with a dynamic pattern and vivid colors. See how it makes the room alive without any other addition!
6. Blow up your best pics.
Some photographs deserve more than little picture frames. If you have bright, happy pictures, display them loud and proud on your wall! We recommend the customizable canvas art below, which features your own favorite photo alongside a lovely quote.
Wall art pictured above: Personalized "Family... Love"
7. Try wallpaper.
Wallpapering is another home decor trend that has made a delightful comeback. And that's great news for us, because removable wallpapers are basically the commitment-free, more fun version of painted walls!
8. Pile on pillows.
Whether on your bed, on the couch, or even on the floor, you can strategically arrange pillows of varying colors. Pick hues that make each other pop out nicely, like the teal, yellow, and coral tones seen here:
Wall art pictured above: "Our Love Is Big And Loud"
Wall art pictured above: Personalized "Someone We Love Is In Heaven"
9. Hang cute curtains.
Break away from those plain drapes once in a while. Swap them for curtains with unique prints and patterns, and see how the room cheers up instantly.
10. Brighten up your decor.
One brilliant way to make your colored decor stand out? Add a bit of shine and sparkle! Arrange colored objects together with a few shiny accents like a metallic vase, or spotlight them (literally) with attractive lighting. It's a beautiful focal point in a sea of neutrals!
Wall art pictured above: Personalized "Family, Circle Of Strength"
We personally can't wait to try out these ideas! Which ones are your favorite? Tell us in a comment. Or check out GearDen.com for more great picks on wall decor!
Leave a comment
Comments will be approved before showing up.
---
Also in Gift and Decor Guides
Interior decor enthusiasts have spoken: the 2021 Colors of the Year seem to be hit-or-miss. Let's take a look at various experts' Colors of the Year 2021, from Pantone, Benjamin Moore, Sherwin-Williams, and more.
For an instant decor refresh, you don't have to buy any new decor at all! Just move certain home items from one room to another, repurposing or rearranging them to create a new twist in the space. Read on for some easy, no-cost decor hacks!
The world greets 2021 in a subdued manner, but that doesn't mean it will be completely cheerless! If you're staying at home and celebrating with just your family, here are great decor tips and activities for a festive New Year's Eve 2021.