Set The Mood: Wall Decor For Every Interior Ambiance
When it comes to home decorating, it's a great idea to set a particular tone to each room. Your living room might deserve a cheerful mood suited for entertaining, while your bedroom is a space for relaxation and calmness. Whether you want a room to be peaceful, fun, romantic, or dramatic, you can calibrate the ambiance using decor elements.
Here, we show you tips and examples on how to set the mood of your interiors using the right color scheme and the matching wall art. (We're basing our color tips from expert author Anna Starmer's The Color Bible.) Let's get the good vibes going!
1. Calm and tranquil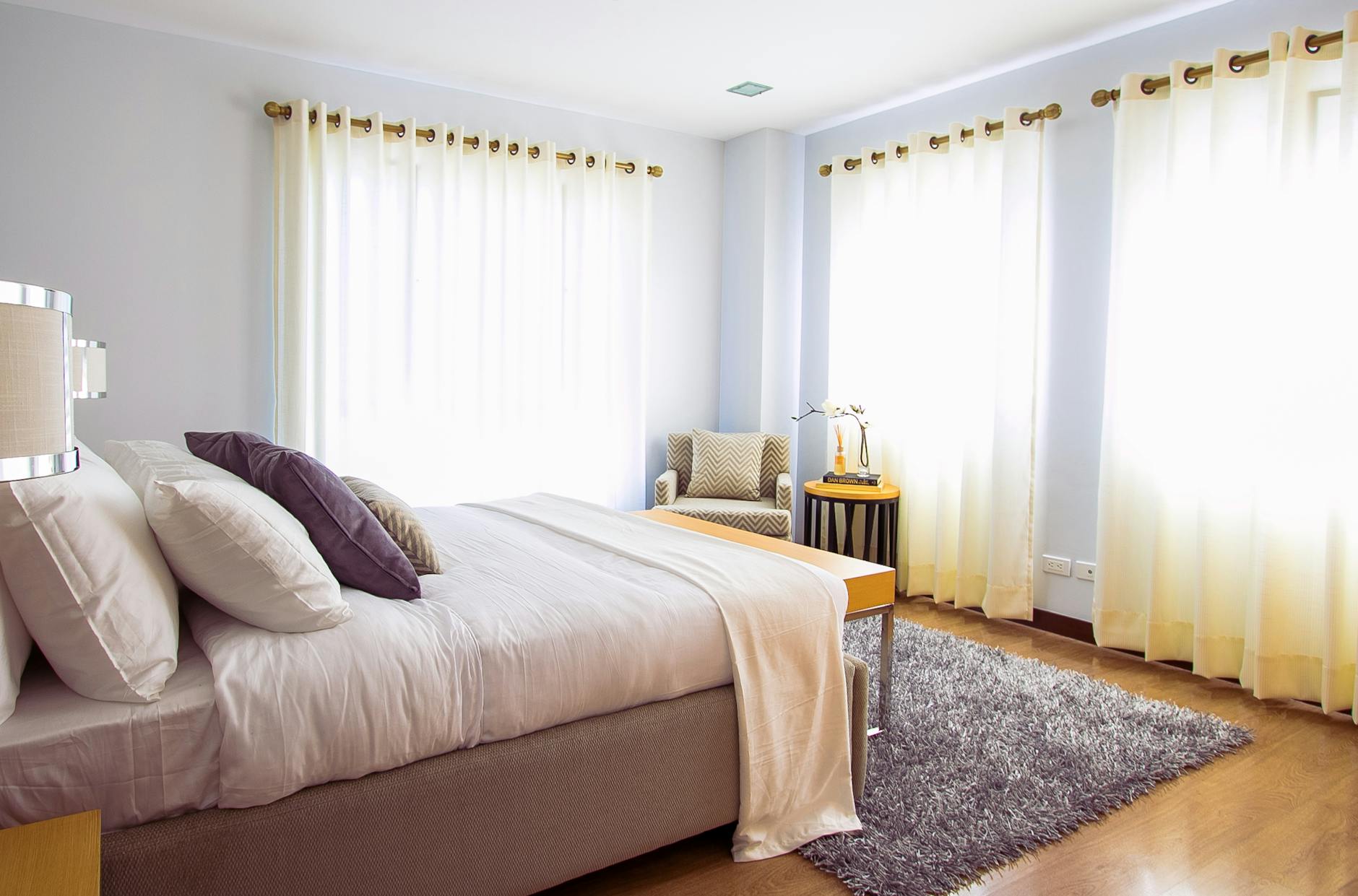 The bedroom is naturally one room in your home where you'd want to feel serene and rested. But you can also apply this mood elsewhere, such as in the bath and the nursery. One essential tip for a calm ambiance? Keep it clutter-free.
Colors to consider: Blues, cool greens, soft grays, and lots of white
Recommended wall art: A simple, un-busy art print with a message that's personally significant to you, like this one:
2. Cheery and fun
Spaces where people congregate -- such as the living room, the den, and the dining room -- could benefit from a happy, inviting atmosphere. Children also love warm colors and lots of whimsy in the kids' room.
Colors to consider: Yellows, oranges, and reds (brighter hues for kiddie spaces, more muted tones for grownups)
PS. Orange hues help stimulate appetite, so apply them strategically in your dining or kitchen!
Recommended wall art: This floral dining room wall art that's a beautiful burst of color:
3. Soft and feminine
Many decorators aren't afraid to fill their homes with a soft, ladylike ambiance -- and it works! Whether you apply it in moderation or add extra doses of sweetness, this mood is perfect for rooms where you just plop down on a favorite chair let the day's stresses fade away.
Colors to consider: Subtle pinks like salmon, 'millennial pink,' and blush; barely-there grays; white
Recommended wall art: A pastel-hued digital art that balances feminine and modern:
4. Creatively stimulating
Did you know that certain colors can boost creativity? You'll notice this in some famous office spaces such as the Googleplex (above)! The upbeat decor would be fantastic in your children's play room or even study area.
Colors to consider: Brights such as yellows, oranges, reds, and turquoise
Recommended wall art: This motivational wall quote with a dynamic graphic design:
5. Graceful and romantic
Royal bedrooms, Tuscan villas, romantic resort suites -- they all share that dreamy, elegant ambiance fit for classy home-dwellers. You don't have to spend like a queen to achieve this mood though. A few choice colors and decor would transform your home this way.
Colors to consider: Dusky hues such as mauve, old rose, peach, caramel, and taupe; dark, moody colors such as midnight blue, emerald, and deep ruby
Recommended wall art: A gorgeous artwork in a sophisticated hue, like this navy-and-gold combo:
6. Smart and formal
For a home office or study, many prefer a clean, minimal setting that's practical and leaves little room for distraction. Some even like this no-fuss atmosphere in other spaces like their kitchens and living rooms.
Colors to consider: White, black, cool grays; Dark wood tones, deep blues and reds
Recommended wall art: A calligraphy artwork that's refined but has high impact:
7. Cozy-comfy
The tried-and-true flavor of most family homes is comfort -- not too formal, not too eclectic, just the right kind of wholesome. Think cozy couches, homey quilts, and those family movie nights featuring buckets of popcorn.
Colors to consider: Warm neutrals like light gray, beige, and white; Subtle pastels like butter yellow and powder blue
Recommended wall art: This elegant and timeless family-themed artwork, which you can personalize with your own family name:
No matter what interior mood you're creating for your home, the most important thing is that it suits your preferences. Sometimes, certain objects that you like may not go with the overall palette -- a meaningful memento, a special pillow, or maybe a particular artwork -- but as long as you like them in your space, they could only enhance the feel of your very own abode.
Ready to do some redecorating? Head on over to GearDen.com to find wall decor that could perfectly match your home and moods.
Leave a comment
Comments will be approved before showing up.
---
Also in Gift and Decor Guides
Celebrating Thanksgiving 2020 is so important, as we should cherish the things that we can still be thankful for. Here are wonderful decorating ideas to fill your home with joy and coziness for your Thanksgiving dinner.
Among our favorite home interiors are those of our customers. No, really! Check out this new batch of real-life homes with great interior decor. No staged magazine photos or unrealistic interior styling here. Just loads of doable styling tips for you!
Move over, gallery walls. Displaying one oversized wall art is the freshest decor trend loved by both interior designers and real home dwellers. Check out these tips and examples that may just convince you to go big!