Glimmer and Shine: 7 Doable Tips to Add Metallic Decor to Your Home
Metallic accents are one of the more appealing interior decor trends in the last several years -- and they're not going away anytime soon! Something about that subtle shine just adds sophisticated appeal to a living room or a bedroom. It's no wonder why we're seeing metallic finishes on furniture, walls, art, and even on some upholstery.
However, there are two major caveats to this trend:
One: Use sparingly! Key to decorating with metallics is to apply them in small, well-distributed amounts, so your home doesn't end up looking like an aluminum factory (yikes).
Two: Keep your metals cohesive. There's a variety of finishes to choose from -- gold, copper, rose gold, bronze, silver, brass, and many others. Mixing metals is tricky to pull off. For the most cohesive interiors, use just one type (or two, at most) of metallic finish throughout the room.
Here are examples and tips on how to add metallic decor to your home in the classiest (but budget-friendliest) ways.
1. Start small if you're unsure.
Sprinkle little doses of metallics to get your started. Maybe swap your drawer pulls for metal-finish ones that contrast the drawer color. Or switch up those plastic picture frames for sleek copper ones. You can also add a few ornamental objects here and there: little metallic vases, trinkets, figurines, you name it.
See how these copper candle holders already make such an impact:
Or how one brass ornament brightens up this dining table setting:
Wall art above: Personalized "Eat, Drink, & Be Merry" Canvas
We also like this simple, streamlined dining display -- monochromatic but visually appealing with the choice of ornaments:
Wall art above: "The Best Things In Life" Canvas Print
2. Or just feature one or two statement pieces.
When it comes to metallics, you can go bold without going overboard. One or two select pieces can create just the right impact when placed strategically around the room. We love this do-it-yourself golden crane pair that blogger Maegan Tintari ingeniously crafted. Placed in one corner of her office, they make a statement without being overwhelming.
3. Metallic art is eye-catching.
Our favorite way to add metal shine to a room? Why, via wall art, of course! There are many paintings and prints that look that much more stunning when added with a touch of metal -- whether some gold leaf, a little metallic paint, or even just high-shine metal colors. We highly recommend this soft-hued pink cloud print whose geometric metallic accent really pops out!
4. Add just a touch of shine on the furniture.
A little flash of metal can enhance tables, chairs, and dressers -- but only when applied moderately. Avoid maximum shine on the entire object. Instead, apply metallics on only a fraction of each piece, playing up the contrast between its shiny and non-shiny finish.
Notice the coffee table in this picture, whose base is a muted gold against a dark tabletop:
Wall art above: "Believe" Infinity Sign Canvas Print
And we can't help but mention this gorgeously glamorous DIY dresser, which Parisienne blogger Nadia simply enhanced with gold contact paper!
5. Update your dinnerware, hardware, kitchenware...
Rose-gold bowls, gilded knobs, copper pots -- these are lovely details in some of today's most picture-perfect homes. They're a tad different from those showy brass or faux-gold faucets of previous decades, though. The updated versions of these metals are all about subtlety: muted colors, gleaming instead of glaring.
And their whole point now is not to take centerstage but to punctuate the overall look of your home. Note how the metallics in this dining area do not compete with the natural woods but instead complement them:
Wall art above: "Food, Family, Love" Canvas
6. Invest in an accent wall.
Ready to do something brave with metallic decor? An accent wall might just be your best bet! When done right, it can singlehandedly create an incredible interior space. Just look at this jaw-dropping dining room featuring a metallic patterned wallpaper: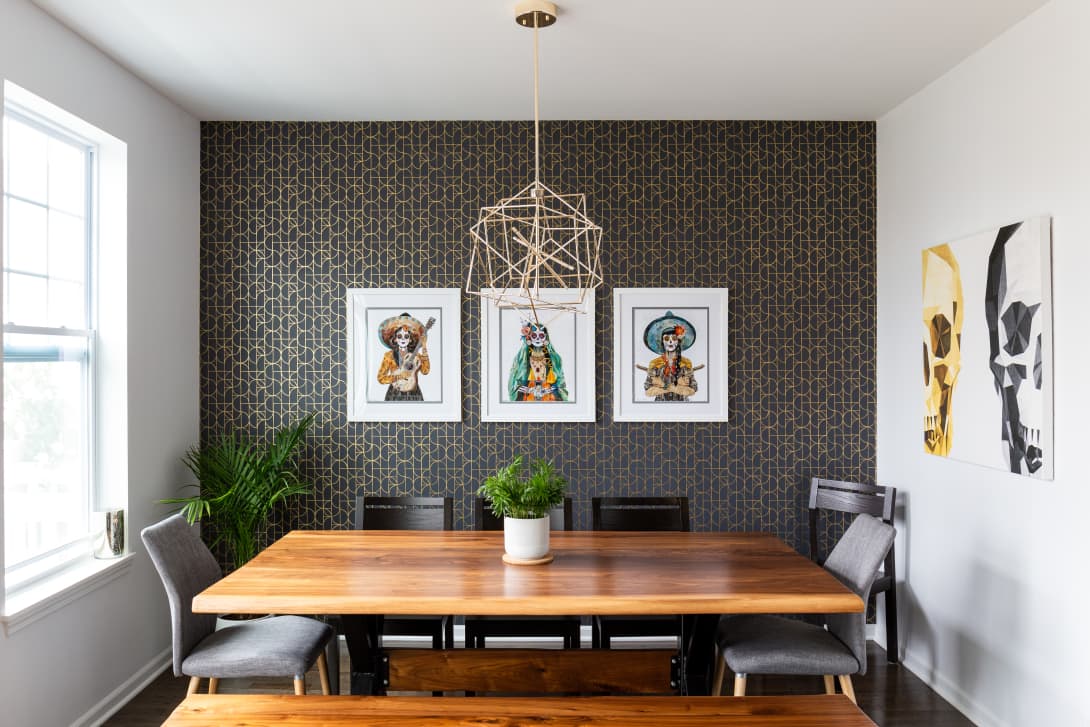 You can also opt to create a faux-metallic paint job by juxtaposing glossy and flat paint finishes like in this understated living room:
7. Light it up!
One of the prettiest and most efficient ways to decorate with metallics is through lighting fixtures. There are tons of copper, brass, and rose-gold lamps and pendant lights available today, so have fun choosing one that fits your style and budget. Our tip? Go for the sleek, geometric ones (modern) rather than the extravagant, Victorian-chandelier ones (outdated).
So what do you think? Did these tips inspire you to add some metallic sheen to your home? If you feel like exploring more decor inspiration for now, check out more real-world decor guides on our blog. Or go ahead and start browsing for your next favorite decor item on GearDen.com!
Leave a comment
Comments will be approved before showing up.
---
Also in Gift and Decor Guides
Interior decor enthusiasts have spoken: the 2021 Colors of the Year seem to be hit-or-miss. Let's take a look at various experts' Colors of the Year 2021, from Pantone, Benjamin Moore, Sherwin-Williams, and more.
For an instant decor refresh, you don't have to buy any new decor at all! Just move certain home items from one room to another, repurposing or rearranging them to create a new twist in the space. Read on for some easy, no-cost decor hacks!
The world greets 2021 in a subdued manner, but that doesn't mean it will be completely cheerless! If you're staying at home and celebrating with just your family, here are great decor tips and activities for a festive New Year's Eve 2021.