10 Beautiful, Doable Ideas To Prettify Your Porch Or Balcony
Decorating an outdoor space -- such as a porch, balcony, or deck -- can be tricky. How do you keep it beautiful when you also have to contend with the elements? Plus, outdoor spaces don't really get prioritized in the decor budget. You may be thinking, "Who has that much cash and time to decorate a patio?"
Well, thank decor heavens, you don't really need to spend a lot of time or money on sprucing up your porch or terrace! We bet you can copy most -- if not all -- of these affordable balcony decorating ideas that can wow your guests at their first step.
1. Floor it.
A balcony or a porch doesn't have as much space as other rooms in the house, so every inch of this area can make a difference. The floor is the most space-efficient spot to decorate. You can go all out with interesting tilework, or lay down an eye-catching rug.
For your front stoop, a memorable doormat can single-handedly make an impression, like this cute pet-themed one:
2. Maximize the walls.
What little wall space there is at a balcony can be utilized for decor. Many home decorators love to put up vertical gardens and tiered shelves of various knickknacks. Our recommendation: How about a premium-quality canvas print that's durable but also wonderfully apt for the outdoor ambiance? We can totally see this pretty hummingbird print on one corner of a balcony:
3. Add life with plants.
Balconies are structural and rigid by design. To counter this hardness and add vitality, you'll want to fill this space with soft, graceful elements. And what could be more graceful than plants? Put out your flower pots and greenery -- they'll thank you for all the sunshine they get in your little oasis.
4. Dress up your practical furniture.
Needless to say, you want your outdoor furniture to be durable against sun, rain, humidity, and other natural conditions. But this doesn't mean your chairs and benches have to be boring!
We love what blogger mom Jo-anna Rooney did with her front porch seating (above). It's still very much a place to take off your snow boots, but she thoughtfully topped it off with winter-themed decor, turning a simple wood bench into a winter-wonderland vignette. (She also says she 'shopped' her own house for decor she already had!)
5. Or chill without furniture at all.
Tiny balcony? No problem! You can turn it into a little lounge just with a rug and some floor pillows -- no space-consuming couches needed. Take your cue from the perfectly petite patio above.
6. Cozy up with pillows and blankets.
If there's just one takeaway we got from the balconies featured here, it's that they are oh-so-cozy with some soft, cushy throws. How about a warm fleece blanket in a relaxing gray color (and personalized with your own names)? Top it off with a sweet pillow in a pastel hue, like this one:
7. Add a seasonal ornament.
You'll never run out of decor ideas when you're inspired by the seasons. And sometimes, all you really need is one ornamental piece on your front porch to say your home welcomes spring or autumn. Our favorite decor trick -- if we had to choose just one -- is simply to hang a blooming flower basket on the front door. Pick one that pops out against your door color, and you'll make an impact in a snap.
8. Add dainty lights.
The outdoors are perfect for string lights and ball lamps. These delicate lighting additions can really make a natural setting feel magical. If you feel like little fairy lights are a bit too youthful or whimsical, try string lights with bigger bulbs, like globe lights (above) or Edison-style string lights.
And if you prefer a more timeless lighting option, you can never go wrong with tabletop candle arrangements, fixed securely away from flammable objects.
9. Hang some drapes.
While not every home is blessed with architectural details such as pergolas and gazebos, we can still create a semi-private resort feel just by using textiles. Hang curtains around your balcony or deck for a breezy ambiance (tie them back to keep the space open). Or drape a weather-proof fabric from the roof over to the railing of your balcony for an effortlessly chic shade: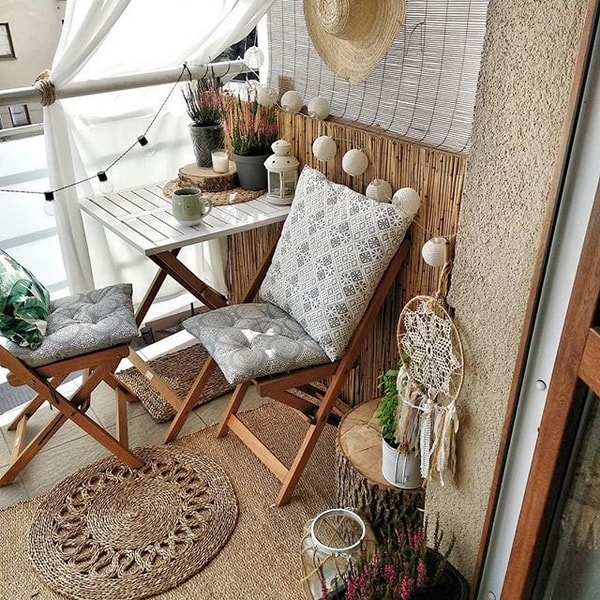 10. Paint an accent piece.
Who needs additional decor when your front door alone is a showstopper? Or if the outdoor seating on your backyard deck is painted a lovely shade, you wouldn't need anything else to spruce it up. See if you can recolor any of your existing furnishings to turn it into an attractive statement piece.
Are you inspired by these balcony decor tips as much as we are? Get redecorating today! If you're looking for affordable, durable, and beautiful decor pieces, check out the customer-favorites at GearDen.com! 
Leave a comment
Comments will be approved before showing up.
---
Also in Gift and Decor Guides
Interior decor enthusiasts have spoken: the 2021 Colors of the Year seem to be hit-or-miss. Let's take a look at various experts' Colors of the Year 2021, from Pantone, Benjamin Moore, Sherwin-Williams, and more.
For an instant decor refresh, you don't have to buy any new decor at all! Just move certain home items from one room to another, repurposing or rearranging them to create a new twist in the space. Read on for some easy, no-cost decor hacks!
The world greets 2021 in a subdued manner, but that doesn't mean it will be completely cheerless! If you're staying at home and celebrating with just your family, here are great decor tips and activities for a festive New Year's Eve 2021.