WOW in a Snap: 10 Small Decor Changes With Huge Impact
If you're itching to refresh your home decor ASAP, but don't quite have the time or budget yet, no worries -- we found a few simple decor tricks that work like magic. No remodeling, no expensive makeovers, no complicated crafts. We've picked the most effortlessly easy and affordable decorating do-overs that you can do today -- with stunning results!
1. Switch your window style.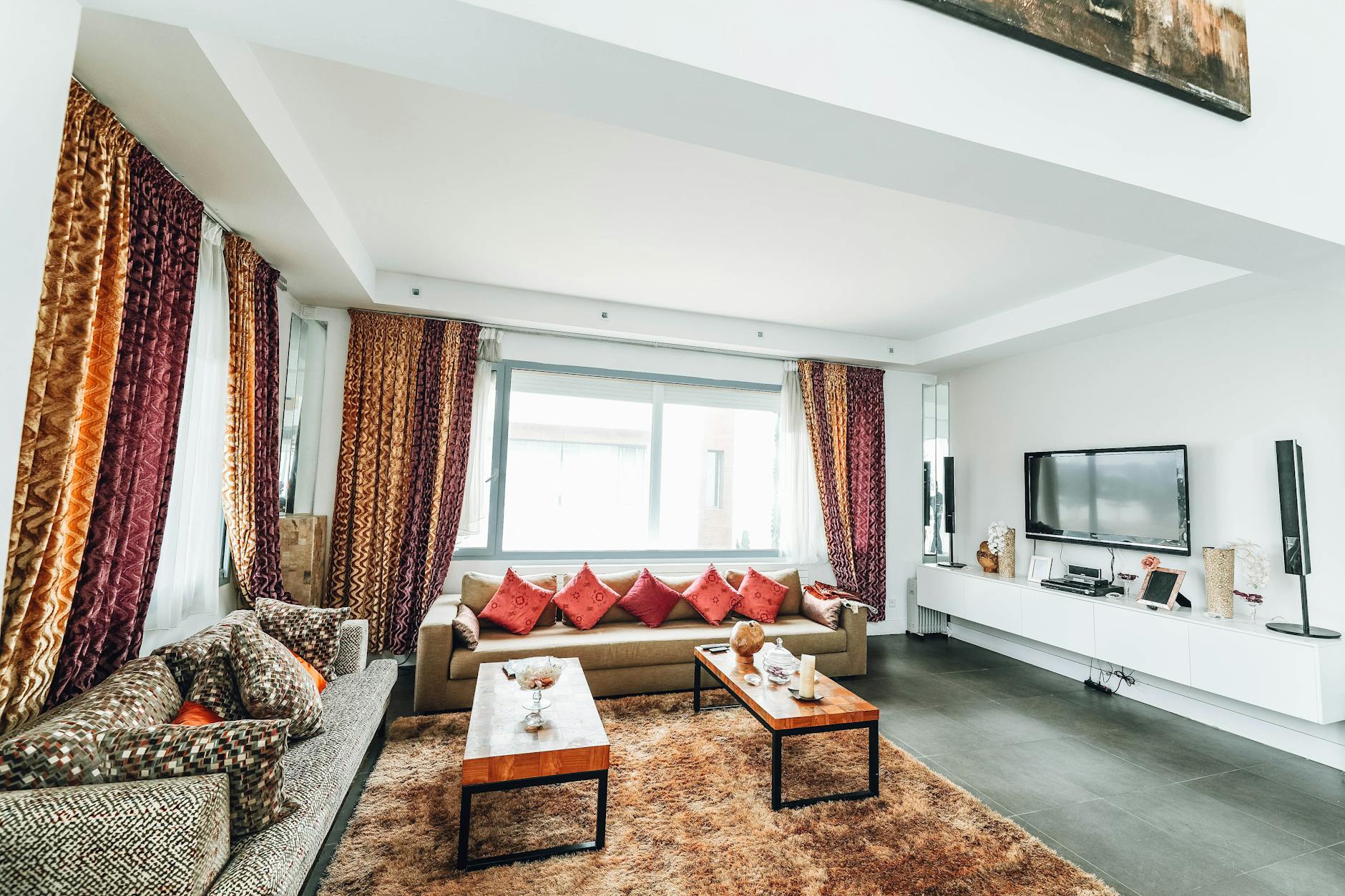 It's incredible how window dressing can change the atmosphere of a room. Try venturing out of your usual curtain styles. If you've always leaned towards plain, solid-colored panels, switch them up with patterns. Or if your curtains have always been light and breezy, see how you might like luxe drapes for a change. Also explore various textiles and window treatments (blinds, shades, valances... there's an endless array to play around with!).
2. Stir up your color scheme with in-house swaps.
One of our favorite decor tips is to think about which items you can move from one room to another. That pretty pillow in your bedroom might just pop beautifully as a throw in the living room. Or that charming fruit bowl in your dining could become an aesthetic catch-all in your entry.
(The customizable photo pillow above is available here.)
3. Punch up old furniture with wallpaper.
Plain old dresser + a bit wallpaper = beautiful! Even small swatches of wallpaper samples -- or your own leftover wallpaper -- can make a huge difference. All it really takes is a bit of creativity in the application. We love how the dresser above takes on a different design on each drawer front, but looks tastefully stylish overall! We found this tip via this chic French-language blog.
4. Change the orientation of your wall decor.
Most wall displays we see are conventionally proportional and in a landscape (horizontal) orientation. Do you have one of these displays in your home? Maybe a photo gallery or an artwork? Try switching up its orientation, from horizontal to vertical or even to circular. You can also hang a vertorama (vertical panorama) like the family wall art above -- while its design is sweet and homey, its unusual dimensions make it eye-catching!
5. Go for dramatic contrast.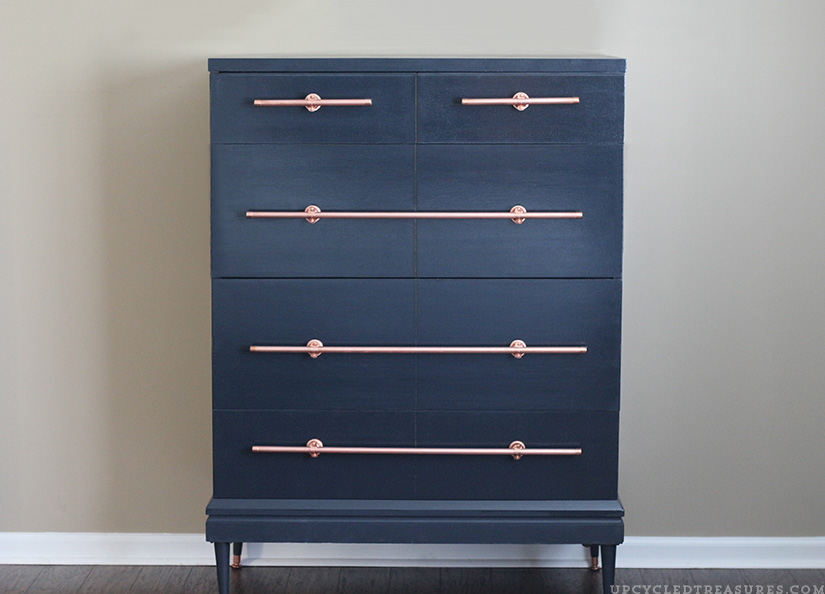 The simplest details pop out when color contrast is involved. So forget transparent drawer knobs and neutral-colored hardware. Even your cabinet pulls can become gorgeous accents with the right color choice. Swap them out for inexpensive yet interesting ones. Or do like blogger Katie did above and creatively use other common items as cabinet hardware!
6. Pair up your decor.
What's more attractive than one art piece on your wall? Two complementary pieces together! You likely already have art and ornaments in your home that would look more stylish when paired up, just like how the pink flamingo canvas print above goes so well with the romantic wall quote.
It doesn't even have to be an artwork duo. You can pair various kinds of decor including wall ornaments, trinkets, and even lighting fixtures! See our guide in pairing wall decor here.
7. Add stair detail.
Staircases are too often neglected, when they have huge potential to be a major interior design feature. Just look at these fabulous chevron stairs from interior decorator Amber B! Give your simple staircase some love, whether with wallpaper, decoupage, or a little bit of paint.
8. Go big and bold.
If your decor budget allows for only a few limited pieces, consider getting one big, bold artwork instead. This adds a sense of opulence into a room, especially if the art is classy and sophisticated. We recommend a wall art piece in a deep jewel hue, like the blue-and-gold artwork above. Looks deceptively luxurious, but is actually an affordable canvas print!
9. Lay down a pretty throw.
A monochromatic bed is fine, but when it starts looking a little too bland, all you need to do is drape a contrasting throw blanket on it! Same goes for your living room sofa, your favorite chair, or that good old bench on your patio. Yep, you can spruce up pretty much any space with a throw.
Hunting for a throw blanket already? Check out the pretty, customer-starred fleece blankets on Gear Den! See an example below. (And if you're loving the three-piece custom initials art above, you can purchase yours here!)
10. Fill your space with plants.
Sometimes, even when the room has minimal ornamentation, it looks lively and livable when it's dotted with greenery. Plants are really easy on the eyes, and their natural textures and flow make the space look multi-dimensional and more interesting. Plus, they improve air quality!
For the highest impact, bring in a tall indoor plant and position it in a sunlit corner. Or opt for multiple small potted plants scattered evenly across the room. You can also group small plants together, mixing variety and size to create a refreshing vignette.
(The watercolor-inspired artwork above is available here.)
Which one of these decor changes are you trying out today? We're probably going to try most of these!
If you liked these ideas, you'll probably enjoy more of our tips for decorating your home for free! And if you're ready to redecorate, browse GearDen.com for decor that's loved by customers like you!
Leave a comment
Comments will be approved before showing up.
---
Also in Gift and Decor Guides
If you'd love to make a good impression on your guests -- or just really love decor that can't be found anywhere else -- we got you! These wall art ideas are unique, one-of-a-kind, and charmingly attractive, they'll add character to your home.
We picked the easiest, most practical, most appealing decor tips and storage tricks for you! No complicated handiwork, no expensive purchases, no shabby-looking results. Just simple, clever solutions. Try these today!
Even if you're tightening your budget this 2021, you don't have to cancel your Easter celebration. We rummaged through decor ideas and party suggestions, and compiled these top tips for a budget-friendly yet charming Easter Sunday. Enjoy!