10 Low-Cost (Or Free) Ways To Brighten A Low-Light Room
Natural light is an important element in many beautiful homes. Unfortunately, not all of us are blessed with south-facing bay windows that let sunshine stream freely into our rooms. More often than not, we have to deal with small windows, dark and narrow spaces, and building arrangements that restrict the flow of light (we hear you, apartment-dwellers!).
So when natural light is limited, how do you make a dark room look brighter, cheerier, and more livable? No, we're not going to tell you to add more windows or install humongous chandeliers! Instead, try these doable, affordable decorating tricks to lighten up a space with low natural light.
1. Pick a light color palette -- not just white.
White paint is always the best choice for dark rooms, right? Not necessarily, says interior designer Rebecca Atwood. She explains that in a low-light environment, whites tend to look grayed and dirty. Her advice? Pick a midtone color instead.
Warm neutrals like beige, tan, and light gray are fail-safe. There's even the now-trendy "greige" color, which is an elegant combination of gray and beige. We'd also add that using white as trim to your neutral walls creates a bright contrast that perks up the room.
Bonus tip: If you're looking for wall color inspiration, check out the Colors of the Year 2020, as selected by paint brands and design forecasters.
Wall art pictured above: "Being A Family" Premium Canvas Print
2. Lay down a cheery rug.
The color of the floor actually has a huge impact on the overall atmosphere of the room. If your budget allows, consider switching to light wood flooring. But if you're not looking into that big of a change, go for a bright rug instead! It's a commitment-free, budget-friendly decor element, and the best part? You have endless designs to choose from.
3. Add brightening throws.
Here's a super-easy and very affordable trick for cheering up the room: pile on throw pillows and throw blankets in bright, beautiful designs! They're like bursts of pep and comfort in an otherwise gloomy space. We recommend our personalized family photo pillow (above) and our "Enjoy Today" pink floral pillow (below).
4. Put up mirrors.
It's no secret that mirrors amplify both light and visual space. See if you can incorporate a big mirror into the room, or if not, use multiple smaller mirrors as part of your wall decor. If possible, place your mirror near a light source to really maximize the illumination.
5. Install lighting fixtures strategically.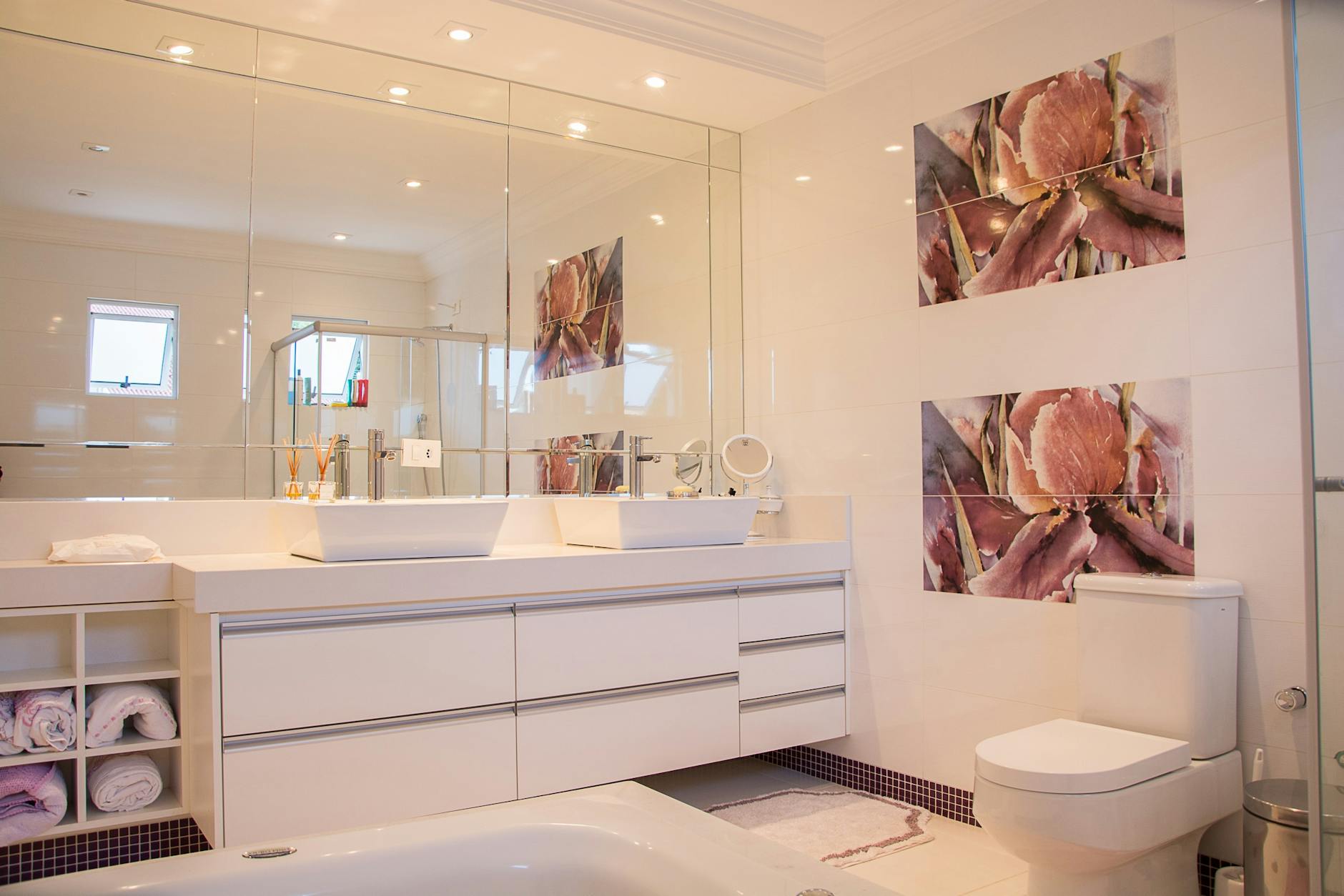 You don't have to spend a ton on lamps and chandeliers to make your space look well-lit. The trick is knowing what kind of lighting to install, and where. There are three kinds of indoor lighting: ambient, which provides overall illumination; task lighting, such as reading lamps and work-counter lights; and accent lighting, which highlights a specific object (like artwork).
Most rooms have ambient lighting by default, but when you specifically choose to 'layer' task lighting or accent lighting at certain spots, you brighten the room without having to light bulbs on every corner. For example, your bathroom may be low on ambient light, but just a little additional lighting in front of the mirror can illuminate your dressing well.
6. Update your bulbs.
Speaking of lighting fixtures, it really is helpful to update your light bulbs so they are just the right tint and are energy-efficient. (Plus, old bulbs tend to grow dim.) Interior decorators say that yellow-colored bulbs make a space look old and gloomy -- a waste of light! Opt instead for bulbs that give off a slightly blue tint, as this offsets dark colors in the room. If you're not sure about the differences in lighting hues, you can ask the hardware store attendant to help you compare and contrast on your next visit.
Wall art pictured above: "You & Me And The Dogs" Premium Canvas
7. Add plants!
Greenery instantly livens up any room! And don't even think you can't try this tip because your space gets minimal sunlight. There are many plants that thrive in low-light indoor environments. To name some: philodendron, pothos, ZZ plant, some varieties of palms, begonia, Boston fern, spider plant, and our favorite, the monstera.
8. Hang a bright artwork.
The right wall art can instantly perk up any space, especially if your wall color is starting to look a bit blah. But be warned: filling the wall with too many decor pieces can end up overburdening the ambiance of the room and actually absorbing more light instead of reflecting it! Choose just one or two artworks that really make you happy. One of our favorites (and our customers', too) is this colorful motivational print on premium canvas. A true mood-lifter!
9. Lighten your curtains.
It seems a no-brainer to maximize any window in a low-light room, but sometimes, we get so used to our usual window treatments that we forget there are more light-friendly options out there. Reconsider your window dressings. If you like the flow of drapes and curtains, try a fabric that's more sheer and breezy. If you prefer the structure of window shades and blinds, swap your current one for something of a lighter color.
Wall art pictured above: Personalized "Welcome To Our Home" Canvas
10. Tidy up.
A space that gets little light can easily look cramped and uncomfortable. But if you keep the room neat and clean, it feels inviting even when it's not filled with sunshine. Tidying up really is magic. The main reason is that it frees up more visual space, letting our brain register an airy, breathable environment. Plus, clutter is a subconscious stressor, so the less we see of it, the better we feel. Let this be our motivation for keeping our homes clean and organized!
Do you find these decor tips helpful? Tell us your experience in the comments!
For more of the wall art and home items featured here, check out GearDen.com! We have lots of canvas prints, throw pillows, blankets, and other decor items that home dwellers like you totally love.
Leave a comment
Comments will be approved before showing up.
---
Also in Gift and Decor Guides
If you'd love to make a good impression on your guests -- or just really love decor that can't be found anywhere else -- we got you! These wall art ideas are unique, one-of-a-kind, and charmingly attractive, they'll add character to your home.
We picked the easiest, most practical, most appealing decor tips and storage tricks for you! No complicated handiwork, no expensive purchases, no shabby-looking results. Just simple, clever solutions. Try these today!
Even if you're tightening your budget this 2021, you don't have to cancel your Easter celebration. We rummaged through decor ideas and party suggestions, and compiled these top tips for a budget-friendly yet charming Easter Sunday. Enjoy!