Effortlessly Classy: Quick and Easy Decor Tips For Holiday Entertaining
Pressed for time as a Christmas party host? Modest budget for your New Year's bash? We got you! Try these super-simple and affordable decor hacks to make your holiday hosting look effortlessly classy. No fuss, no sweat, and no one will know you put these together at the last minute!
1. Trays transform your counter into a bar.
A well-stocked home bar would make a great spot for your guests to congregate at, but if your home doesn't have this feature, no worries: you can quickly create a mini-bar just for this occasion. Place a party tray on your counter (or any other table top), and arrange your drinks and glassware on it. Top it off with a few baubles, and voila -- a festive drink station!
If your party is family-friendly, also make another version as a hot cocoa stand for the kids.
Bonus tip: To really emphasize the drink spot, hang a fun bar-themed wall decor right over it, such as this funny bar sign:
2. Garlands are instant Christmas.
Who doesn't think of winter wonderland when seeing those lush green garlands? The best part is, you can just lay down these decorations practically anywhere and they'll instantly spruce up that spot! For best results, place your Christmas garlands on highly visible surfaces such as your mantel and your coffee table.
Wall art pictured above: "Winter Village Lights" Premium Canvas
3. Decorate with edibles.
Holiday foods aren't just delicious, they're often so pretty, too! Why not make them double as visual attractions? Fill glass bowls with colorful candies and finger-food, and position them on your sideboard or side table. Pile some fruits and baubles on a lovely platter to make a centerpiece. Let a beautifully-decorated cake steal the show. Or place your cookies and pastries in cute dishes, and arrange them in an irresistible lineup on your buffet. Yummm!
4. Dress up dinner with a table runner.
This setup from crafter Tanya may look like a million bucks, but it really has just one affordable trick: a lace doily table runner! You can see her tutorial here, or you can break out your own party-ready table runner, or even further, try some of the many other easy table runner tutorials online.
5. Opt for smaller table arrangements.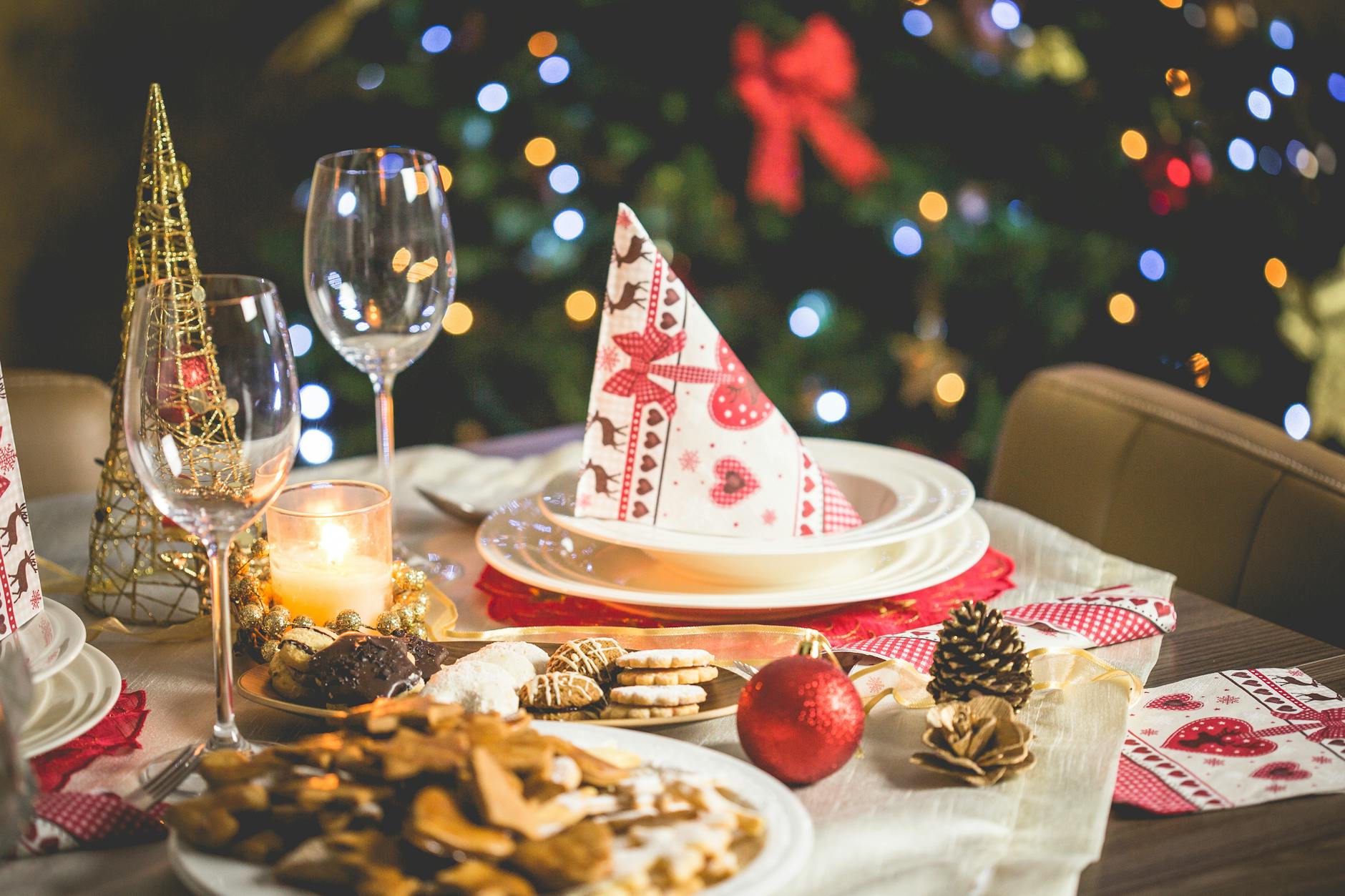 No need for grand flower arrangements that cost $$$. Your dining table will be filled with dishes anyway, so just accent it with smaller ornamental arrangements that you can make yourself. A no-fail example? Candle + pinecone + bauble, in multiple arrangements across the table.
6. Add festive throws -- as many as you can!
Turn your living room or den into a cozy gathering space by piling on throw pillows and blankets. How about the "Better Together" pillow above, plus the personalized family blanket below? Your guests might never want to leave!
7. Sprinkle some twinkle.
Holiday decor is all about starry eyes and glittering lights. Fairy lights are a staple every year, but if you want something more grownup and sophisticated, try other options to illuminate various parts of your home. You can hang Edison-type series lights, globe lights, or even paper lanterns. You can set up luminaria and lamps at select corners. Or, of course, you can light cute candles and tealights! Use ones that smell like cinnamon or vanilla for an amazing yuletide atmosphere.
Bonus tip: Arrange your lights right next to shiny, reflective objects like glassware and tinsel to maximize that lovely sparkle.
8. Display some themed artwork.
One of our favorite ways to decorate at Gear Den is simply to hang wall art that fits the season. So effortless! For a holiday gathering, we love the personalized dining room sign above because it's so elegant yet so inviting. Perfect for a graceful dinner party!
You can take it one step further by putting up an actual Christmas-themed artwork, like the green-and-red yuletide wall decor below:
9. Go big!
Here's a secret: sometimes, all you need is one or two big pieces of decor to make an impact. Make a couple of those easy-to-DIY giant paper stars and hang them from your ceiling! They're sure to catch everyone's eye and set the mood in the room. You can find crafting instructions for them with just a quick Google search (we found one charming variation here).
Wall art pictured above: "Meet Me Under The Mistletoe" Premium Canvas
10. Turn on Christmas classics.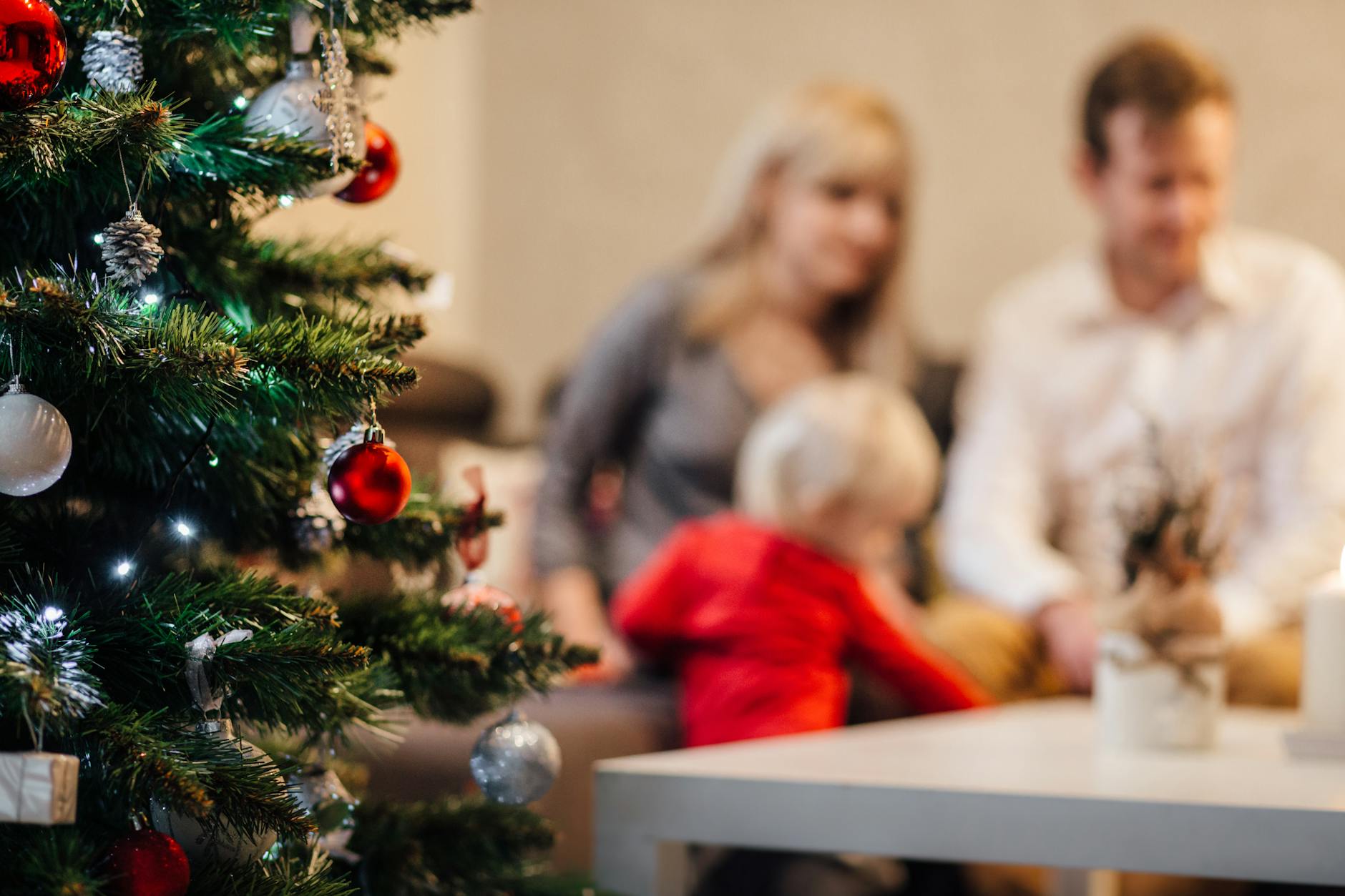 And finally, complete the celebratory mood by putting on timeless music and movies that evoke the holidays. We're not just talking about "A Charlie Brown Christmas" or Mariah Carey's Christmas album! If you're hosting an elegant dinner, put on piano renditions of holiday tunes. If it's more of a casual family brunch, prepare your jazz Christmas playlist, plus fun Christmas movies like "Home Alone" and "The Santa Clause." We can practically hear Christmas morning already!
These quick and simple decor tips actually make us look forward to holiday hosting now! What do you think?
For more of the decor items featured here, check out GearDen.com now and get your own!
Leave a comment
Comments will be approved before showing up.
---
Also in Gift and Decor Guides
If you'd love to make a good impression on your guests -- or just really love decor that can't be found anywhere else -- we got you! These wall art ideas are unique, one-of-a-kind, and charmingly attractive, they'll add character to your home.
We picked the easiest, most practical, most appealing decor tips and storage tricks for you! No complicated handiwork, no expensive purchases, no shabby-looking results. Just simple, clever solutions. Try these today!
Even if you're tightening your budget this 2021, you don't have to cancel your Easter celebration. We rummaged through decor ideas and party suggestions, and compiled these top tips for a budget-friendly yet charming Easter Sunday. Enjoy!