Shh... These Affordable Decor Tricks Make Your Home Look More Luxe
Some homes just have that "rich" vibe, don't they? Even when they aren't really that big or ornate or expensive, their interiors feel classy and cultured the moment you step in. Well guess what -- you can create the same elegant atmosphere in your own home using inexpensive decor hacks! Try these budget decorating tips today and feel the luxurious difference.
1. Light up right.
The best-looking interiors are strategically lit. Unfortunately, most homes are content with just their overhead bulbs and desk lamps. But did you know you can 'layer' lighting? Apart from your 'default' ambient light, you can add another lighting fixture or two, to serve as extra illumination and as ornamental accents.
This doesn't mean you have to install a glitzy chandelier or a pricey floor lamp! You just need to decide first which spots in your house could benefit from better lighting. Maybe that corner with the beautiful indoor plant, or the wall display above your bed. Then you can scour for inexpensive lamps that would be appropriate for them. You can even score such lighting from thrift stores!
Wall art pictured above: "Our Nest" Premium Canvas
2. Streamline.
Perhaps the most important factor in elegant homes is that they're clutter-free. We're not just talking about messy shoe racks and unkempt beds (although they definitely are something to clean up!). It's really more about visual clutter. For example, a room may have too many furniture pieces that make it look cramped and overburdened. Or maybe the walls have too much stuff on them. Or maybe the space is filled with too many patterns and colors.
Consider how you can reduce visual clutter in your space. Try taking away some furniture, organizing shelves, going for cleaner patterns, making more space on the walls, and cutting down to one or two colors all throughout. If you have too much stuff that you just can't let go of, tuck them away in closed cabinets and other hidden storage.
Wall art pictured above: Personalized "Bless The Food Family Love" Canvas
3. Go large.
Speaking of streamlining, try this neat trick to decorate a wall: instead of putting up a whole slew of wall decor, hang just one oversize piece of art. It not only eliminates clutter, it also makes a sophisticated impact right away. Plus, you don't have to worry about arranging that gallery wall all wrong!
Wall art pictured above: "You Are My Sun And Stars" Premium Canvas
4. Opt for dramatic (but coordinated) color.
Luxurious homes embrace dark, moody colors, but they don't look depressing because they're applied right. If you've been keeping an eye on interior design trends, dark paints like midnight blue, deep green, and even black have graced many sophisticated rooms, and they're paired with complimenting colors like mustard yellow and blush pink.
You can try this luxe trend in a more budget-friendly scale. You can paint just one wall with your bold color of choice, turning it into an accent wall. Or reupholster some seating with dramatic fabrics. Or even hang wall art in deep jewel tones. Whatever you do, always preview your color pairings first, ensuring that they are complimentary to each other.
PS. Want color inspiration? See our guide on the Colors of the Year 2020 -- it's filled with the most beautiful blues!
Wall art pictured above: "Purple Hummingbird" Premium Canvas
5. Fill up on fluff.
You've likely noticed that posh hotel rooms and lounges are all decked out in the plumpest, fluffiest beddings. Of course, what better way to create comfort? The good news is, you can easily replicate this vibe by piling on inexpensive pillows and blankets. To start you off, browse GearDen's lovely selection of throw pillows and fleece blankets, which includes the personalized floral pillow above.
And don't forget: make sure your throws are color-coordinated and thoughtfully arranged on your sofa and bed!
6. Hide unsightly house items.
Alas, no matter how much we spend on our houses, we will still have to deal with household eyesores like unwieldy electronic cords, bulky radiators, and thermostats sticking out awkwardly on the wall. So how come we don't see these in upscale homes? Maybe, just maybe, they know how to hide these eyesores effectively!
Note, for example, the ingenious laundry room shelf (above) that crafty mom Megan Donohue installed. At first glance, it looks like a seamless built-in, but it's actually added there to hide the wires behind the washer! For more of these sneaky decor hacks, check our tips here.
7. Add metallics.
A sprinkling of shine never hurt anybody -- especially when metallic home items add a touch of glam, are available everywhere these days, and for affordable prices! Practice moderation when decorating with metallics, though. You want your home to look classy, not flashy. Read our guide for incorporating metallic decor into your home interiors.
8. Update those windows.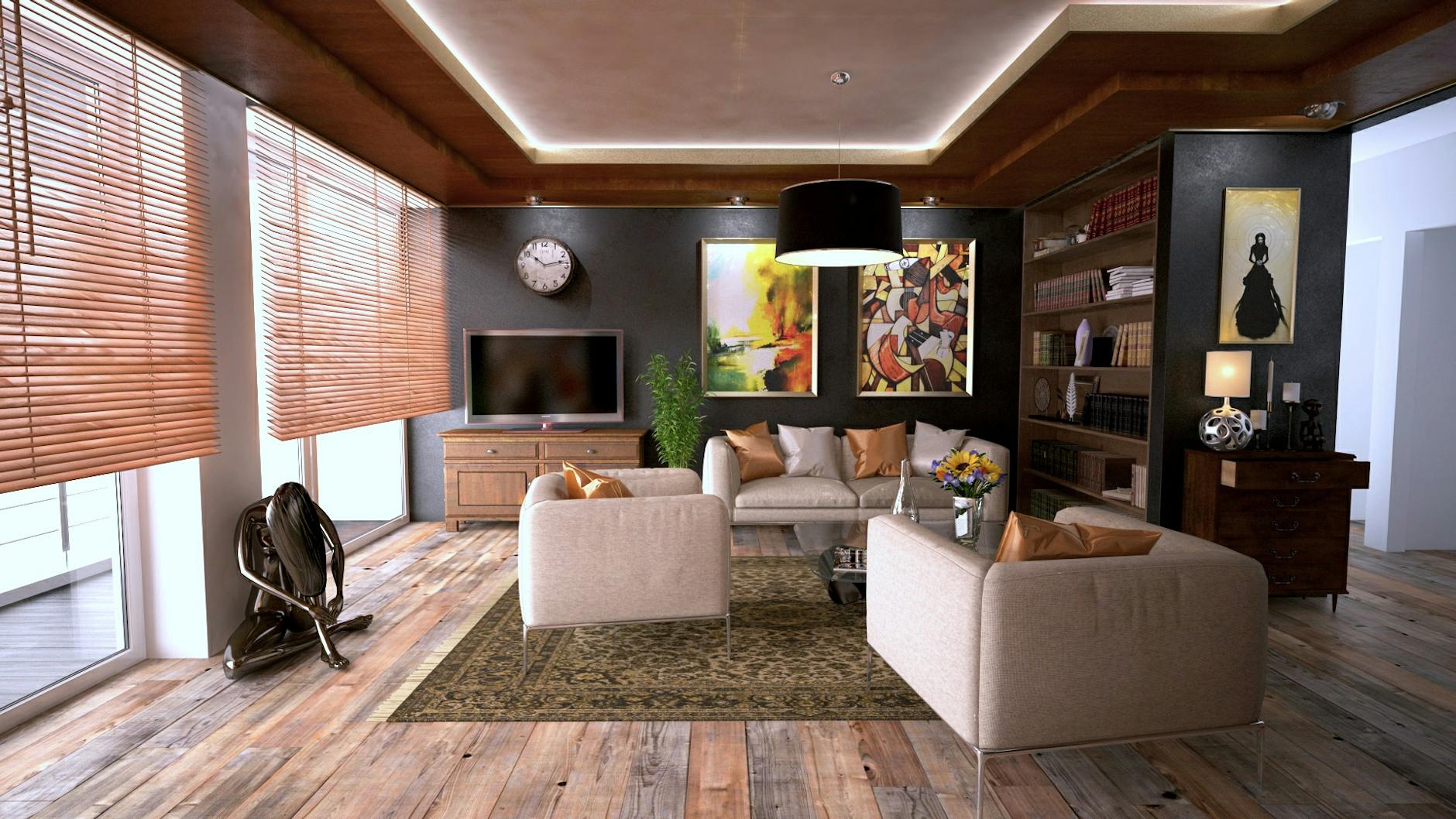 Everyone loves light, sheer curtains, but after a while, they can get a little... well, gauzy. Reconsider your window treatments every now and then, and don't be afraid to occasionally go for more structure with blinds and heavier drapes.
One more tip: When hanging curtains or drapes, put up your rods several inches higher than your window, and make sure the fabric touches the floor. This will create the visual illusion of taller windows.
9. Style every horizontal surface.
It takes a little extra attention to make a home beautiful. For instance, those tables, shelves, and sideboards we often take for granted can transform into impressive vignettes if we pay more attention to styling them.
So don't just leave that coffee table bare -- top it with a stack of magazines and a small vase of flowers. That bookshelf in the living room or open cabinet in the kitchen? Turn it into a pretty yet practical display with our tips here. And that sideboard, buffet, or mantel can look chic when paired with a proportionally sized artwork, like the personalized family art above.
10. Add molding -- or fake it.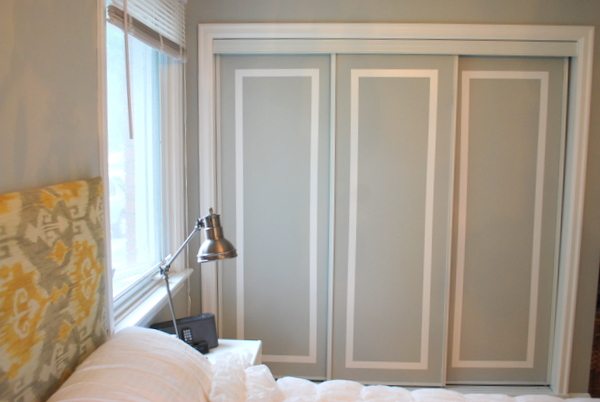 Well-made molding and paneling easily turn a plain wall into a showcase of craftsmanship, and that's probably why they're a mainstay in posh estates. You can probably install your own moldings in an afternoon of woodworking. But if you want a shortcut (and a cheaper option), you can just paint a faux trim instead! The photo above used to be a set of drab old white closet doors -- can you believe it? Home decorator Gemma applied a little gray paint for contrast, and voila, a closet with a little more class!
Are you convinced by these sophisticatedly sneaky decor tricks? Let us know which one you want to try in your own home! And if you want to start picking your fabulous wall art and other home decor, visit GearDen.com for customer-starred items!
Leave a comment
Comments will be approved before showing up.
---
Also in Gift and Decor Guides
Interior decor enthusiasts have spoken: the 2021 Colors of the Year seem to be hit-or-miss. Let's take a look at various experts' Colors of the Year 2021, from Pantone, Benjamin Moore, Sherwin-Williams, and more.
For an instant decor refresh, you don't have to buy any new decor at all! Just move certain home items from one room to another, repurposing or rearranging them to create a new twist in the space. Read on for some easy, no-cost decor hacks!
The world greets 2021 in a subdued manner, but that doesn't mean it will be completely cheerless! If you're staying at home and celebrating with just your family, here are great decor tips and activities for a festive New Year's Eve 2021.