10 St. Patrick's Day Decor Ideas, From the Fun to the Formal
Sláinte! It's about time to don green and raise our mugs to Saint Patrick again! Whether you are throwing a fun St. Patrick's Day bash or hosting a nice dinner with Irish loved ones, you'll want to dress up your home in appropriate decor for March 17. Thank your lucky shamrock there are so many decor ideas for this occasion! Try our top picks below.
1. Paper shamrock garland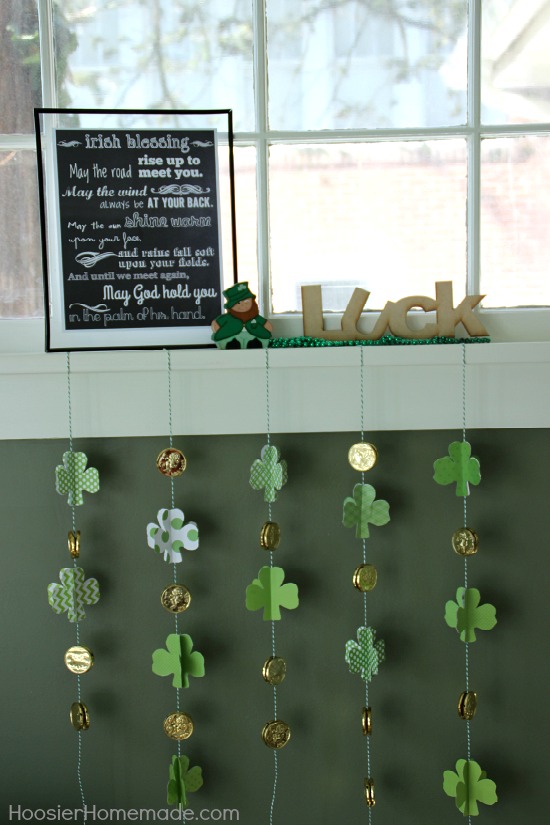 In lieu of balloons and other plasticky decorations, we're absolutely supporting paper garlands, which are affordable, eco-friendly, and easy to make. There are tons of tutorials you can find online. One of our favorites is this vertical shamrock garland made extra-festive with 'gold coins,' courtesy of the crafty hands at Hoosier Homemade.
Want more ideas on making your celebration environment-friendly? Read our sustainable party tips here!
2. Irish family art
If you want your interior decor to look fun but not fussy, hang a wonderful piece of wall art! The personalized Irish family art above is equal parts rustic, whimsical, and handsome. And yes, you can have your own family name and year printed on it! Perfect in your dining room, entry, or anywhere the family congregates.
3. Color-food!
This Irish tradition loves color! Lay out your buffet table in rainbow-bright food combos (like the appetizer tray above) -- with a 'pot of gold' at the end, of course! Punctuate that with green drinks like beer and kid-friendly punch, and you have one fantastic fete.
4. Shamrock table runner
Speaking of party tables, here's another decor idea that will clover-ly delight your guests. You've seen shamrock garlands and wreaths all over, but how about a shamrock table runner? It greens up your table in an instant! The one above doesn't even require sewing, as made by Holly at Ribbons and Glue.
5. Celtic pillows
Dress up your sofa for Saint Paddy's, too! Don't worry, you don't need to reupholster just for this occasion. A few throw pillows are enough to impress your guests as they plop down and get comfy. The Celtic knot throw pillow above is perfect for its traditional design. (You can buy just the pillow cover for a more affordable option.)
6. Celtic blanket
How about a nice throw blanket to match your pillows? You can drape this Celtic-themed blanket over your couch or bench, or even gift it to a special Irish friend. The warm and durable fleece material can even be used outdoors, so it's perfect for nature trips, too!
7. Irish blessing wall sign
We love Irish sayings and proverbs, especially this beautiful traditional blessing. How lovely to hang it up on the wall in graceful calligraphy! This Irish wall quote makes a sweet decor for family gatherings and elegant dinners. The best part is, it can stay on your wall to bless your household all year long.
8. Leprechaun wearables
Mischievous, green-hatted leprechauns are a major feature in Irish folklore, and they've given us another excuse to wear something green and whimsical on Saint Paddy's. At your party, distribute fun little wearables inspired by these sprites: green top hats, prop headbands, and even costume beards! The more guests get in on the spirit, the livelier the party gets!
9. Irish-American flags
Are you part of one big, happy Irish-American family? This personalized Irish-American family art would make an eye-catching accent in your home! Combining the two nation's flags and emblazoning your family name front and center, it's not only an aesthetic decor but also a proud celebration of your heritage.
10. "Eat, Drink, Be Merry!"
We love the personalized dining room art above because it's elegant enough for classy dinners but also jovial enough for Irish merrymaking! And because it's made of lightweight, wood-framed canvas, you can easily hang it up anywhere you want -- the dining room, the den, over your home bar, beside your fridge, even your outdoor deck.
If you want more tips on making your dining room feel homey yet stylish, read our dining room decor ideas here!
How are you planning to celebrate St. Patrick's? Tell us in a comment!
For more of the home decor items featured here, browse the wall art, pillows, and blankets at GearDen.com.
Hope you have a fantastic St. Paddy's Day! Cheers!
Leave a comment
Comments will be approved before showing up.
---
Also in Gift and Decor Guides
Interior decor enthusiasts have spoken: the 2021 Colors of the Year seem to be hit-or-miss. Let's take a look at various experts' Colors of the Year 2021, from Pantone, Benjamin Moore, Sherwin-Williams, and more.
For an instant decor refresh, you don't have to buy any new decor at all! Just move certain home items from one room to another, repurposing or rearranging them to create a new twist in the space. Read on for some easy, no-cost decor hacks!
The world greets 2021 in a subdued manner, but that doesn't mean it will be completely cheerless! If you're staying at home and celebrating with just your family, here are great decor tips and activities for a festive New Year's Eve 2021.