8 Decor Tips For A Homey Yet Stylish Dining Room
The dining area is one of the most vital parts of the home. We not only eat in this space -- we gather, we converse, we celebrate. This room is host to many family stories, heartfelt conversations, lively laughter, and toasts with friends. And -- let's face it -- the dining room is a chance to make an impression on guests, whether it's the boss coming over for dinner or the mother-in-law visiting at lunch.
So how do we make our dining space feel homey for those Sunday-morning family breakfasts, yet elegant enough for a classy dinner party? We've handpicked some fantastic decorating tips for you. Try these interior styling tricks for your own dining room!
1. Maximize lighting.
Good lighting is a major element for great ambiance and appetizing meals. As much as possible, position your dining set near windows that generously provide natural light during the day. Also invest in a quality light fixture for evening meals. It doesn't have to be a super-pricey chandelier. Choose a pendant light that's not only stylish but also gives off just the right amount of illumination -- not too stark, not too dim.
Additionally, the color temperature of light matters. Notice how some bulbs give off a cold, white light, while others have a nice warm glow? Experts say warm-colored lighting is the most ideal for dining spaces. Ask to test out your lighting at the store before buying it.
2. Color-coordinate.
Because the dining room is a place to congregate, you want it to feel cool, calm, and collected -- not all over the place. Have a well-thought-out color scheme for this room, whether you want it bright and breezy or dark and opulent. Our foolproof tip? Start with one clean, solid base color (especially on walls), then punch it up with a complementary color of your choice.
Wall art pictured above: Personalized "Bless The Food Family Love" Premium Canvas - Gray Variant
3. Switch up table textiles.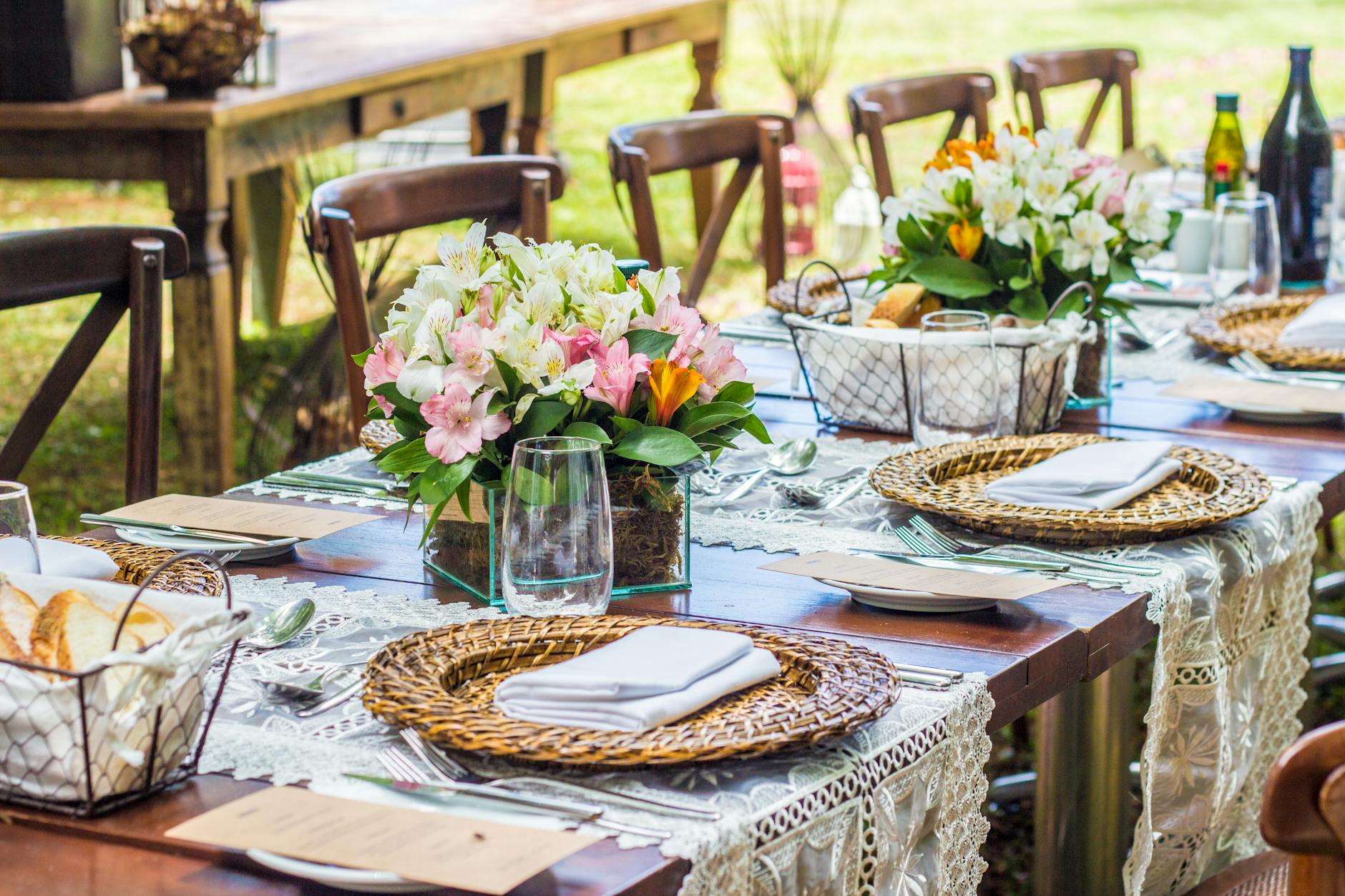 They say that if the shoe fits, you should get it in every color. Well, this applies similarly to dining table decor, too! We all have essential dining textiles such as placemats, table runners, table napkins, and tablecloths. It's a good idea to keep various sets of these to match any occasion. Switch between sweet ginghams for laidback family meals, bright patterns for festive occasions, and crisp whites for more formal events.
And don't worry about breaking the bank! You can easily make your own dining table decor using affordable fabrics and a little sewing. One of our favorites? A quick and easy table runner made by stitching lace doilies together! You can google tons of tutorials for this and many other table dressings.
4. Set the tone with art.
Wall art can make such a huge impact in a dining room. When people walk in, the artwork on the wall is usually the first thing that draws their eye up, so it's important to choose a piece that sets the kind of mood you want for the room.
At Gear Den, we particularly love hanging canvas wall art with lightweight wood frames because they're easily switchable between occasions or moods. For example, for an elegant dinner, you can display a sophisticated dining room piece with graceful black lines and calligraphy (above). Then, when you're feeling a lot more casual, you can put up a quirky "Y'all Come Eat" dining room sign (below). Makes a whole lot of difference, doesn't it?
5. Style the floor.
Everything else in your dining room could be minimal, but if you've got some interesting flooring, the room is pretty much made. If your budget allows, consider installing pretty tiles to beautify this floor space. Or if not, look for a nicely-patterned rug or carpet that's big enough to cover the area of the table and seating. Some homeowners even go the DIY route, stenciling the floor with their own preferred design -- just look at that stunning dining room above!
The great thing about styling the floor, apart from its obvious visual appeal, is that it helps delineate the dining space from the rest of the house. This is especially helpful for open-floor homes and studios, or if you're getting rid of room dividers in favor of a more airy space.
6. Get the help of a sideboard.
Sideboards, buffets, and credenzas are so practical in the dining room, providing additional storage plus horizontal surfaces for serving food and drink. But don't let them become just another piece of bulky furniture! This is another spot where you can flex your decorating muscle. Arrange a few ornamental items on top of your sideboard, such as an artwork and a vase.
Try the personalized family dining room sign above, whose vertical orientation makes it perfect to just lean stylishly against the wall. Or hang a rustic "This Is Us" sign (below) right above your buffet table -- the artwork's panoramic dimensions beautifully complement the size of most dining furniture.
7. Leave lots of space.
The best rooms are those that have plenty of floor space and visual cleanliness. Since the dining room has to have some bigger furniture, it's crucial to arrange them thoughtfully in a way that people can move around and feel that they can breathe easy. It also helps to reconsider which objects could be taken out of the room to open up more space.
If your dining area is a bit on the small side, consider swapping a big rectangular table for a smaller circular one, which can magically accommodate four people or more, but for less floor space. Or, you can set up a breakfast nook instead, featuring some built-in seating by the window. Worried that it looks too casual? You can transform your dining nook into an elegant setting by decorating it in dramatic colors and some metallic decor. Read our tips here on making your home look luxurious... on a budget!
8. Accent with throws.
Throws in the dining room? Yes, please! Throw blankets and pillows are additions that can transform the space from daytime gatherings to evening soirees. For casual meals, add some fun cushioning with cute throw pillows, like the family-themed pillow above. Then, when you need a little more glam, drape your dining chairs with some chic textiles like sheepskin, fleece, or even a fringed woven throw, like below:
Which of these decor ideas would you apply to your dining room? Get started now by shopping for dining room wall art and throws! Visit GearDen.com for fantastic home decor items that are highly rated by decor enthusiasts like you.
Leave a comment
Comments will be approved before showing up.
---
Also in Gift and Decor Guides
Interior decor enthusiasts have spoken: the 2021 Colors of the Year seem to be hit-or-miss. Let's take a look at various experts' Colors of the Year 2021, from Pantone, Benjamin Moore, Sherwin-Williams, and more.
For an instant decor refresh, you don't have to buy any new decor at all! Just move certain home items from one room to another, repurposing or rearranging them to create a new twist in the space. Read on for some easy, no-cost decor hacks!
The world greets 2021 in a subdued manner, but that doesn't mean it will be completely cheerless! If you're staying at home and celebrating with just your family, here are great decor tips and activities for a festive New Year's Eve 2021.