Easy, Affordable, Free Ideas for Valentine's Day Gifts and Decor
We want to make a case for Valentine's Day. Even though February 14th is now seen by many as a dreadful exercise in consumerism, we still believe that it is vital to celebrate this occasion.
This is the one day of the year when we are truly free to express our unabashed affections, reignite our relationships, or spark a new one. Those sentimental gifts and cheesy heart decorations are a way to celebrate love, that most fundamental element for human harmony and world peace.
Okay, maybe we got a bit carried away there. But we can all agree that at least for this one day, we can make an effort to make someone feel special. No, you don't have to burn cash on pricey dinners and diamond rings. We've got Valentine's Day decor ideas and gift suggestions that are easy, affordable (or free!), and more importantly, meaningful. A win for you, a win for your loved one, and a win for world peace.
1. Write a heartfelt letter.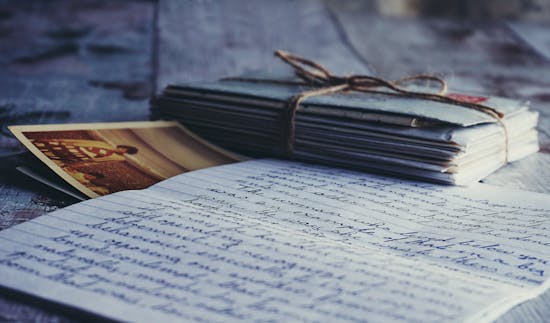 Handwritten letters are so rare and underrated these days that when you give or receive one, it's an instant tug on the heartstrings. So go ahead, pour out your sincerest, most affectionate words for your beloved. Be inspired by this incredibly heart-rending love letter from physicist Richard Feynman to his wife. (Warning: will make you cry like a baby.)
2. Surprise at home.
Even though it's Hearts' Day, February 14th is still a day when your wife, husband, or partner has to work for eight hours and come home exhausted. Give them a sweet little surprise to brighten up their routine. It can be as simple as hanging a piece of romantic wall art for them to wake up to or put a smile on their face when they come home at the end of the day.
3. Candlelight makes the difference.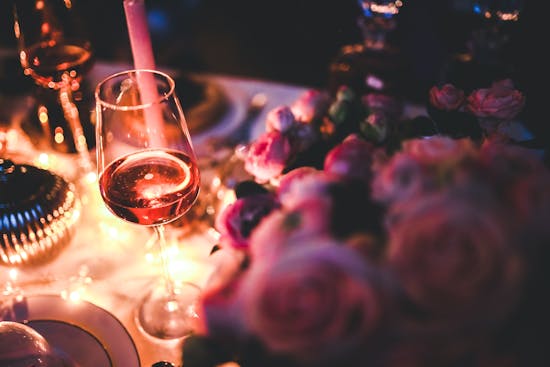 If you and your loved one are skipping the crowded V-Day restaurants, kudos to you both. Staying at home may sound lazy and cheap for Valentine's, but not if you turn it into a special date. Cook up your beloved's favorite dinner, put on some nice music, and set up a candle-lit evening at home. Trust us, the candles are essential.
4. Decorate with words.
If you're not into the reds and the pinks of Valentine's Day, deck your home with lovely words instead. There are plenty of canvas prints available that gorgeously express the essence of the occasion without being saccharine. The wall decor above is a nice example, with its elegant gold typography in black background.
5. Take a trip down memory lane.
One of the most meaningful gifts you can give to your loved one is a recollection of the best moments you've shared together. Make a photo collage of your memorable days, or if you don't trust your Art Class skills, have a professional create an inexpensive piece for you. For instance, above is a bestselling canvas print that beautifully celebrates the most important dates in your relationship.
6. Match point!
His-and-hers gifts never go out of style -- and they never fail to be romantic. If both of you are devoted and proud, matching couple shirts are perfect for you. But if your tastes are more refined, you can opt for matching jewelry that lets you wear your hearts on your sleeve.
7. Find flower alternatives.
Of course, flowers are the quintessential Valentine gift and home decor item. And of course, store-bought bouquets cost an arm and a leg in early February. As an alternative, consider picking your own blooms from your own garden. Or if you're not into the sugary-sweet roses and peonies, arrange other kinds of botanicals like white lilies, rustic wildflowers, and lush green foliage.
PS. The cute wall art above also makes a great Valentine's gift for a pet-lover! It's available here.
8. Personalize a love quote.
There are miles upon miles of beautiful poems, song lyrics, and quotations that would be perfect to dedicate to your beloved. Why not use a favorite line as a gift? Have a personalized artwork made to display a love quote together with your partner's name. Simple, romantic, and utterly meaningful.
9. Leave love notes for your loved one.
Here's a cute version of the full-fledged love letter: Write little messages to make your partner smile, and then place them in various spots along your partner's routine. Leave a note on their bedside table, on the bathroom mirror, near the coffeemaker, beside their purse, on their car seat, on their desk, and so on.
Bonus tip: place their favorite candy beside each note for an extra-sweet surprise.
10. Leave 'love notes' for everyone.
Here's an even more fantastic idea: take the 'love notes' activity to the next level by doing it together with your partner and writing notes for everyone else -- including strangers! Leave mini-letters on park benches, restaurant tables, bus seats, store shelves... practically anywhere. It's a cute bonding activity for you and your partner, and it'll make other people smile.
Decided on your Valentine's Day plan yet? We'd love for you to share in the comments!
For more couple gift ideas, check out our roundup of romantic wall art pieces here!
Happy Valentine's Day!
Leave a comment
Comments will be approved before showing up.
---
Also in Gift and Decor Guides
The best interiors are those that strike the perfect balance between comfortable and beautiful. So how do they do it? Here are some of their 'secrets' -- which aren't really secrets, but tips and habits that you can apply in your own home.
The search for your Mother's Day present stops here! After lots of feedback from our real-life customers, we've realized that 
a custom wall art is the best (material) thing to give to mom
 this year. Here's why.
If you'd love to make a good impression on your guests -- or just really love decor that can't be found anywhere else -- we got you! These wall art ideas are unique, one-of-a-kind, and charmingly attractive, they'll add character to your home.