10 Brilliant Ideas for Decorating a Small Apartment
In real estate as in interior decorating, size matters a lot. But that's not necessarily bad news if you live in an apartment that's less than 500 square feet. In fact, we've fallen in love with a number of teeny-tiny houses that pack so much style in 350 square feet or less!
So what's the secret that makes these small studios and tiny rentals so enviable? Well, for one, they are deliberately decorated with their size in mind and with a whole lot of personality. Want to finally make your apartment its most beautiful ever? Try these ingenious decorating tips, wall art ideas, and design tricks.
1. Pick a color scheme.
A coherent color palette is the secret to rooms that look so put-together, no matter their size. Light hues work best for smaller spaces, but if you love more dramatic colors, you can incorporate those using select pieces of wall decor -- just look at the lovely living room above!
2. Use wall decor to delineate areas.
For many small homes, it's more practical to get rid of walls, partitions, and dividers. Still, you have other options to demarcate 'rooms' from each other, like your living area from your dining area. One genius way is to hang wall art that defines each space.
In the example above, the canvas art is perfectly proportionate to the dining set, giving a feel of the size of the dining 'room'. Plus, it features a prayer for meals that matches the essence of the space.
3. Let the light in.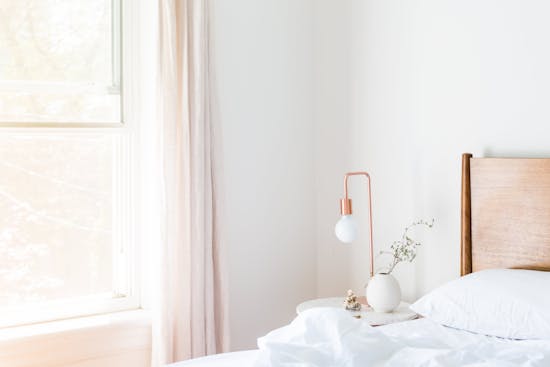 Ever notice how some homes look so airy and open, even though they're not really that big? It's all about maximizing light. Darker rooms look more cramped, so open up your windows and arrange your furniture out of the way of sunshine. It's also worth it to invest in good lighting fixtures for your small space.
4. Use mirrors.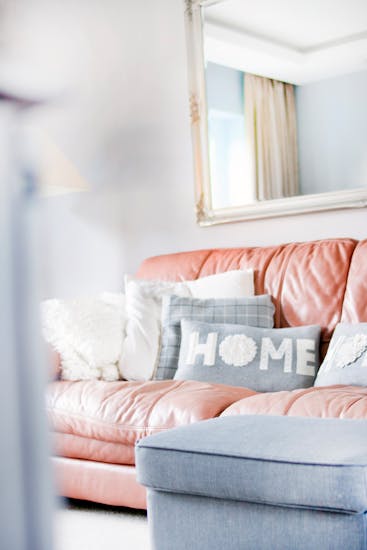 This is timeless advice for small homes. Mirrors create the illusion of a bigger space, and they reflect light generously. Opt for decorative mirrors that double as wall art.
5. Decorate the whole wall.
If you're not confident with your wall decorating know-how, declare "Blast it!" and cover the whole wall with style! Wallpapers and murals let you do this easily. Since your home has smaller proportions, avoid overwhelming it with huge, in-your-face designs. Instead, pick patterns that complement your color scheme. If you're still hesitant, choose just one or two walls to fill with your selected pattern.
6. Use art to hide sore spots.
In a small space, it can be pretty hard to hide a bulky radiator or an ugly fuse box. Not with creative cover-ups! Interior decorators often use artwork and other decor to conceal unsightly spots in households. See some specific tricks here!
7. Hang functional art.
We now know art can be useful, too. Even items on your wall can have dual purpose, like beautiful shelving, clocks, and pretty pegboards. Decorative shelves are especially a blessing in homes where storage spaces are tricky.
8. Go for bright decor.
If beautiful lighting is a luxury, you can still brighten up the room using wall art pieces. Choose ones with cheery colors (like yellow, orange, and white) and designs that make you happy.
9. Drape it with style.
Here's one design trick that's often overlooked: If you don't have much wall space for decor, make your windows your focal point instead! Dress them up with lovely window treatment like curtains, drapes, or valances -- luckily, there are endless designs to match your style.
Bonus pro tip: To make the room feel taller, raise your curtain rods slightly above your window frame, and hang drapes that are taller than your windows.
10. Make a statement!
What if you have space for just one decor element? Choose one with a great impact! A single canvas art -- if it's dramatic and stylish -- can give any room a memorable personality.
Which of these ideas are you going to try at home?
For more budget-friendly home decorating tips, see our super-helpful post here! Or check out the Gear Den shop for fantastic wall decor that customers like you can't get enough of!
Leave a comment
Comments will be approved before showing up.
---
Also in Gift and Decor Guides
Interior decor enthusiasts have spoken: the 2021 Colors of the Year seem to be hit-or-miss. Let's take a look at various experts' Colors of the Year 2021, from Pantone, Benjamin Moore, Sherwin-Williams, and more.
For an instant decor refresh, you don't have to buy any new decor at all! Just move certain home items from one room to another, repurposing or rearranging them to create a new twist in the space. Read on for some easy, no-cost decor hacks!
The world greets 2021 in a subdued manner, but that doesn't mean it will be completely cheerless! If you're staying at home and celebrating with just your family, here are great decor tips and activities for a festive New Year's Eve 2021.