Picture-Perfect Home: 10 Movie-Inspired Interior Decorating Ideas
Home decorating is all about making your house look great, and what can better teach us about visual appeal than movies? After all, film sets are meticulously designed by pros -- from their color palettes and furniture, down to the tiniest piece of decor.
So if you're thinking about adding more style to your home, plop down on the couch with us and let's (re-)watch these movies with inspiring interior design aesthetics. Popcorn not required!
1. The Great Gatsby (2013)
Director Baz Luhrmann is known for his elaborate, spare-no-expense productions, and that worked perfectly for his take on The Great Gatsby. Though its Oscar-winning production design was definitely lavish, you can cop its style without going bankrupt. Try a few elements here and there: a glittering chandelier, a glamorous rug, and of course, some of those large, flowy curtains. The overall theme? Stunning Art Deco meets lively jazz.
2. Mamma Mia (2008) and Mama Mia: Here We Go Again (2018)
Both movies are primarily set on a sun-drenched Greek island, so of course, there's plenty of visual charm here. Think rustic stone cottages with flower-filled patios, exposed wood beams, and colorful textiles.
For a quick dose of this rustic style, decorate your home with wood-like wall art with a homey pastel design, like the personalized canvas print above.
3. The Devil Wears Prada (2006)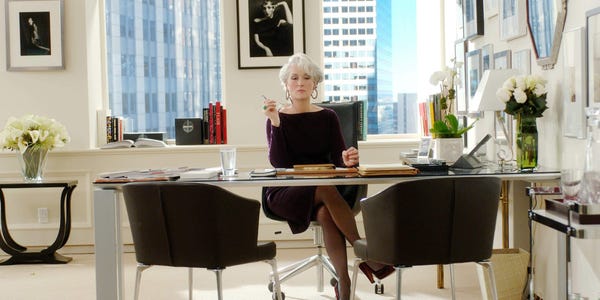 What does the office of a fashion queen look like? Black, white, and oh-so-chic! The best thing about this movie set is not only that it looks utterly classy, it's also quite easy to copy for your home!
Notice how the room makes use of a clean white palette, made brighter by unhindered windows. Then it adds some uncluttered elements: spare photographs, white florals, and a few color-coordinated books. Finally, there's a well-organized gallery wall, relegated to one side of the room.
Bonus tip: For a Prada-inspired evening of entertaining, pull out a conversational piece or two for your guests to remember. This 'high heel' wine holder (below) is just so on-point, it's an irresistible addition to a fashion-themed dinner party.
4. The Grand Budapest Hotel (2014)
When it comes to visual style, one director who always comes to mind is Wes Anderson. His films are all awash in candy colors, designed with symmetry, and filled with quirks. In The Grand Budapest Hotel, some of the most noticeable interior design elements are the patterned floors (both tiled and carpeted), the plush furniture, and the color scheme of pinks and reds. It's like a grownup version of our childhood dream house! 
5. The Holiday (2006)
This movie by crowd-favorite director Nancy Meyers features two very different -- and equally enviable -- locations: one, a modern California mansion, and the other, a charming English cottage. There are tons of inspiration to take from each house. One of our favorites is the stone fireplace and mantel in the cottage, surrounded by overstuffed chairs and dainty chintz drapery. So cozy!
Copy this style by adding a rustic wall piece (like the one above) to your living room, creating a homey feel even without a fireplace.
6. The Graduate (1967)
This film has become a classic for a number of reasons, and its production design is one of them. There's a variety of sets to inspire us here: the purple-sprinkled bedroom (with shag carpeting!), the mid-century modern hotel, and of course, Mrs. Robinson's home bar. This bar is a shiny monochrome masterpiece, outfitted with a sleek curvy counter, some equally sleek leather chairs, and a wide array of sparkly glassware. An oasis for the modern entertainer.
7. Atonement (2007)
Where do we start with this film? Atonement is a richly romantic visual feast, set in a dashing English manor in the 1930s. This shot of the drawing room is, by itself, brimming with aesthetic. From the floral wallpaper to the matching drapes to the matching rug, it's a dreamy home inspiration. Don't forget the ornately carved columns, the polished wood furniture, and the gilded decor pieces!
8. You've Got Mail (1998)
Meg Ryan's brownstone apartment in this romantic comedy is considered an early example of the "shabby chic" philosophy. Sheer curtains? Check. Floral couch? Check. Stylishly weathered paint jobs on furniture? Check!
One trick to copying this style is to use soft, pastel shades throughout your home. Try a few touches of faded pink or powder blue, like the canvas print above.
9. Amelie (2001)
This French film has become a global sensation, thanks in large part to its saturated, vintage vibe. Amelie gives us quirky little glimpses of Paris, like the lively Sacre Coeur grounds, the red-tinged Café des Deux Moulins, and of course, Amelie's own apartment. The highlight of it all is her bedroom, colored red from floor to ceiling, and sprinkled with whimsical animal images.
While it's not easy to pull off an entirely rouge bedroom, we do have vindication now that animal prints make cute wall decor! We love the "Peeping Dog" canvas print (above) that's perfect for pet lovers.
10. Marie Antoinette (2006)
Director Sofia Coppola's languid subtlety floats above a contrasting background of extravagant ballrooms and lavish salons fit for a queen. In real life, Marie Antoinette has become a symbol of opulent lifestyles, and in reel life, Academy-nominated art director Anne Seibel translated this into a dazzling array of chandeliers, rococo furniture and lush botanical arrangements.
A style trademark of this movie are the splashes of baby pinks and Tiffany blues in both fashion and interiors. It's definitely an easy trick to steal for our own humble abodes. Salmon drapes, anyone?
With all these eye-candy movies, we're so motivated to redecorate our house now! Which film is your favorite design inspiration? Share with us in the comments!
For more home decor ideas and products that customers love, head on over to the Gear Den shop online!
Leave a comment
Comments will be approved before showing up.
---
Also in Gift and Decor Guides
June is the month of gorgeous summer weddings and lovely brides! If you'd like to give the perfect gift for your soon-to-be-wed sister or BFF, make it meaningful, within budget, and beautiful like the bride. Here are our top wedding gift ideas.
For many of us, fathers have been quiet rock of our households, keeping us secure, comfortable, and loved. So for Father's Day 2021, let's take a few minutes to enumerate some of the wonderful things we love about Dad.
It's grad season! What's a good present for a graduating friend, sibling, or child? Sometimes, an inexpensive yet thoughtful item is just the perfect present -- nothing crummy or tacky, just meaningful and useful. Check out these gift ideas!