Get the Look: Decor Tricks to Copy from the Dreamiest Airbnb Homes
We confess: we're addicted to looking at beautiful Airbnb listings not just because of our wanderlust, but because we can't get enough of the home decor inspiration! Sure, part of the charm of these dwellings is due to their incredible locations, but their interiors are just as enviable. Here, we pick out some interior decorating tips from top Airbnb houses in America and around the world, and guide you on how to apply these tips in your very own home!
(Tiny) tropical paradise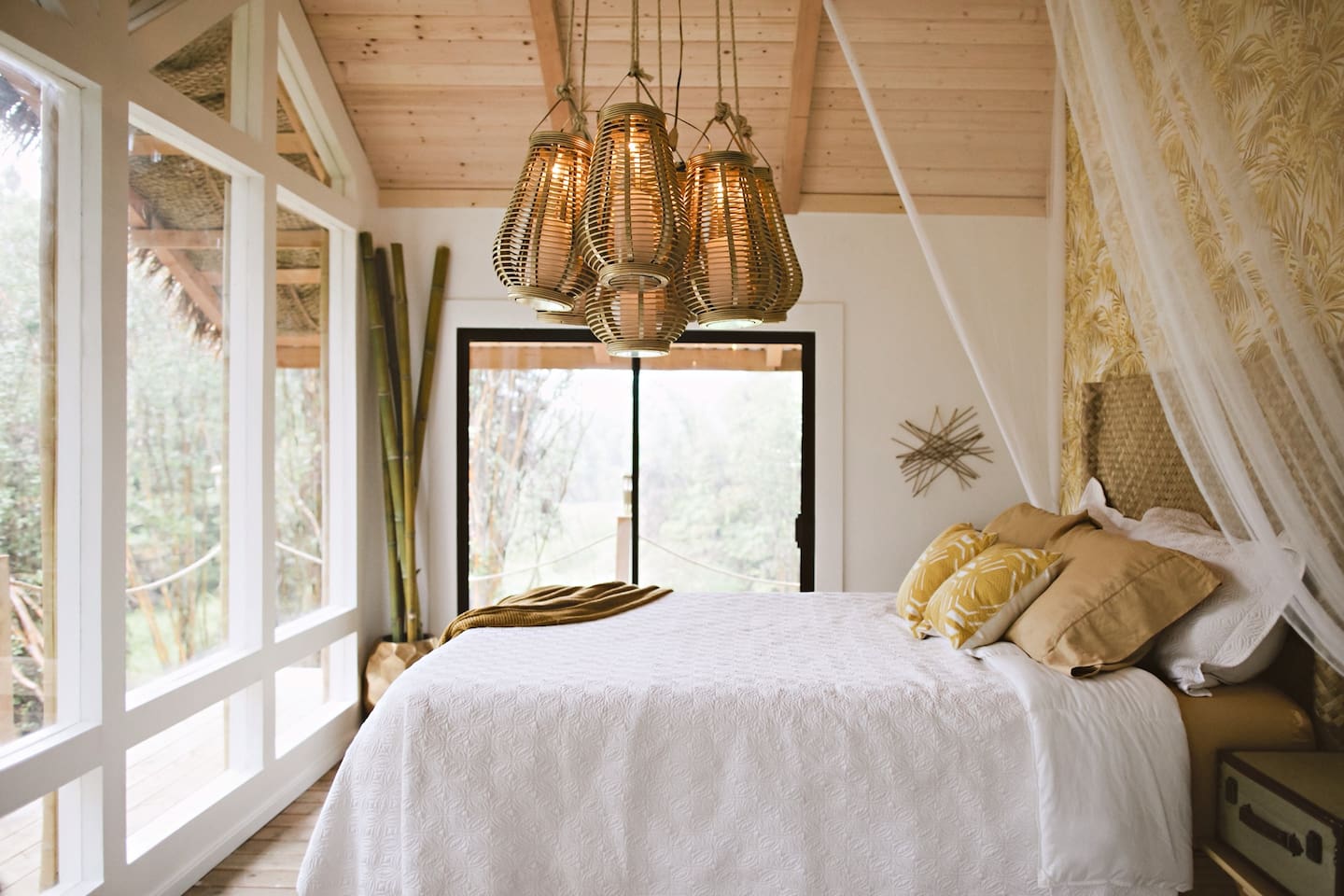 This bedroom in a treehouse home in Hawaii may be small, but wow, its design makes it look so airy and heavenly! The floor-to-ceiling glass windows are a major factor in this, but there are other decor elements that really make the look of this space.
Decor tip #1: White is the go-to paint color for making a room feel spacious, but don't be afraid to pair it with other hues! This room would have looked less interesting if not for its well-selected earthy tones: visible enough to add dimension and character, but warm enough to maintain the light atmosphere.
Try adding beddings with light, dusky hues, like our rose-gold infinity sign pillow:
Decor tip #2: The wood cage chandelier is the crown jewel of this room. If you love the idea of investing in statement lighting but are worried it might weigh down the room's ambiance, find a lighting fixture that's made of natural materials like wood, rattan, or hemp.
Parisian dream
Fancy a couple's getaway in the City of Lights? This luxe apartment's bedroom has the quintessential elements: a blissful bed, a view of Champs Elysées, and a sprinkling of romantic decor.
Decor tip #3: Piling on pillows and blankets make for an ultra-comfy, cuddle-inducing bed. How do you keep it from looking overwhelming? Get your beddings in serene hues such as light grays and lilacs. You might love our light-gray personalized couple blanket (below) to add just the right dose of sweetness into your bedroom.
Decor tip #4: To add character to a white bedroom, consider an accent wall featuring a 'textured' wallpaper. But if you're not ready to dress up an entire wall just yet, you can simply hang an elegant piece of artwork that matches the room's theme. We've got tons of couple-themed wall art on Gear Den, like this one which you can customize with your own names:
Lovely loft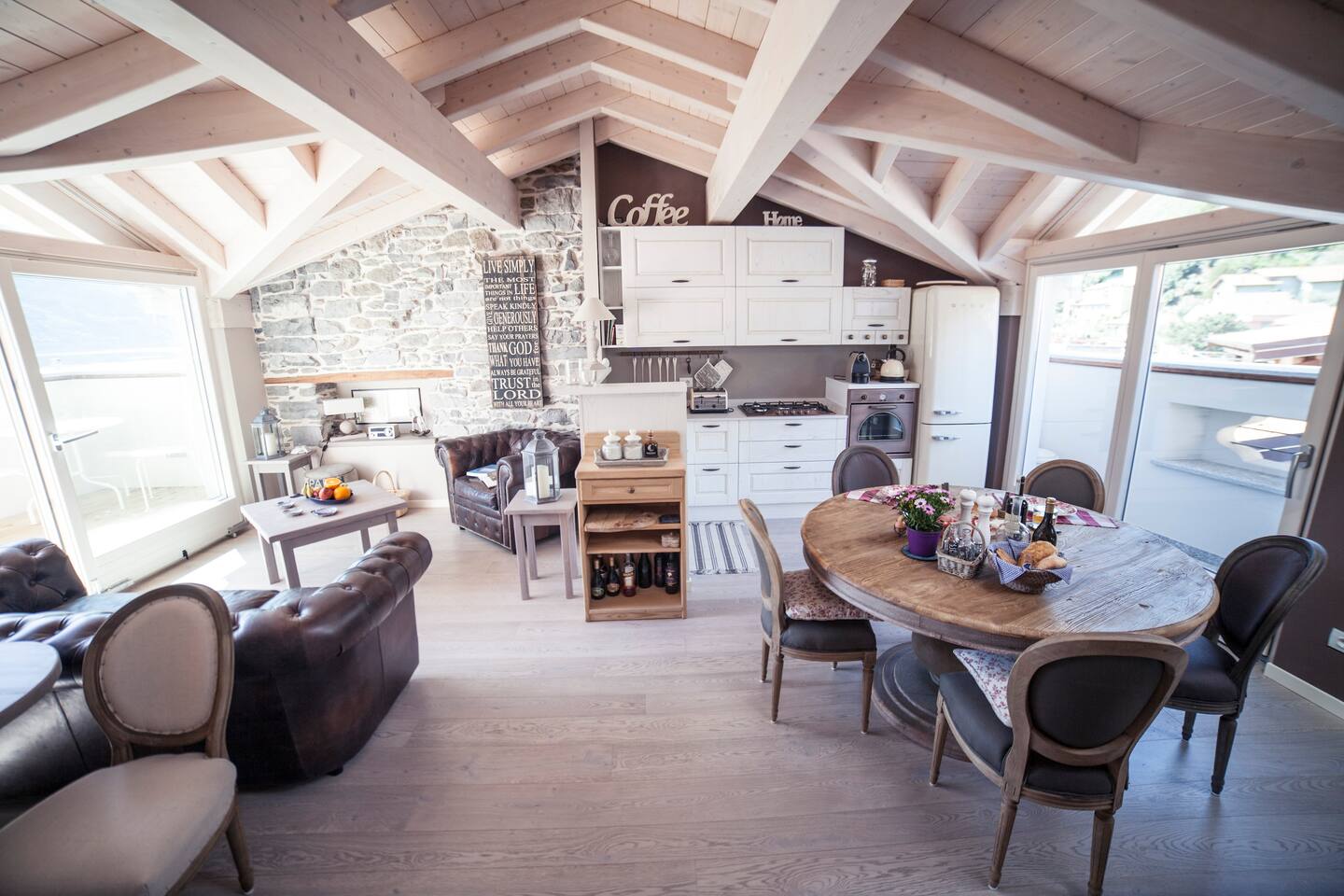 This charming loft may be a stone's throw away from Lake Como, Italy, but we don't even need the lake view to fall in love with the abode. Its inviting, cabin-like interior design is enough reason!
Decor tip #5: The open-floor plan really makes this home look spacious and inviting. If you're going for the open plan but still want to delineate between spaces, use furniture with mid-level height. Notice how the couches and the mini-bar are arranged to separate the living room from the rest of the area.
Decor tip #6: Have an oddly-shaped wall that needs decorating? Take your cue from the brick wall above, and try a vertical panorama! An example is the rustic vertical wall art below. It's skinny enough to fit on those tricky wall spaces, but stylish enough to make an impact:
Luxe for less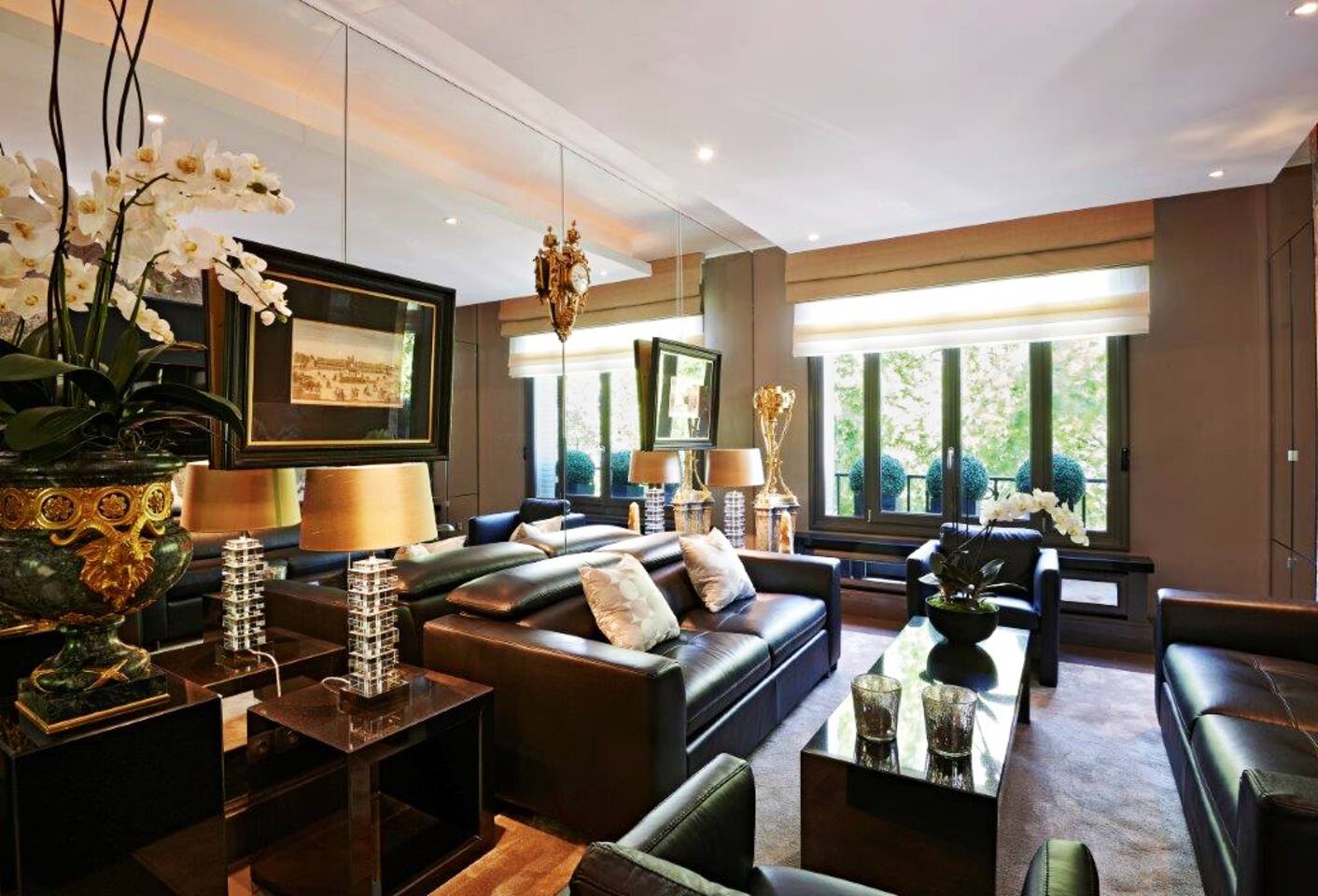 This Paris apartment is a stunning showcase of opulent taste! But guess what: it actually employs some age-old design tricks that we can copy without breaking the bank.
Decor tip #7: Mirrors are obviously at work here! This living room isn't really that big -- and neither are those windows -- but those mirrored walls amplify both visual space and light. So simple, but so effective.
Decor tip #8: Want an instant luxurious look? Start with a rich, dark color palette and accent it with metallics. The midnight blue wall art below, printed with a gold-color design, might just be perfect for you.
Sun-drenched oasis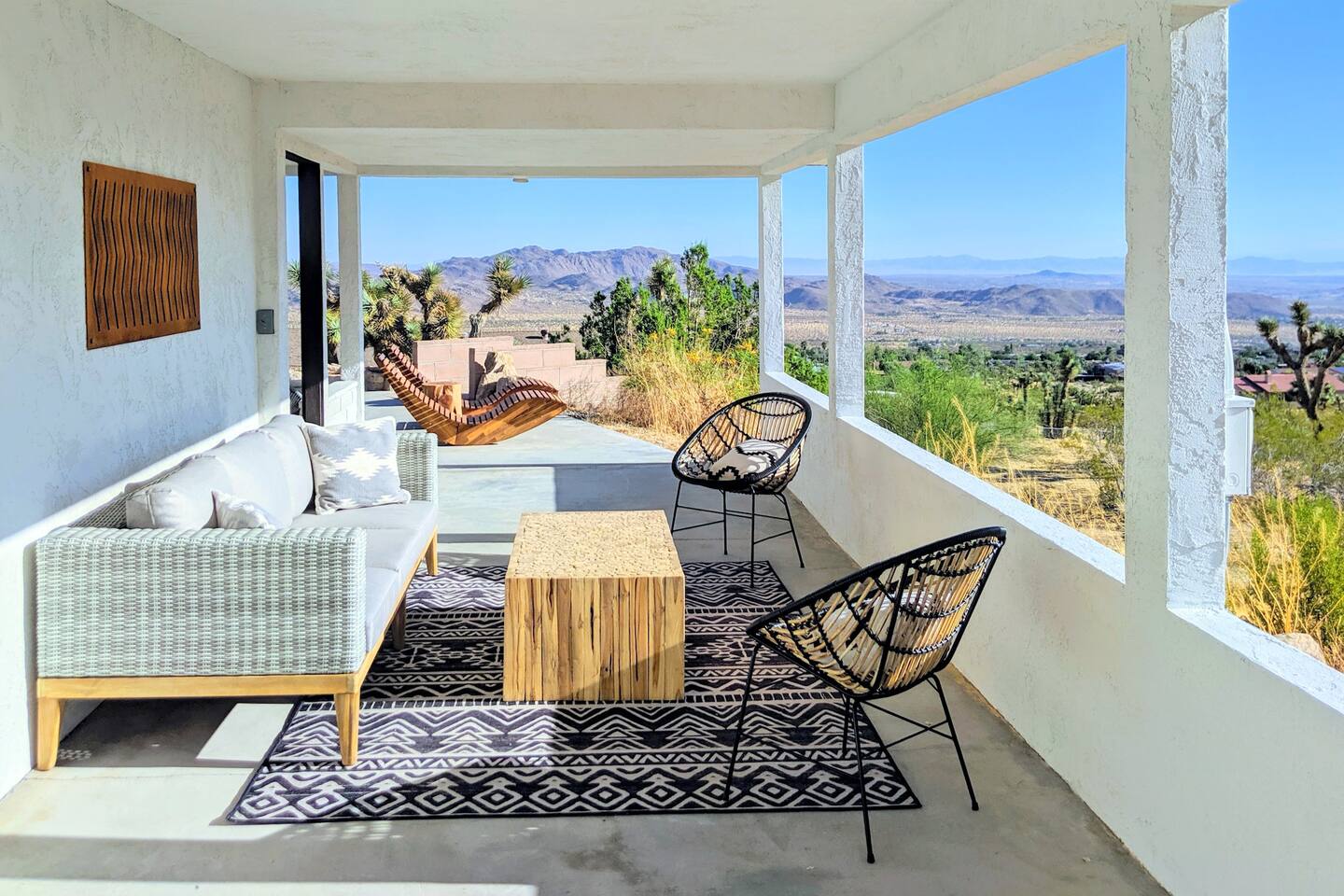 Who needs a ton of ornaments when you have a view this gorgeous? This Joshua Tree, California property certainly gives the spotlight to the beautiful desert scenery, but that doesn't mean its expansive patio is bereft of style.
Decor tip #9: If you want to keep a space minimal but attractive, a well-selected rug may be the key. Can you imagine this terrace without that fabulous ethnic-patterned rug? It would look so bare!
Decor tip #10: Another balcony essential? Comfy, outdoor-friendly pillows so you can snooze in the sunshine! We recommend the pretty throw pillow below, which is made of durable broadcloth fabric and designed with a sweet nature print.
Calm, collected, and classy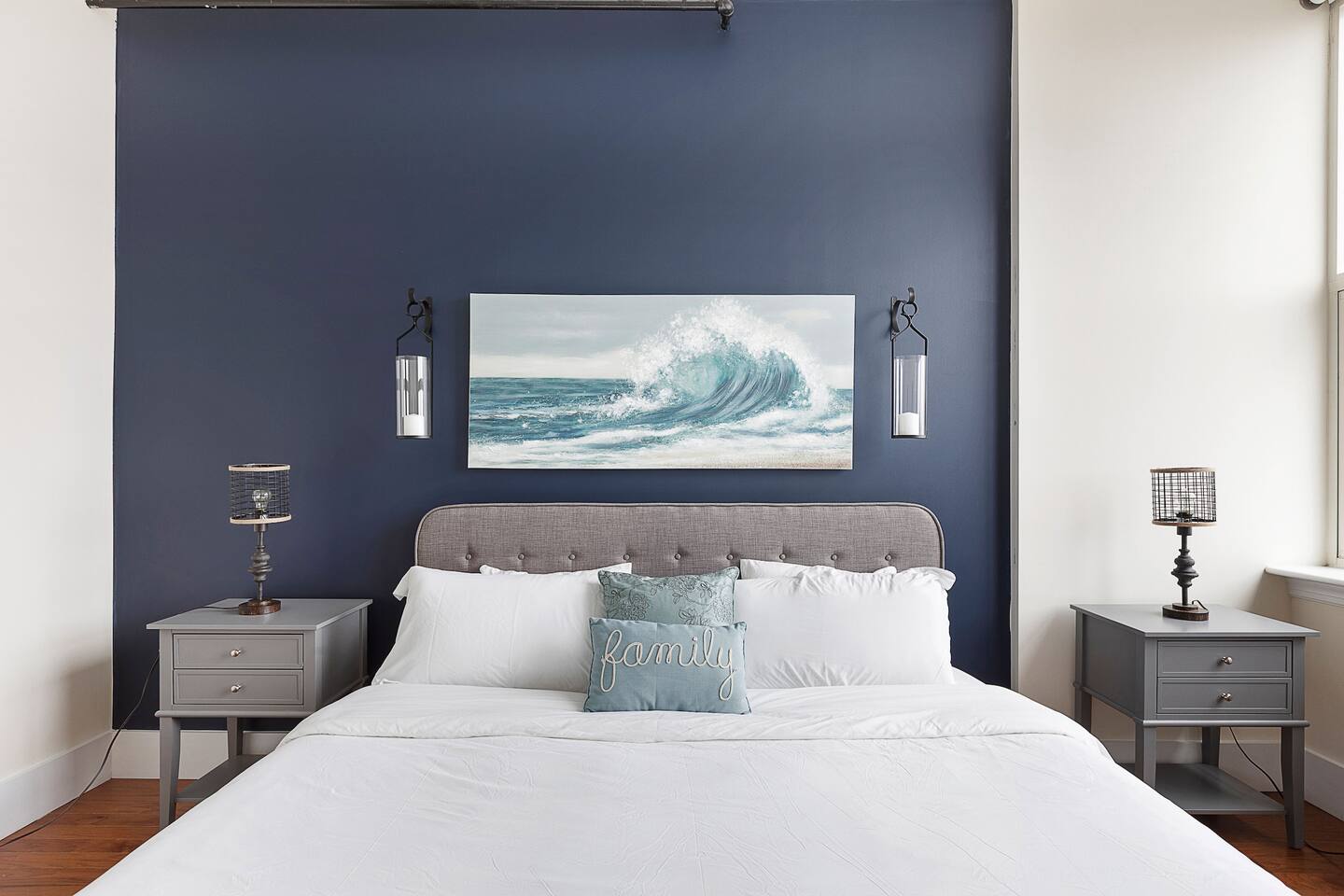 Each room in this hip New York City apartment has its own accent wall that displays artwork with panache. It's hard to choose a favorite room, but it might be this blue-toned bedroom with a nautical feel against the NYC view outside.
Decor tip #11: The proportion of your artwork in relation to surrounding furniture really matters. In general, the wall decor should be about 3/4 of the furniture width. The panoramic piece above perfectly suits the bed size, which is why this room looks so put-together!
Explore panoramic wall art on Gear Den, just like this personalized family wall art:
Decor tip #12: To make your artwork really pop as the focal point, flank it with other decorative elements such as lights. See our guide in pairing art with other objects, here.
Inspired by these fantastic rentals? We ourselves are itching to redecorate now! If you're about to add some decor to your home, browse GearDen.com for wall art, pillows, and blankets you'll love.
Leave a comment
Comments will be approved before showing up.
---
Also in Gift and Decor Guides
June is the month of gorgeous summer weddings and lovely brides! If you'd like to give the perfect gift for your soon-to-be-wed sister or BFF, make it meaningful, within budget, and beautiful like the bride. Here are our top wedding gift ideas.
For many of us, fathers have been quiet rock of our households, keeping us secure, comfortable, and loved. So for Father's Day 2021, let's take a few minutes to enumerate some of the wonderful things we love about Dad.
It's grad season! What's a good present for a graduating friend, sibling, or child? Sometimes, an inexpensive yet thoughtful item is just the perfect present -- nothing crummy or tacky, just meaningful and useful. Check out these gift ideas!