No Wall Hanging? No Problem! Display Art Without Drilling Or Hanging
While artworks are typically found on the walls of American homes, many of us just can't tamper with our walls with nails and holes. Either we don't feel ready for that kind of commitment, or we're subject to strict rental rules from our landlords (sigh). But as with any artistic dilemma, there are creative solutions for this. Take a look at these clever ways to display art without hanging it on the wall. The results are just as stylish -- or better!
1. Make a table vignette.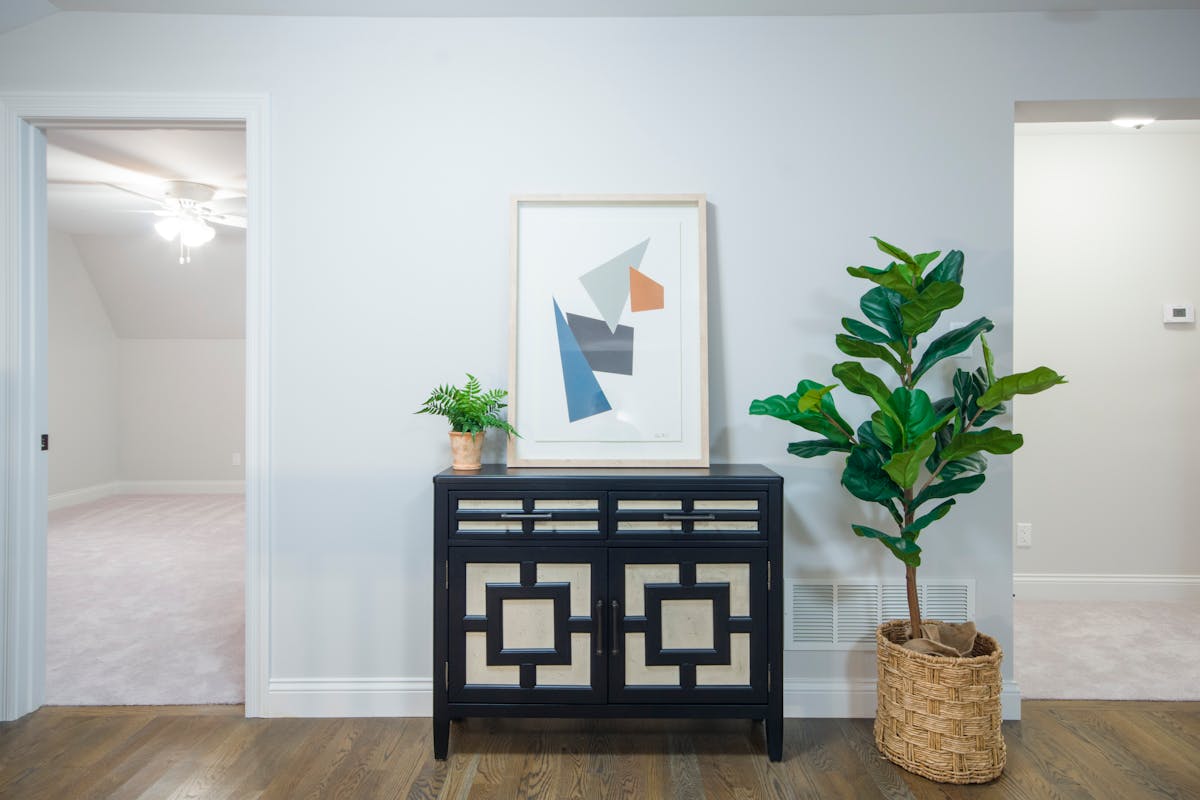 Vignettes, or artful groupings of objects, are a favorite trick of decorators to create picture-perfect spots around the house. If you have an end table, nightstand, or dresser positioned by the wall, this is the perfect horizontal surface to top with decor. Start by leaning your favorite artwork against the wall, then build on your tablescape with other items. (For a step-by-step guide on composing a vignette, click here.)
For this art display, we recommend: A personalized family-themed print (below) that would go so well with your family photos and other mementos on the tabletop.
2. Floor it.
Have you noticed that in some of the most enviable homes, large pieces of art are simply stood on the floor against a wall? It's so casual-chic! The size of the artwork really matters here, because it has to be visible from the ground up, among the surrounding furniture.
For this art display, we recommend: A visually appealing motivational artwork that you'd love to see in large format every day! (Your guests will stop and look, too!)
Or how about: An eye-catching pop art statement piece that shows off your playful side!
3. Spice up a shelf.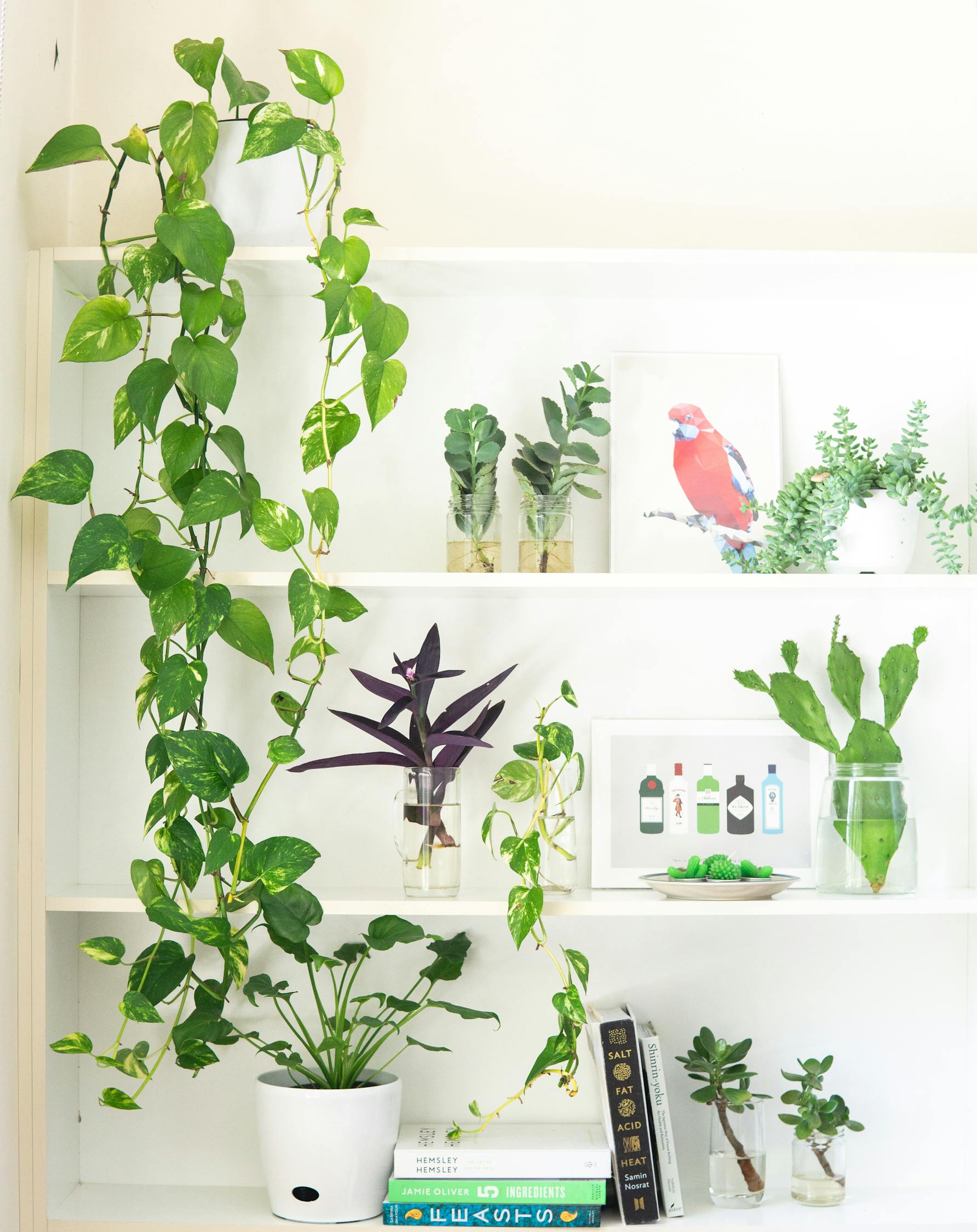 How is it that some homes' open shelves just look so put-together and interesting? Two things: variety and depth. By "depth," we mean that the shelf display is layered and not all lined up in a straight, one-dimensional array. To achieve this, try putting a bigger object -- like an artwork -- further to the back of the shelf, then position a smaller object in front of it. (More tips on styling an open shelf here!)
For this art display, we recommend: An simple but sophisticated monogram print. It'll make an impact even when placed among other objects on the shelf:
4. On the mantle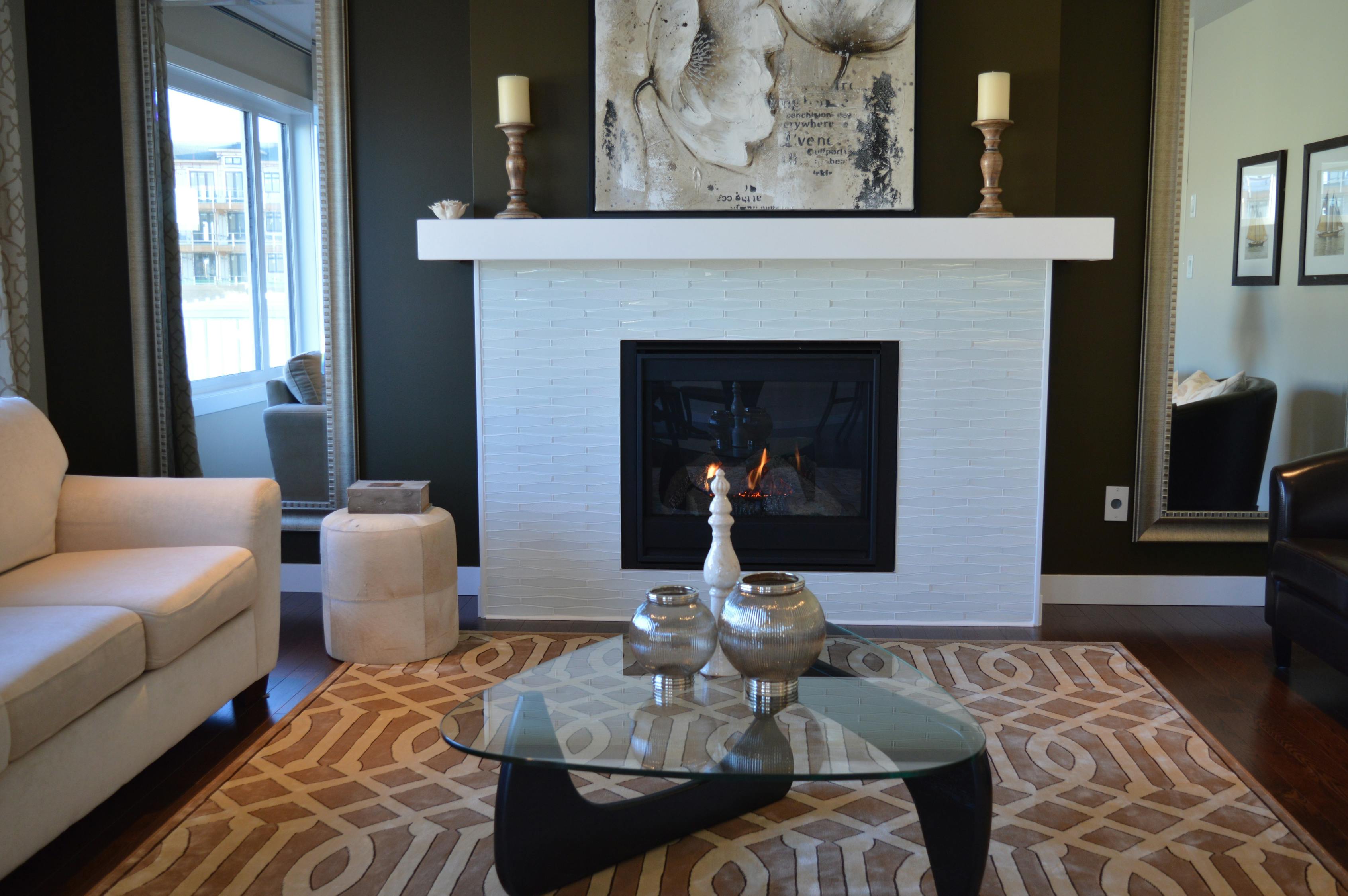 Putting up art above a fireplace is classic, but remember that you don't have to install the artwork on this part of the wall. If your mantel is wide enough, you can simply lean the art piece on it. Effortless elegance.
For this art display, we recommend: A warm, rustic, yet classy artwork that matches the coziness of your fireplace:
5. Take advantage of ledges.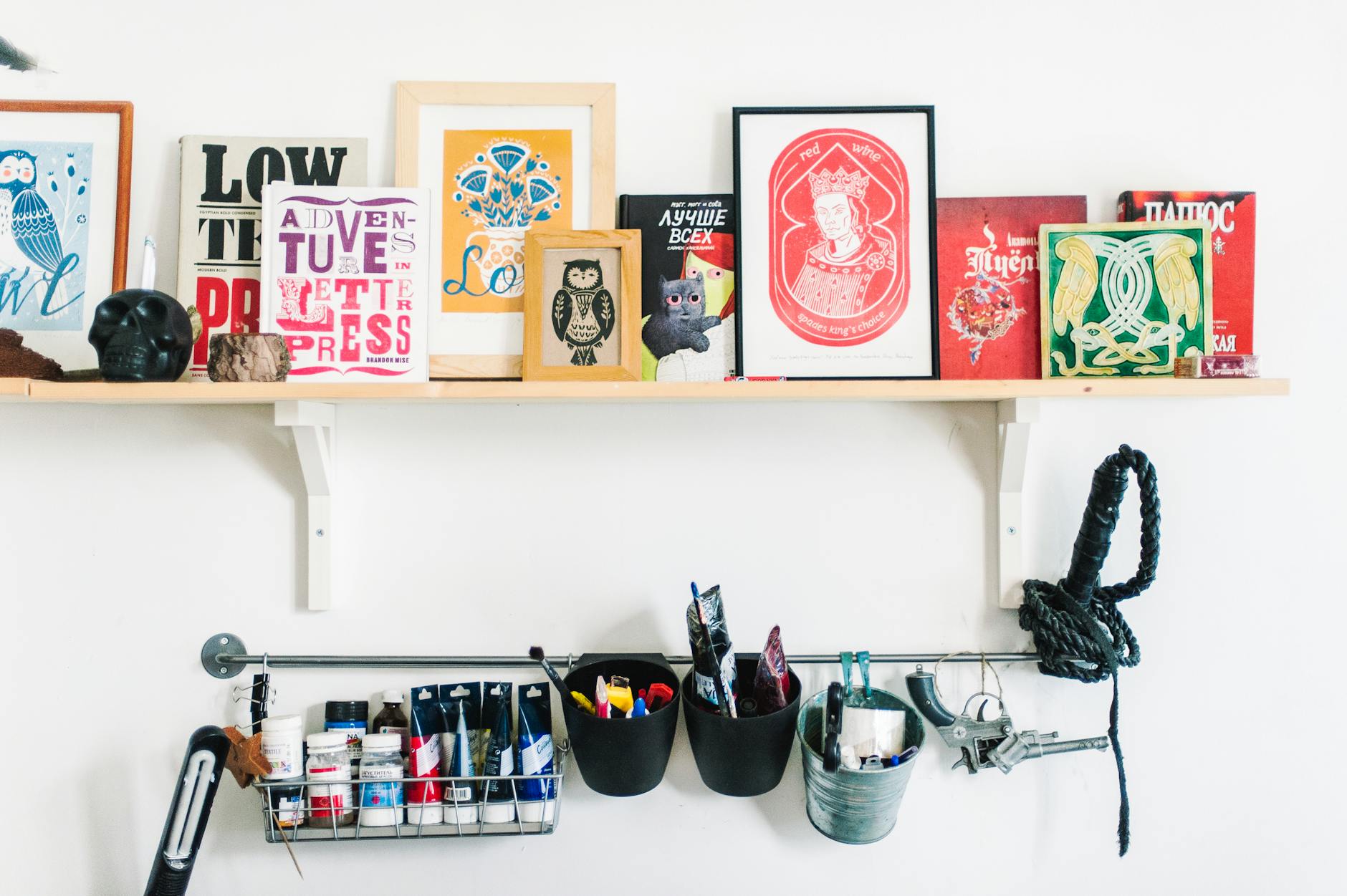 Do your interiors have ledges or odd little overhangs? Perhaps there's some built-in shelving, a low rack by the wall, or even a built-in wall nook. See if you can place artworks on these horizontal surfaces. Layering art pieces is best for these ledges, transforming them from odd protrusions into a gallery-like display.
For this art display, we recommend: Lightweight canvas prints that won't overload the ledge but still pack a visual punch:
6. Put up a standing showcase.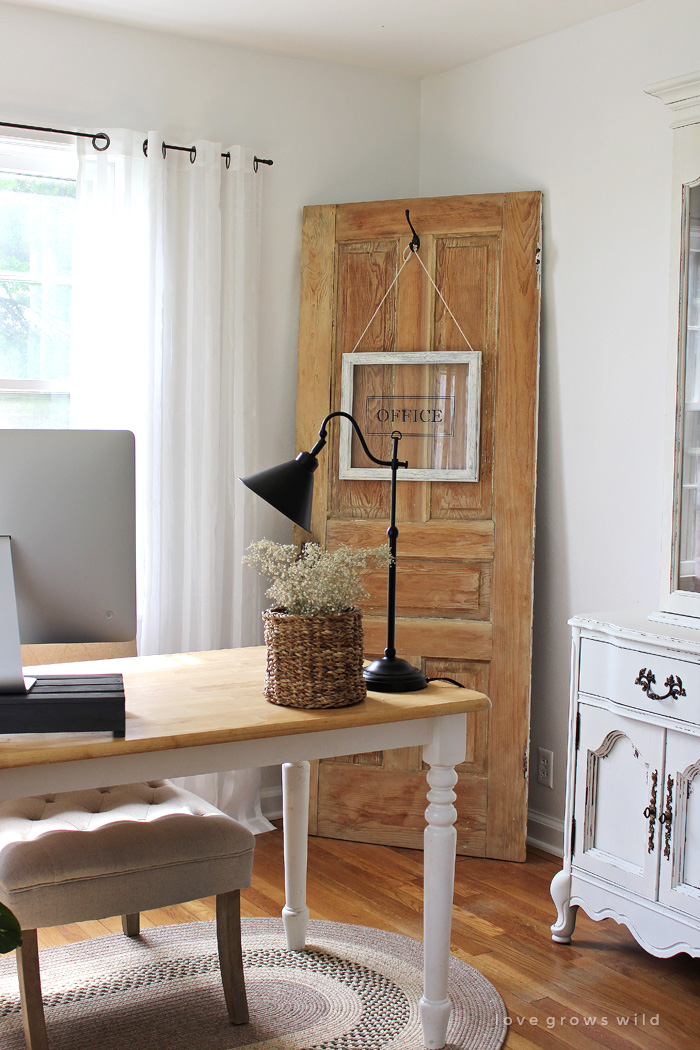 Ever considered bringing in a standalone board or screen just to hang art on? We were inspired by this idea from interior design blogger Liz Fourez, who turned an old door into standing accent in her office.
Here's a similar idea from lifestyle blog MyFriendStaci, using wood pallets to create a DIY room divider-slash-gallery. Genius!
For this art display, we recommend: A multi-piece personalized artwork set that you can hang gallery-style on your extra 'wall.'
7. Against the window

Placing art pieces on the window sill or window ledge can result in a beautiful, light-filled showcase. Just take a look at the bathroom above, made tasteful with a few select pieces against the glass window.
For this art display, we recommend: An aesthetic, un-busy art print in soft colors. It lends refinement to the room without competing with the outdoor view:
8. Dedicate a furniture display.
If you have an extra corner in your house with ample floor space left, turn it into a dedicated 'art spotlight.' Position a piece of furniture to prop your art on -- like a chair, a stool, or even a neat stepladder -- and dress it up with decor. In the photo above, we can see how a simple tree-stump chair became an eye-catching platform for the framed illustration.
Here's another example, using a custom ladder to specially display several art pieces:
For this art display, we recommend: A watercolor-inspired canvas print that looks like fine art -- worthy of its spotlight!
9. When all else fails, stick it!
When you just have to put that poster or photo up on the wall, you still have a non-permanent, no-nails-involved option: simply stick it with adhesives. You'll want to choose the right adhesive for this so you don't damage the wall paint. You can browse craft shops for adhesive strips made specifically for picture-hanging, or go the more decorative route by using washi tape as instant frames!
Have you found your favorite way to display art in your home? Tell us about it in the comments!
For more of the beautiful, customer-starred canvas prints featured here, head on over to the GearDen online store!
Leave a comment
Comments will be approved before showing up.
---
Also in Gift and Decor Guides
Interior decor enthusiasts have spoken: the 2021 Colors of the Year seem to be hit-or-miss. Let's take a look at various experts' Colors of the Year 2021, from Pantone, Benjamin Moore, Sherwin-Williams, and more.
For an instant decor refresh, you don't have to buy any new decor at all! Just move certain home items from one room to another, repurposing or rearranging them to create a new twist in the space. Read on for some easy, no-cost decor hacks!
The world greets 2021 in a subdued manner, but that doesn't mean it will be completely cheerless! If you're staying at home and celebrating with just your family, here are great decor tips and activities for a festive New Year's Eve 2021.