Pet-Proof, Beautiful Home: 11 Helpful Decor Tips for Pet Owners
No matter how many times you have to vacuum up dog fur or wipe off dirty cat paw prints in your house, you can never give up your furry babies. But as a pet owner -- nay, pet-parent -- you're constantly caught in the dilemma of keeping your home pleasant for your pet while also keeping it tidy and beautiful.
We feel you! What else can you do apart from avoiding dangling ornaments? Here, we've compiled our favorite practical tips and tricks for pet owners to keep their homes effortlessly pet-proof and pretty.
1. Pick strategic wall paints.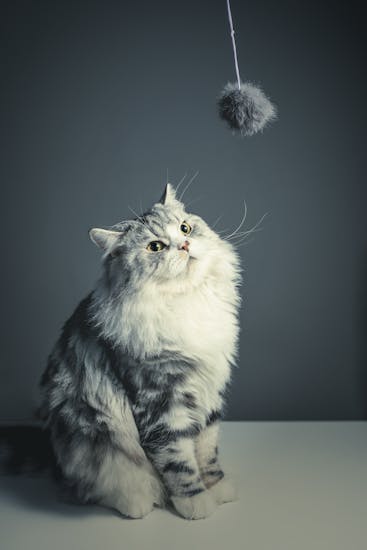 Walls are among the first casualties from pet scratching, rubbing, and even drooling. Needless to say, pure white walls are not a good idea when pets are in the house! Instead, choose paint shades that match your dog's or cat's fur to help camouflage the hair they leave behind.
More importantly, use paint finishes that are easy to clean, like semi-gloss. Flat or matte finishes are practically impossible to clean!
2. Pick strategic fabrics.
Like with paints, you can choose more pet-friendly fabrics in terms of color and material. You'll want your upholstery and drapery to be in a shade that's close to your pet's. But more than that, the fabric material is key to pet-proofing.
Materials that are more resistant to hair, stains, and odor include top-grain leather, microfiber, microsuede (a.k.a. Ultrasuede), and other strong synthetic fabrics like Crypton. Conversely, steer clear of velvet, silk, and tweed.
Wall art pictured above: "Love And A Dog"
3. Cover up!
Admit it: you let your pet hang out on the bed with you. If you want your bedding to stay hygienic and tidy, protect it from left-behind fur and accidental pet barfing using temporary washable cover-ups. Duvet coverlets are super-helpful here!
Washable slipcovers are also a workaround if you want more freedom with your upholstery. Throw a microfiber slipcover to protect -- and complement -- your favorite sofa design.
Wall art pictured above: "You & Me (And The Dogs)"
4. Reconsider your flooring.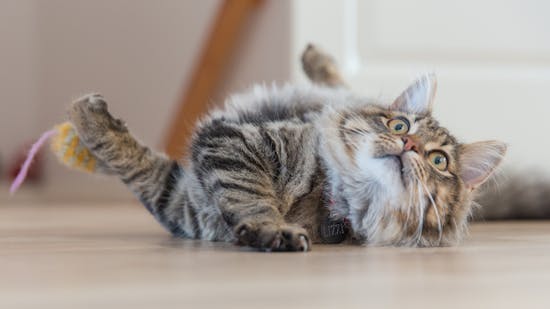 Two things that won't last under your pet's claws: flawless hardwood floors and wall-to-wall carpeting. But don't worry, you still have plenty of flooring options that are pet-friendly and far from boring. There's terrazzo, there's porcelain tile, there's brick. Even a concrete floor can be lovely, and you can style it further by opting for painted concrete.
If you just have to have hardwood or carpets, consider opting for those modular, repositionable carpet tiles. Also look for carpets that have special backings that prevent pet urine or other liquids from seeping through.
5. Get stylish pet items.
Puppy bowls and kitty scratch posts don't have to be unsightly. Thank pet heavens for the endless array of cute pet items that allow us to match Buddy's stuff with our home decor. Jewel-toned pet bed to go with the living room scheme? Yes, please.
6. Set up your pet's entry.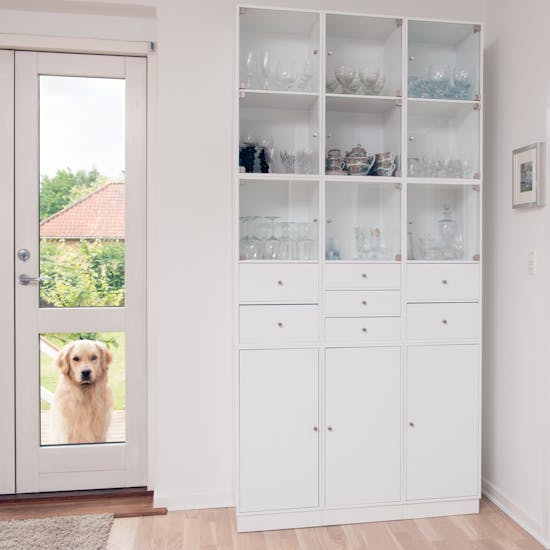 Here's a trick that hardcore pet owners swear by: Create a special entryway or mudroom for your pet, so they get cleaned up the moment they get in the house after frolicking in the yard. How? Lay down a pet rug right by the door where they can leave behind mud and dirt. Also keep old towels at the entry so you can give Cooper a nice wiping before he conquers the rest of his palace.
7. Dedicate a space for Fluffy's hangout.
Another handy organizational tip for getting pet stuff out of the way: put them all at an inconspicuous pet hangout spot in the house. That space under the stairs is just perfect for a doggy house or a kitty perch. 
8. Conceal creatively.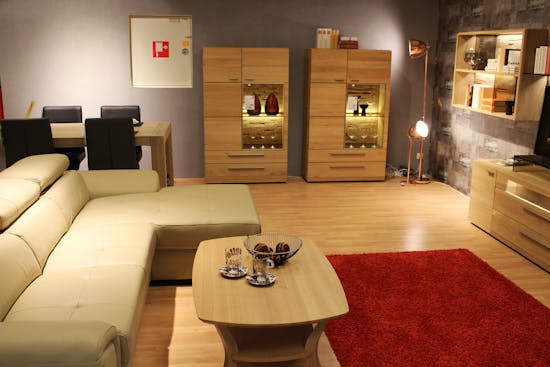 What about pet items that are a bit messier, like the litter box or the dog food? With a dash of creativity, you can store them in plain sight without adding eyesores to your interiors. For instance, the litter box can go in a side-table cabinet or a concealed bottom shelf; the dog food can be stashed in a pullout bin in the kitchen.
9. Decorate away from the floor.
Homes with pets are better off without floor-length drapery and sofa skirts. And obviously, you can't keep knickknacks where pouncing paws can reach them. Instead, focus your decorating at the human eye level. Wall art is an excellent option for aesthetics and practicality.
Wall art pictured above: "Russian Blue Cat"
10. Swap breakable art for canvas.

Speaking of wall art, canvas prints are really popular among home decorators -- especially those who have feisty cats that love leaping up the walls! When such energetic pets are around, it's best to put away those glass frames on your mantel and above your sideboard. Canvas is a preferred art material because it's less fragile and just as beautiful. Plus, it's usually more affordable, too.
Wall art pictured above: Personalized "All These Dogs" Canvas Print
11. Showcase your pet ownership!
In the end, we pet owners must embrace that our beloved animals are part of our interior style. Why not turn this into an asset? There are many adorable ways to highlight the presence of furry babies in your house -- like with the decor piece above. Your guests will go "Aww" -- or at least be warned on their allergies!
Fellow pet-parents, we'd love to hear from you. What's your number 1 tip for decorating with pets? Comment below!
For more pet-inspired wall decor that would be perfect in your home, check out the bestselling Gear Den collection!
Leave a comment
Comments will be approved before showing up.
---
Also in Gift and Decor Guides
If you'd love to make a good impression on your guests -- or just really love decor that can't be found anywhere else -- we got you! These wall art ideas are unique, one-of-a-kind, and charmingly attractive, they'll add character to your home.
We picked the easiest, most practical, most appealing decor tips and storage tricks for you! No complicated handiwork, no expensive purchases, no shabby-looking results. Just simple, clever solutions. Try these today!
Even if you're tightening your budget this 2021, you don't have to cancel your Easter celebration. We rummaged through decor ideas and party suggestions, and compiled these top tips for a budget-friendly yet charming Easter Sunday. Enjoy!