Love Playing Host? Try These 7 Impressive Decor Tips for Home Entertaining
There's something about hosting houseguests that feels so fulfilling. It's not just about being able to show off your home (although that's a bonus) -- it's about having a pleasant time with good company, as you make them feel welcome and comfortable in your abode.
Interior decor is a huge part of what makes guests feel at home. Keep these decorating ideas in handy for your next gathering, whether you are throwing an elegant dinner party, a lively potluck, or a relaxed Sunday brunch.
1. Flowers never fail.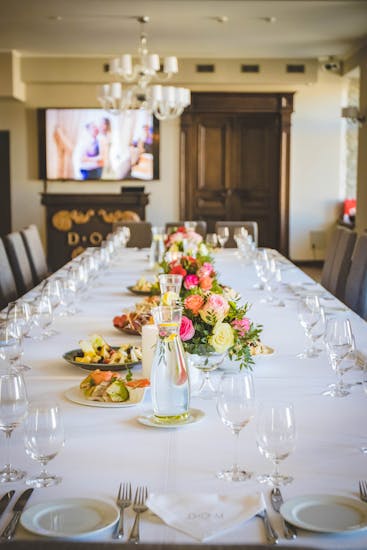 Fresh blossoms and living botanicals are a go-to for event stylists. This is great news for us home entertainers, because flowers are easy to find and are foolproof ways to add charm to a party. For best results, fill your home with blooms that match the season or theme of your event -- rustic reds and oranges for Thanksgiving, pretty pastels and greens for spring.
2. Welcome them with wall art.
A quick and inexpensive way to welcome your guests? Hang wall decor that literally spells it out for you. Canvas art is a good option because it's affordable and there are so many designs to suit your home. The piece above is a great example: it's warm, it's budget-friendly, and you can use it in various occasions. (It's actually a bestseller on Gear Den!)
3. Light up the room.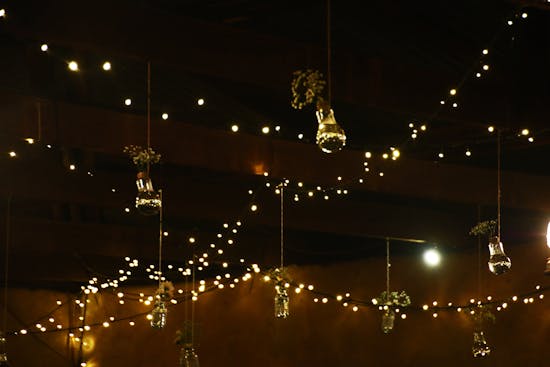 Another essential in home entertaining is good lighting. It's not just for practical purposes -- lighting sets the mood in the room and can double as decor. Choose your lights according to the tone of your event. Dim lamps are lovely for classy cocktails; string lights are perfect for romantic or whimsical get-togethers; and candles make nice additions to cozy family meals.
4. Add homey elements.
Since your guests' comfort is your goal as host, fill your home with items that bring warmth and coziness. It can be as visible as cozy lighting, something less tangible like a light sweet scent in the air, or something as simple as fresh pillows on the sofa. One idea that Gear Den customers love is to turn a nice mealtime prayer into rustic wall art, helping create a pleasant atmosphere at the dining table.
5. Throw in a memorable item.
Of course, your hosting skills are what makes the most impression in a gathering. But guests will truly remember your home if you decorate it with one-of-a-kind items. They'll still be talking about "that cute kitty wine bottle holder from the dinner last year."
6. Don't forget the bathroom!
A true hospitable home is welcoming even -- and especially -- in private rooms like the toilet. Bring smiles to your guests' faces with silly-cute bathroom wall art such as the one above.
7. Punch it up with patterns.
Still needing more pizzazz to your party venue? Decorate with patterns! They're the instant difference between boring and buzzing. Incorporate stunning prints on your table runners, place mats, table napkins, drapes and curtains... the list goes on! Your setting will be picture-perfect in no time.
Are you inspired by these tips? We can't get enough, so share your favorite ideas with us in the comment section!
Happy hosting!
Leave a comment
Comments will be approved before showing up.
---
Also in Gift and Decor Guides
One of the best things to pair with wall art is
your beautiful indoor plant! Many interior decorators and home magazines use this trick. Want to see tips and examples of art-and-plant 
combos
? Read on!
We found a fresh way to customize your wall decor: feature a special date in it! The result is a wonderful and lasting memento for you, and an impressive conversation-starter for your guests. See these personalized date wall art examples!
What does "Mediterranean style" or "Scandi style" mean? What decor elements make a "Zen" home? And what in the world is "Florida design"? Here's an intro to various interior styles from around the world, with tips and examples.