Stunning! 12 Unique Wall Decor and Wall Treatment Ideas to Wow Your Guests
A lot of wall art pieces are pleasant and traditional, but let's face it: sometimes, they can be forgettable, too. Why fill your walls with something wholly unremarkable? If you're bored of the usual wall decor options, we're here to spice things up. A dash of creativity here and a sprinkling of inspiration there, and you've got some one-of-a-kind wall designs that will invigorate your home and be the envy of your guests.
1. Bold wallpaper
Dark, dramatic, beautiful wallpaper has become an interior design favorite, and it's easy to see why. It's an easy way to make a room feel more elegant and luxurious without the cost and commitment of painting. Recent wallpaper trends are more about big, gorgeous florals, but there are endless other patterns that make an impact.
2. Framed patterns
Speaking of patterns: if you're not sure about filling an entire wall with them -- or if you have just a few yards of pretty patterned material -- frame them instead! Framed wallpaper and fabrics are an affordable wall art option, but they look oh-so-classy. They work best when displayed in large proportions and in multiple panels.
3. Decorative wall molding
If your interior style is more about understated sophistication, decorative molding may be your perfect wall treatment. This beautiful millwork needs no fussy paint jobs or additional decor. Let the gorgeous accent wall do the talking.
4. Family art
Customized wall art is a sure way to add a unique and personal touch to your home. Many of our customers at Gear Den love personalized wall decor that features their family, like the piece above that makes an elegant accent in the dining room.
5. Personalized romantic art
Personalized decor is perfect for loving couples, too! It can be a great gift item or a sweet addition to the bedroom or any other room in the house. The piece above is a bestseller for obvious reasons: it's customizable, it's romantic, and it looks very pretty on any wall.
6. A special map
Feature a state, city, or secret spot that holds a special story for you or your family. It could be where you grew up, where you and your partner met, or where your family finally bought a home. Hang your map art on your wall and let it spark your stories.
7. Metallic accents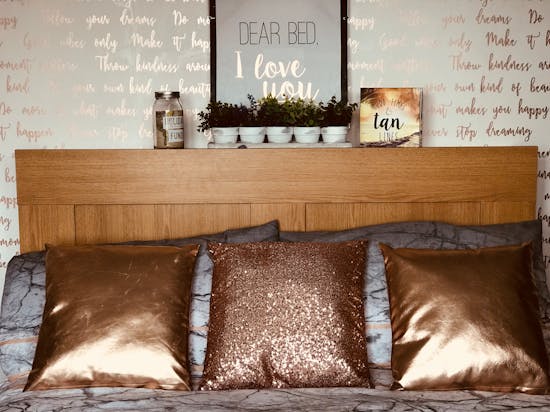 Metallic finishes are a decorating trend that just keeps on giving. They add pizzazz to ornaments, furniture, upholstery, and now, even walls! You can stencil your own design using gold or brass finish paint, or for less commitment, just play around with metallic wall decals and stickers. Whichever your medium, remember that these shiny accents are high-impact, so apply in moderation.
8. A beautiful word
There are some words that stand out on their own, perhaps due to their sound, their origin, or their meaning. Do you have a favorite word from your native language? Or an unforgettable one-liner from your own folks? Display it artfully in your home. It's a guaranteed conversation-starter.
PS. Do you know what the Irish word "failte" means? It's a lovely word for any home. :)
9. Unconventional shelves
Creative wall shelving is a triple treat: it functions as storage, it's pretty enough to be wall art, and it can make your guests go "Where did you get that?" The best part is, you can make these shelves yourself! There are tons of various DIY tutorials online. To make those amazing picture-framed shelves above, see the instructions here.
10. Gloss on matte paint
This genius painting technique creates a wall that's subtle but incredibly impressive. You just need flat paint, some glossy paint in a similar shade, and a stencil. The result? A sophisticated room accent that even hotels would want to copy!
11. Portrait on canvas
Of course, the most one-of-a-kind thing you can hang on your wall is a portrait. But if you want something a bit more interesting (and a lot more affordable), we've picked this one for you: a premium canvas wall quote that you can personalize with your own photo! Now that's a wall piece you won't see anywhere else.
12. Personal monogram
Monograms are an instant touch of class. Create a beautiful one for yourself or your family using Gear Den's customizable wall decor. Hang it in the living room or dining room, and watch the compliments pour in!
We're so eager to try out a few of these fantastic ideas! Which one is your favorite?
For more home decor items, check out what customers like you are loving at GearDen.com!
Leave a comment
Comments will be approved before showing up.
---
Also in Gift and Decor Guides
One of the best things to pair with wall art is
your beautiful indoor plant! Many interior decorators and home magazines use this trick. Want to see tips and examples of art-and-plant 
combos
? Read on!
We found a fresh way to customize your wall decor: feature a special date in it! The result is a wonderful and lasting memento for you, and an impressive conversation-starter for your guests. See these personalized date wall art examples!
What does "Mediterranean style" or "Scandi style" mean? What decor elements make a "Zen" home? And what in the world is "Florida design"? Here's an intro to various interior styles from around the world, with tips and examples.