What's Your Decorating Style? 9 Interior Design Ideas To Guide You
Ever notice how you naturally gravitate towards certain interiors and decor items? This is a strong sign of your personal decorating style. Being aware of your design personality is helpful for when you are planning your next home decorating -- it's your guide on what items to look for, what colors to pick, and even where to shop.
If you're not sure what your decorating style is, there are plenty of quizzes online to help you find out. But we'll do you one better: Here's a super-quick cheat-sheet on various design styles, plus tips on how to cop them. Check them out and see which one appeals to you most!
1. Luxe glam
This interior style is more than just comfortable -- it's opulent. It harks back to the palatial luxuries of the Old World or the glitz and glamor of Hollywood. But you don't have to break the bank to get this look. Go for high-low decorating, mixing a few sophisticated elements with simple ones.
Elements of this style: Sparkly chandeliers, plush carpeting, velvet furniture, silk pillows, moody colors
2. Shabby chic
The old look is new again! "Shabby chic" is all about the time-worn, lived-in appearance, made fresh with soft pastel colors and bright lighting (the sweet wall sign above illustrates this perfectly). So break out that vintage cabinet with chipped paint, and refinish it with dainty style.
Elements of this style: pastel colors, light wood pieces, intentionally distressed paint, soft upholstery
3. Modern industrial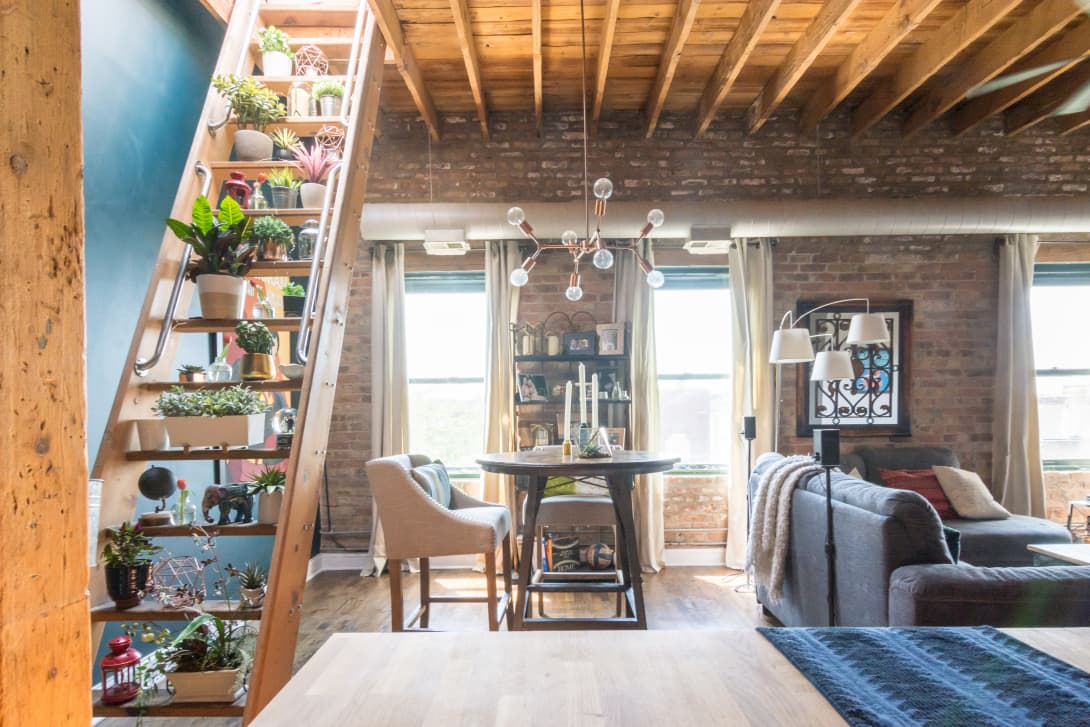 This decorating style has been a huge trend for a few years now. It takes a few elements from industrial locations (yes, think factories) and incorporates them into beautiful home interiors. The look can be a bit hard or masculine, but you can moderate it with soft accents like plants or carpeting and tons of light.
Elements of this style: exposed brick or polished concrete, exposed wood beams, metalworks, glass-and-iron windows
4. Rustic
Imagine: a log cabin with rich wood furniture, warm sofas, and a crackling fireplace. So cozy! The rustic interior style combines the best of comfortable worlds, such as winter cabins, summer beach cottages, and childhood farmhouses. If you want homey, this is the look for you.
Elements of this style: wood and more wood, warm upholstery, quaint antiques, family heirloom (like the wood-like family wall sign above)
5. Scandinavian minimalist
We've heard of the minimalist philosophy of keeping only a few things in your home and forgoing what you don't need. This doesn't mean it has to be austere and unlivable! Scandi style has come to be known around the world as a softer, more comfortable version of minimalism. Cool, calm, and collected.
Elements of this style: winter whites, muted colors, natural elements (house plants, wood, simple fabrics), streamlined storage
6. Modern eclectic
Big, bright, and bold are three magic words in modern decorating. Arrange some geometric furniture here and hang a colorful wall piece there, and you've got an eclectic look that's never boring.
Elements of this style: unusual furniture (asymmetrical, brightly colored, etc), colorful decor, bold art pieces, clashing textures
7. Bohemian chic
The boho style is all about easygoing comfort, inspired by the lifestyle and aesthetics of the '70s and adapted into a more subdued current look. To get this look for your home, start with a white or soft neutral color base, then fill it with your favorite comfy finds -- from rattan furniture to macrame decor.
Elements of this style: natural materials (wood, rattan, cotton, etc), woven ornaments (baskets, wall hangings, rugs, etc), hippie patterns, lots of botanicals
8. Urban
For true-blue city dwellers, home means solid elegance with select accents to match their modern lifestyle. The typography art above perfectly encapsulates the urban look, with its cool dark background and shiny gold statement.
Elements of this style: smooth and sleek surfaces (glass, concrete, laminate), subdued lighting, sparse but bold decor
9. Mid-century modern
MCM style is another lasting home design trend, and for good reason. It borrows the best elements from design eras such as Bauhaus ('30s), Palm Springs resort  style ('50s and '60s), and retro ('70s and '80s). As a result, we have an updated mix of uncluttered lines, flowy geometric shapes, and harmoniously contrasting materials. In other words, it's a widely encompassing style.
Elements of this style: non-traditional furniture (like leather lounge chairs and acrylic bubble chairs), big indoor plants a la '50s resort, shiny brass accents, furry rugs that contrast with those geometric chairs
(PS. That dining room wall art in the photo is available here.)
Have you found your decorating style yet? If you're craving for more fantastic interior inspiration, see our compilation of movie-inspired home design ideas as well as some fantastic holiday-inspired ideas!
And if you're ready to shop decor, head on over to the Gear Den online store!
Leave a comment
Comments will be approved before showing up.
---
Also in Gift and Decor Guides
The best interiors are those that strike the perfect balance between comfortable and beautiful. So how do they do it? Here are some of their 'secrets' -- which aren't really secrets, but tips and habits that you can apply in your own home.
The search for your Mother's Day present stops here! After lots of feedback from our real-life customers, we've realized that 
a custom wall art is the best (material) thing to give to mom
 this year. Here's why.
If you'd love to make a good impression on your guests -- or just really love decor that can't be found anywhere else -- we got you! These wall art ideas are unique, one-of-a-kind, and charmingly attractive, they'll add character to your home.