All Abloom: The Sweetest Floral-Themed Decor And Gifts
Looking for a present to give someone dear to you? Want to give your home a fresh decor update? Or simply daydreaming about the pretty colors of spring already? We have just one word for you: Florals.
Flowers are a timeless design motif that will never fail to be pleasing to the eyes -- and to the soul. So whenever you need something sweet, cheery, and universally lovable, floral anything is our recommendation. Here, we've rounded up some of the loveliest flower-themed items you can buy -- or make! -- for yourself or for a special loved one.
1. DIY floral ring dish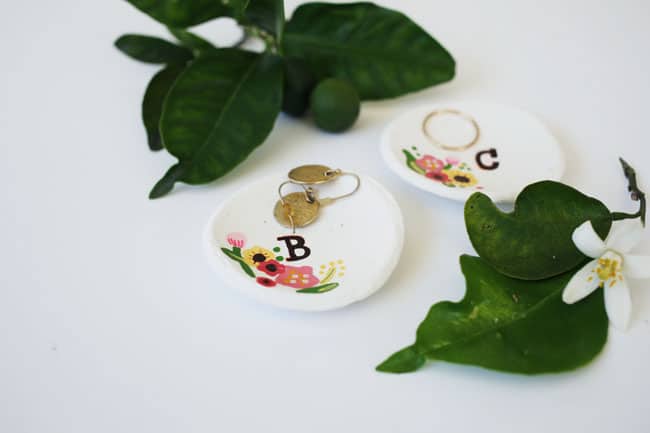 How charming are these monogrammed jewelry dishes? You can craft them yourself using air-dry clay and a little bit of hand-painting. Make not just one, but an entire set of these little dishes for your own dresser or as a gift to a friend who likes to accessorize. We found the do-it-yourself tutorial at the DIY Candy blog.
2. Dining room delight
Your dining room is sure to brighten with this lovely watercolor-inspired mealtime artwork that's reminiscent of the blue sky on a clear spring day. What's more, it features a beautiful quote fit for family meals. Hang this floral canvas print in your dining area, or use it as decor for special gatherings.
3. Cozy blanket and pillow
We're in love with this blooming border design for pillows and blankets! It makes snuggling in so much more pleasant, whether on the bed or the sofa. The good news is that you can order the personalized fleece blanket and personalized pillow above on Gear Den! Customize them with the name of the sweet person who deserves an equally sweet gift!
4. "Look Forward To Forever" wall art
This romantic wall decor will make your sweetheart smile. It's a dreamy love quote printed on a wood-like background and surrounded by a graceful botanical border. Gift this to your spouse on your anniversary, or better yet, surprise them with this artwork hanging in the bedroom with matching candlelight and flowers!
5. Blush pillow
At once dainty and refreshing, this blush-pink pillow might just be the perfect addition to your bed or couch. It's unexpectedly versatile, too, as this shade of pink can go well with so many color schemes, from whites to neutrals to dramatic dark colors. Our favorite is pairing it with the solid classic blues that are the Colors of the Year 2020. (See our 2020 color pairing guide here!)
6. Floral gift for grandchild
If you're looking for a fantastic gift for a grandchild -- or for any young member of the family -- this customizable sunflower-themed wall art is highly recommended. It delivers some words of wisdom that you'll want to impart with the young one, in a light, breezy design that will suit their youthful taste. The best part is that you can personalize this decor so that their name and yours are printed on it.
7. Floral gift for grandparent
On the other hand, if you're a grandchild who wants to spoil your grandparent with thoughtful gifts, include this beautiful personalized grandparent pillow in the package! It bears an adorable message for grandma or grandpa, and best of all, we can custom-print it so it bears your grandparent's nickname plus all the names of their grandkids! Gran and gramps will surely feel loved with this one!
(See more grandparent gift ideas here.)
8. Floral gift for daughter
How about a flower-themed present for your daughter's birthday or graduation? Our top pick is this inspiring wall art with an incredibly empowering quote! It's your girl's reminder that she is strong and graceful because she's your daughter. Perfect to hang in her bedroom or bathroom, or even to display on her dresser or study desk!
9. DIY flower lamps
Plenty of home decor stores carry lighting fixtures in beautiful flower designs, but their price tags are often way above our budget. Thank heavens for DIY bloggers on the internet who show us how to make some equally pretty lamps! We found two we really like: the oh-so-gorgeous pink lamp above, crafted by blogger Jennifer; and the tastefully elegant flower pendant light below, made by crafter Lia Griffith:
10. Three-piece floral initials art
This beautiful three-piece art is one of our absolute favorites, not only because of its classy minimalist floral design, but also because you can personalize it with your own name initials. It's perfect as a wedding gift or anniversary present, a bedroom focal point, or a key element on a gallery wall. 
Just looking at these flowery items lightens our hearts already! If you're excited to get them for yourself or as a present, browse GearDen.com now! We have lots of home decor and gift items that are highly recommended by happy customers and their loved ones. Happy shopping!
Leave a comment
Comments will be approved before showing up.
---
Also in Gift and Decor Guides
The best interiors are those that strike the perfect balance between comfortable and beautiful. So how do they do it? Here are some of their 'secrets' -- which aren't really secrets, but tips and habits that you can apply in your own home.
The search for your Mother's Day present stops here! After lots of feedback from our real-life customers, we've realized that 
a custom wall art is the best (material) thing to give to mom
 this year. Here's why.
If you'd love to make a good impression on your guests -- or just really love decor that can't be found anywhere else -- we got you! These wall art ideas are unique, one-of-a-kind, and charmingly attractive, they'll add character to your home.