Colors of the Year 2021: Love 'Em or Hate 'Em?
The New Year is an exciting time for interior decor enthusiasts everywhere. 'Tis the season when major paint brands and color experts unveil their picks for Color of the Year, giving us fresh inspiration for redecorating our homes (or at least daydreaming about it).
But judging from initial reactions, the 2021 Colors of the Year seem to be hit-or-miss. Some shades have been met with praise, while others, not so much. Let's take a look at various companies' Colors of the Year 2021, and how we can potentially use them in our own homes.
1. Pantone Color of the Year 2021: "Ultimate Gray" and "Illuminating"
This year, famed color institute Pantone chose not one but two Colors of the Year: a warm neutral called "Ultimate Gray" and a bright lemon yellow called "Illuminating." Together, these two were supposed to represent an optimistic new normal, with gray embodying the comfort and practicality of staying at home, and yellow being a ray of sunshine into the whole pandemic situation.
Unfortunately, not everyone was energized by these metaphorical hues. Some called them old, boring, and even slapstick. Do you agree? We're feeling out the combo with the living room setup below, adding our own dash of humor with a pet-themed wall sign. What do you think?
Wall art pictured above: "All These Dogs" Premium Canvas
2. Benjamin Moore Color of the Year 2021: "Aegean Teal"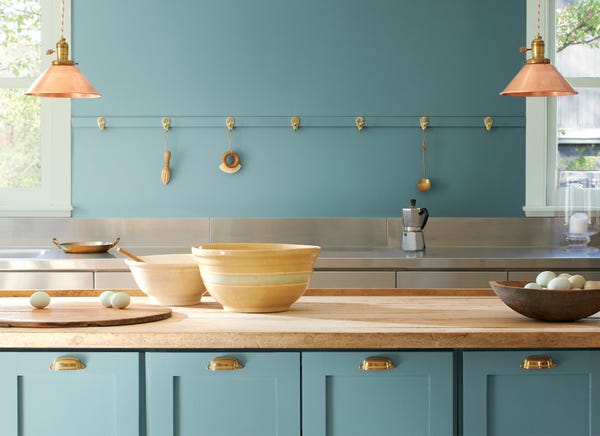 Paint giant Benjamin Moore hits a lovely balance between cozy, natural, and pretty. "Aegean Teal" is a blue-green shade inspired by the sunny waters of the Mediterranean. With this color, the company wants us to "celebrate the simple pleasures—think the faded rumple of linen sheets in the morning and perfectly ripened fruits on the windowsill." That's exactly what we need for sheltering in place.
Want this calming teal in your home without having to repaint? Throw our super-cozy personalized blanket over your sofa or bed:
Blanket pictured above: Personalized Family Name Premium Teal Fleece Blanket
3. Sherwin-Williams Color of the Year 2021: "Urbane Bronze"
Another household name in paints, Sherwin-Williams chose an earthy yet classy Color of the Year for 2021. "Urbane Bronze" is a solid mix of deep brown and dark gray, embodying stone, metal, and wood, according to the company. We think it's the perfect neutral for those who love rich, moody spaces -- it's at once bold, serene, and sophisticated.
Love this gorgeous shade but not ready to commit to paint? Try it in moderate doses around your home, like what we did with this console-and-wall art combo:
Wall art pictured above: Personalized "This Is Us" Premium Panoramic Canvas
4. Dulux Paints by PPG Colors of the Year 2021: "Big Cypress", "Misty Aqua", and "Transcend"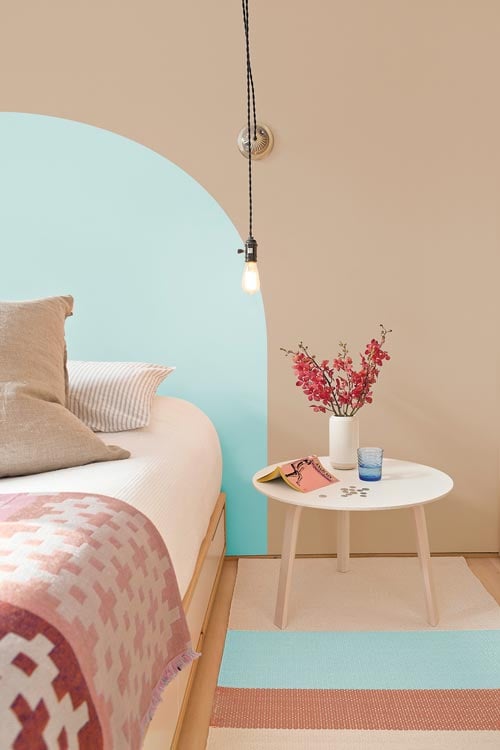 Beyond just one hue, PPG revealed its 2021 Paint Color Palette of the Year, composed of the pinkish beige "Transcend", the powder-blue "Misty Aqua", and the dusty-rose "Big Cypress". It's such a soft palette that reminds us of breezy coastal homes, beach shacks, and childhood rooms. And that's exactly what the company was going for: a calming nostalgia.
Here's our take on this color scheme, with barely-there pinks and sandy beiges, punctuated by pastel blue:
Wall art pictured above: "Think Happy, Be Happy, Live Happy" Premium Canvas
5. Behr Color of the Year 2021 (Nominee): "Kalahari Sunset"
Behr also didn't want to settle with just one color. Its forecast, Color Trends 2021, is a full range of neutrals, earth tones, and blues, all aiming for "elevated comfort". Among the swatches, one that caught our eye was a beautiful terra cotta shade called "Kalahari Sunset". We're seeing this color a lot in abstract minimalist artworks that are re-emerging in the design world, like the mural above from artist Tiffany Lusteg.
Check out how our real-life customer Rozlyn used this gorgeous hue in her bedroom, featuring our rustic wall art:
Wall art pictured above: "Difficult Roads Lead To Beautiful Destinations" Premium Rustic Canvas
So what do you think? Would you decorate your home with any of these 2021 colors? Tell us in the comments!
For more of the wall decor and home items featured here, browse our customer-starred collections at GearDen.com today. Have a happy, stylish New Year!
Leave a comment
Comments will be approved before showing up.
---
Also in Gift and Decor Guides
The best interiors are those that strike the perfect balance between comfortable and beautiful. So how do they do it? Here are some of their 'secrets' -- which aren't really secrets, but tips and habits that you can apply in your own home.
The search for your Mother's Day present stops here! After lots of feedback from our real-life customers, we've realized that 
a custom wall art is the best (material) thing to give to mom
 this year. Here's why.
If you'd love to make a good impression on your guests -- or just really love decor that can't be found anywhere else -- we got you! These wall art ideas are unique, one-of-a-kind, and charmingly attractive, they'll add character to your home.