Try This Trick: Repurposed And Swapped Decor to Refresh A Room
If your bedroom, living room, or dining room has been feeling a little monotonous lately, it probably needs a little redecorating. But don't worry, you don't have to go straight to makeovers or renovations. Even better, you don't have to buy any new decor at all! You probably already have all the decor items you need right at home.
One of our favorite decor secrets is to move certain home items from one room to another, repurposing or rearranging them to create a fresh new twist in the space. Such an easy, affordable decorating trick! Curious how to pull this off? Read on for examples!
1. Swap your bedroom and living room pillows.
There are likely a few cushions on your bed that would actually look great on your living room sofa -- or vice versa. Play around with various pillow combinations and arrangements. For some great inspiration, read our easy guide on how to style your pillows as decor. 
Pillow pictured above: "Family - Crazy, Loud, Whole Lot Of Love" Pillow
2. Switch from gallery wall to single wall art (or vice versa).
A wall collage is a favorite feature in American homes, but for a quick refresh, try replacing all those wall hangings with just one large-scale artwork. Maybe you have one already hanging somewhere else in the house, or maybe you have other items that can be displayed as oversized art, such as a tapestry, a special map, or even a large swatch of fabric that's pretty enough to frame!
Wall art pictured above: "Enjoy Today" Premium Canvas
3. Bring in some plants from your yard.
Lush greenery can beautifully enliven a space. Apart from helping improve air quality in the room, they also add dimension to your decor and lend a refreshing aesthetic. What's better is that you probably have some plants in your backyard that can be grown indoors. You can bring in a tree-like showstopper like a fiddle-leaf fig (above), or dot your home with cute little potted herbs (like below). PS. Indoor herbs make your house smell amazing!
Wall art pictured above: "Eat Well, Travel Often" Premium Canvas
4. Bring your centerpiece to the mantel.
The mantel or fireplace is almost always a focal point in the room, so it's worth paying attention to the decor on it. Try taking a centerpiece arrangement from your coffee table or dining room, and placing it on your mantel top to instantly jazz it up. We like the Christmas fireplace (above) decorated by blogger Jamie.
Even a non-working fireplace can become a lovely corner if you also prettify the inside of the hearth, like this:
Wall art pictured above: Personalized Family "Home Sweet Home" Premium Canvas 
5. Repurpose glass containers as vases.
Mason jars and wine bottles are often reused as flower vases. For something a little more creative, rummage your attic for other interesting glass containers to hold your flower arrangements. How about placing small flowers in wine glasses as a centerpiece? Or, similar to the photo above, try arranging your florals in a fish bowl. Simple and chic!
Wall art pictured above: Personalized "Bless The Food, Family, Love" Premium Canvas
6. Swap your small blankets.
Two things you'll find in stylishly cozy homes: a throw blanket draped over their sofa, and a bed scarf or bed runner to protect their beddings. If you have a nice-looking smaller blanket at home, it can probably work in either the living room or the bedroom -- whichever fits your decorating mood. See our two examples (above and below) using the same fleece blanket.
Blanket pictured above: Personalized Family Name Premium Teal Fleece Blanket
7. Use a decorative chair as a coffee table.
Smaller chairs in your house -- such as an ottoman or a stool -- can moonlight as a center table, side table, or end table. Make sure it has a nice, decorative finish (or is upholstered well), then top off with a pretty tray. We love the DIY project above from DesignSponge, and the charming arrangement below from Jen Woodhouse.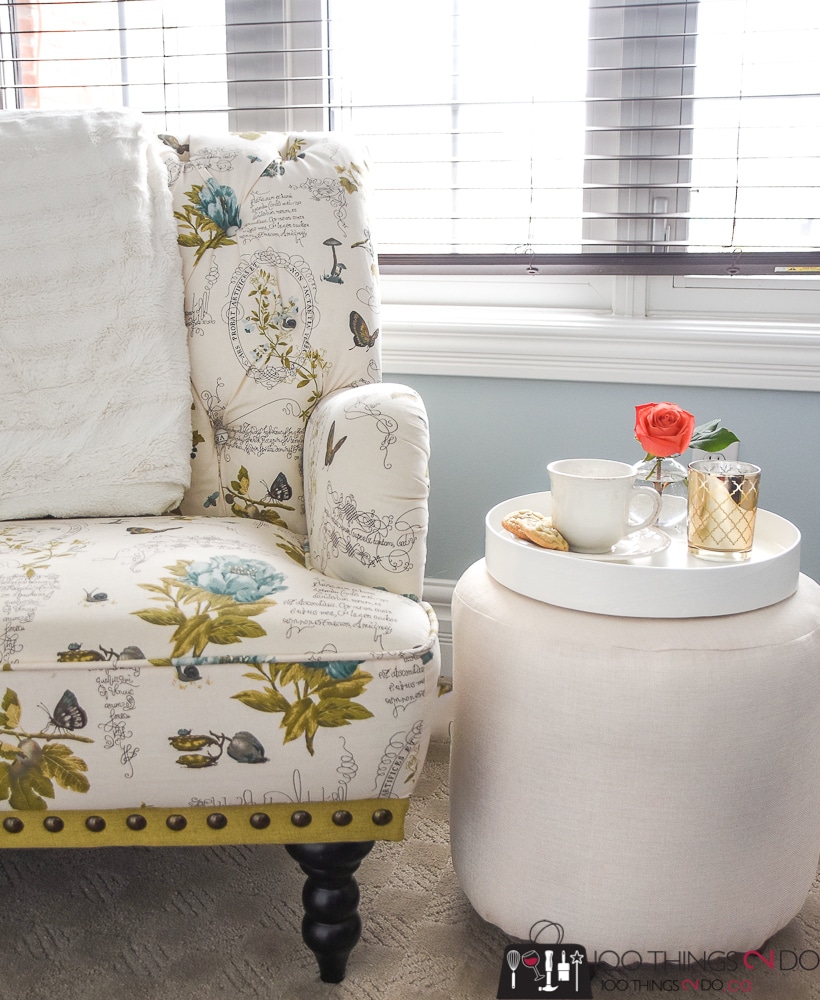 8. Bring some art into the bathroom.
Yes, your bathrooom or powder room can be a place for an artwork, too! Perhaps you have some old wall decor pieces stashed somewhere, which would breathe new life into this utilitarian space. A soothing landscape or an abstract poster would be great, but we especially enjoy bathroom wall art that has humor in it (see below)!
Wall art pictured above: "Live, Laugh, Poop" Premium Canvas
9. Repurpose kitchen containers as organizers.
The many extra containers in your kitchen cupboard could function well in other rooms of the house. How about using that old set of mason jars as knick-knack organizers on your dresser? Or, a pretty bowl that you haven't used in a while could shine as an accessories holder. A vintage serving tray could be a vessel for a living room centerpiece, or an elegant cosmetics holder in your bathroom, or a nice catch-all in your entry.
10. Add pictures to shelves and tabletops.
Art doesn't always have to hang on walls. Try taking down some wall pictures and place them as accents in an open shelf. Or prop them up on a horizontal surface like the top of your sideboard or console table. A tabletop display instantly looks stylish when wall art serves as a kind of backdrop on it.
Wall art pictured above: Personalized Rustic Family Name Premium Canvas
Eager to try these super-easy, no-cost tips? We're doing a few in our own homes, too!
If you have budget for one or two new decor pieces, we have this handy guide for individual home items that can make a huge impact -- check it out!
And if you liked the decorative home items featured here, you'll love the rest of our premium home products at Gear Den. Click over to GearDen.com now!
Leave a comment
Comments will be approved before showing up.
---
Also in Gift and Decor Guides
If you'd love to make a good impression on your guests -- or just really love decor that can't be found anywhere else -- we got you! These wall art ideas are unique, one-of-a-kind, and charmingly attractive, they'll add character to your home.
We picked the easiest, most practical, most appealing decor tips and storage tricks for you! No complicated handiwork, no expensive purchases, no shabby-looking results. Just simple, clever solutions. Try these today!
Even if you're tightening your budget this 2021, you don't have to cancel your Easter celebration. We rummaged through decor ideas and party suggestions, and compiled these top tips for a budget-friendly yet charming Easter Sunday. Enjoy!