10 Valentine's Day Ideas To Make Your Beloved Feel 'Kilig'
If you're in a relationship, you're likely familiar with that sweet, giddy feeling of being in love -- the kind that happens when you receive a romantic gesture from your significant other. In Filipino, this exhilaration is called kilig, and it's this feeling that lovers all over the world celebrate every Valentine's Day. Or at least try to. For many couples, February 14th has become a mere exercise of buying presents and having expensive dinners. The essence of romance can get lost in the flurry.
This year, how about recapturing the kilig in your Valentine's Day celebration? Forget off-the-rack items, mass-produced cards, and pricey restaurants. We thought up some utterly meaningful and romantic V-Day gifts and activities that can make your loved one blush, swoon, or cry tears of joy. Prepare for a sugar rush.
1. A serenade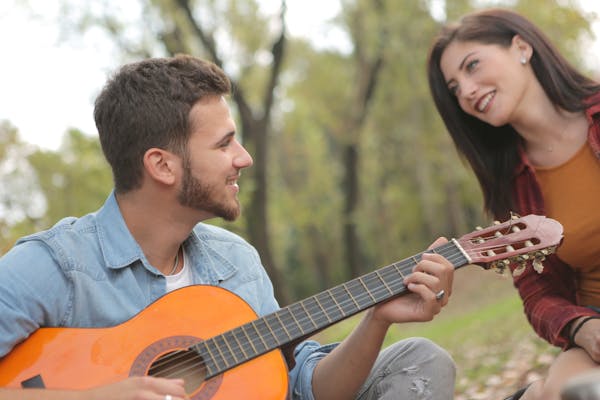 In olden times, when people expressed love with more than just emojis, serenades were THE thing. These days, offering heartfelt love ballads is so rare and unexpected, which is why it is a lovely idea for Valentine's Day 2021. If you're gifted with a crooner's voice, all you'll need is a classic guitar and a bouquet of flowers for your beloved. But if you're not confident with your singing, no worries -- there are singers and violinists who can provide the live music while you present the flowers to your Valentine.
Where to do your serenade? Your beloved probably isn't looking out the balcony a la Romeo and Juliet, but there are many other opportunities to offer your love song. Maybe when they're coming out of work, as they're walking up your driveway, or even at the moment they wake up.
2. A custom artwork
We sometimes take for granted the value of words in expressing affection. Every now and then, it's nice to hear or read in actual words how our significant other feels about us. So this V-day, pick a lovely text artwork that features a message to your sweetheart -- something they can hang on a wall and read every day. But don't just stop there. Get this artwork customized so you can dedicate it exclusively to your beloved.
See our rustic couple wall art above, which has garnered tons of glowing praises from our clients and their delighted spouses. If you prefer more color, how about the charming illustration below? It's also customizable with your names! Find more of these artworks in our "Wall Art For Couples" collection.
Wall art pictured above: Personalized "Loved You Always" Premium Canvas
Wall art pictured above: Personalized "Loving You -- A Wonderful Way To Spend A Lifetime" Premium Canvas
3. A candle-lit dinner at home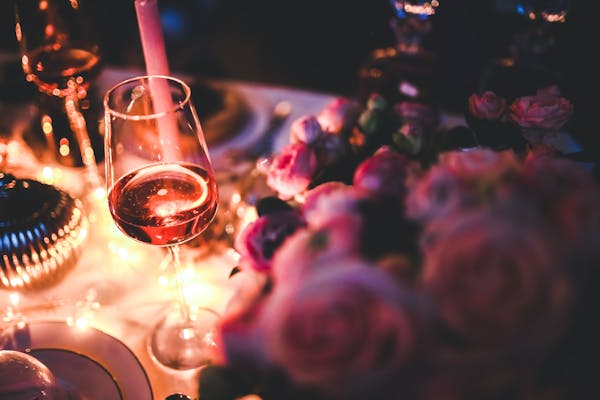 This is a classic Valentine's Day date idea, so to make it extra-special, pull out all the stops this year. Tidy up the dining room and set the table with flowers. Use the good china. Get candles and mood lighting. Go for champagne or a sparkly drink. Put on Sinatra. Don't forget the rose petals that lead from the front door to the dining room. (Also, assure your sweetheart you're doing the dishes afterwards!)
If you're going the extra mile, here are some cute add-ons: Place a series of little love notes alongside the petals on the floor. Fill the room with fairy lights (they're instantly magical). Have your kids usher your spouse to the table, like little Cupids.
4. Dates of your life
Milestones in a relationship ought to be celebrated: the couple anniversary, the engagement date, the wedding date, and so on. There are even days that are unexpectedly memorable and deserve a commemoration, like maybe a "Finally Asked Out My Best Friend" day or a  "Moving In Together" day.
Let your sweetheart know how much you cherish these special dates by gifting them with a date-themed artwork. The customizable couple art above is a favorite of our Gear Den customers. It has made many spouses and fiances light up with kilig! For more date-themed wall decor you can personalize, see our artwork compilation here.
Wall art pictured above: Personalized "The First, Yes, Best Day" Premium Canvas
5. Revisiting your courtship
There are probably specific places in or around town that have gained significance in your relationship. Perhaps you and your partner met at an old office building, said your first "I love you's" at a small cafe, or shared a funny but sweet moment at a public event. Pick one of these meaningful places, and surprise your beloved by taking them there.
Prepare a nice gesture to mark your visit. For instance, you can reserve a special "Just For You" table at the cafe, or set up a bouquet of flowers waiting at the site you're visiting. Make sure you tell your sweetheart why you chose this place, what makes it dear to you, and how beautiful it was to share this spot with them.
6. Cuddle buddies
Sometimes, the most no-frills items make the best gifts. We recommend updating your partner's most-used household items -- like their trusty pillow and blanket -- and turning them into sweet reminders of your affection. How? By personalizing them, of course!
Check out our pretty yet utterly cozy cuddle blanket above, which you can customize with your and your beloved's names. Pair that with the couple pillow below, and you've turned a simple bedroom into a dreamy, love-filled space.
Blanket pictured above: Personalized "We Should Probably Cuddle" Premium Fleece Blanket
Pillow pictured above: Personalized Pillow "Loved You Then, Love You Still"
7. A love letter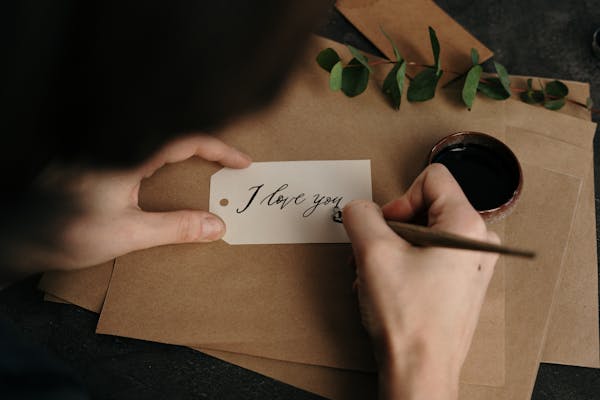 Another classic but rare Valentine's Day gift, a personal handwritten love letter beats a store-bought card any day. Don't hold back in your letter -- pour your heart out, fill it with memories, be sentimental and passionate without fear of sounding mushy. Remember, this communication is exclusively between you and your beloved. This is your chance to express in actual words how much you love them.
For extra panache, put your letter in a creative package. You can, for example, roll it up in a nice jar for a "message in a bottle" feel, or place it in an elegant photo frame.
8. A proposal -- again
A marriage proposal is notorious for setting people's hearts aflutter. Valentine's Day is the most obvious time to do this -- for unmarried couples, that is. Now, we'd like to pitch a twist: if you and your Valentine are already married to each other, set up another surprise proposal to them on V-Day.
You can call it an "I'd Marry You Again" proposal, but do it just like your original engagement: dim the lights, put on your song, and get down on one knee. And of course, offer a ring -- perhaps not another expensive wedding band but a nice renewal token. It'll be all the more special because of the sentiment behind it, and because who expects an engagement proposal when they're already happily married?
9. A marriage proclamation
Speaking of married life, we all want to grow old with our soulmate and still be able to proclaim words of love after many years together. So why not do exactly that this V-Day? We highly recommend gifting your spouse with an artwork that has a touching message about your marriage, like the one above. We also have wall quotes that are specifically for a wife or a husband (below). These meaningful gift items might just move your better half to tears.
Wall art pictured above: Personalized "A Perfect Marriage" Premium Canvas
Wall art pictured above: "To My Wife - I Love You More" Premium Canvas
Wall art pictured above: "My Husband - I Love You Always & Forever" Premium Canvas
10. A dreamy picnic
If you and your partner love laidback dates, you can't go wrong with a nice picnic. Choose a pleasant spot that won't be too crowded on February 14th, such as a spacious park, a botanical garden, or even your own backyard. If you can, decorate your picnic spot with something extra, like a canopy or some pretty lighting (if you're picnicking under the stars).
Then, go above and beyond the usual picnic fare. Fill your basket with special foods like chocolates, wines, and cheeses. Include one or two of your beloved's favorites as well. Don't forget to bring a pair of special wine glasses for a sweet Valentine's toast.
We hope our suggestions help you create a memorable, kilig-inducing Valentine's Day for your loved one! If you want more V-Day ideas and inspiration, check out our other blog post about February 14th. Or, start finding your Valentine's Day present on GearDen.com! Cheers to love!
Leave a comment
Comments will be approved before showing up.
---
Also in Gift and Decor Guides
Interior decor enthusiasts have spoken: the 2021 Colors of the Year seem to be hit-or-miss. Let's take a look at various experts' Colors of the Year 2021, from Pantone, Benjamin Moore, Sherwin-Williams, and more.
For an instant decor refresh, you don't have to buy any new decor at all! Just move certain home items from one room to another, repurposing or rearranging them to create a new twist in the space. Read on for some easy, no-cost decor hacks!
The world greets 2021 in a subdued manner, but that doesn't mean it will be completely cheerless! If you're staying at home and celebrating with just your family, here are great decor tips and activities for a festive New Year's Eve 2021.