Fall In Love With These Gorgeous Autumn Home Decor 2020
Oh, the things we love about the fall season: leaves take on pretty colors, the air feels crisper, and new decor trends emerge! This year, we're especially excited to refresh our house interiors because we've been spending a lot more time at home and acclimating to this 'new normal'. And thank goodness there's no shortage of decor ideas for 2020! Here are top fall interior decor trends for 2020 that are designer-approved -- and totally doable in your own home.
1. Fuzzy, chunky textures
Here's a decor trend that's both stylish and practical. Interior designers are currently encouraging us to layer on warm, fuzzy fabrics not only to stay cozy during this cool season but also to boost our home's aesthetics. Specifically, interior designer Karin Andersen recommends piling on "textural throws, layered area rugs, and chunky, oversized knit pillows."
If this is a trend you're loving, Gear Den has a fantastic selection of fleece blankets and printed pillows. You can even personalize some! Check them out.
Blanket pictured above: "Today Is A Brand New Day" Premium Fleece Blanket
2. Soft rustic
Traditional fall color palettes include rich browns, burnt oranges, and muted reds. But in recent design seasons, decorators have shown us that a softer color scheme can feel just as rustic and homey. Updated hues include sun-bleached wood, light grays, and weathered whites. The nice thing about this soft palette is that they help make a room look brighter during these gloomier days.
Wall art pictured above: "This Is Us - Our Life, Story, Home" Premium Panoramic Canvas
3. Saturated colors
Meanwhile, the other end of the color spectrum is also flourishing as a design trend. Rich, saturated jewel tones have been dominating these past several seasons -- you may have noticed the popularity of navy blue, emerald green, and mustard yellow in today's stylish homes.
If you feel like staying with the traditional autumn natural colors, designer Dawn Hamilton suggests incorporating just one or two jewel colors into your fall palette. "Precious metal tones, including rose gold, are very popular now and are a great complement to more earthy elements," she says.
4. Botanical prints
After the giant floral and tropical trends in the past years, 2020 offers a gentler bouquet of prints. According to Tamara Kelly, editor at Ideal Home UK, this year's botanical patterns "are delivered in a softer format, diluted by a desaturated color palette [so they] feel less imposing than out-and-out tropical palms."
Fill your autumn decor with dainty petals and leaves or breezy, vine-like patterns, all in soft watercolor hues.
Wall art pictured above: "Enjoy The Little Things In Life" Premium Canvas
5. Rattan furniture
The editors at Apartment Therapy highlighted rattan as an unexpected 2020 decor trend, based on the huge spike of Google searches on this material. The design mavens believe it's because people staying at home now want to make the most of their outdoor spaces. But during these indoor seasons, the editors say we can incorporate interior rattan furniture, such as chairs, ottomans, and mirrors, so we can still bring that fresh, outdoorsy feel inside.
6. Date art
Typography art just won't go away as a choice decor in today's homes. But beyond the "Live, Laugh, Love" wall sign, a more personal and meaningful way to use text as art is by highlighting significant dates in your life. Showcase your wedding date as a nice calligraphy, or the dates your children were born. At Gear Den, we have tons of wall art you can customize with your own special date. Check out more examples of date typography art here.
Wall art pictured above: Personalized "Tie The Knot" Premium Canvas
7. Two-tone walls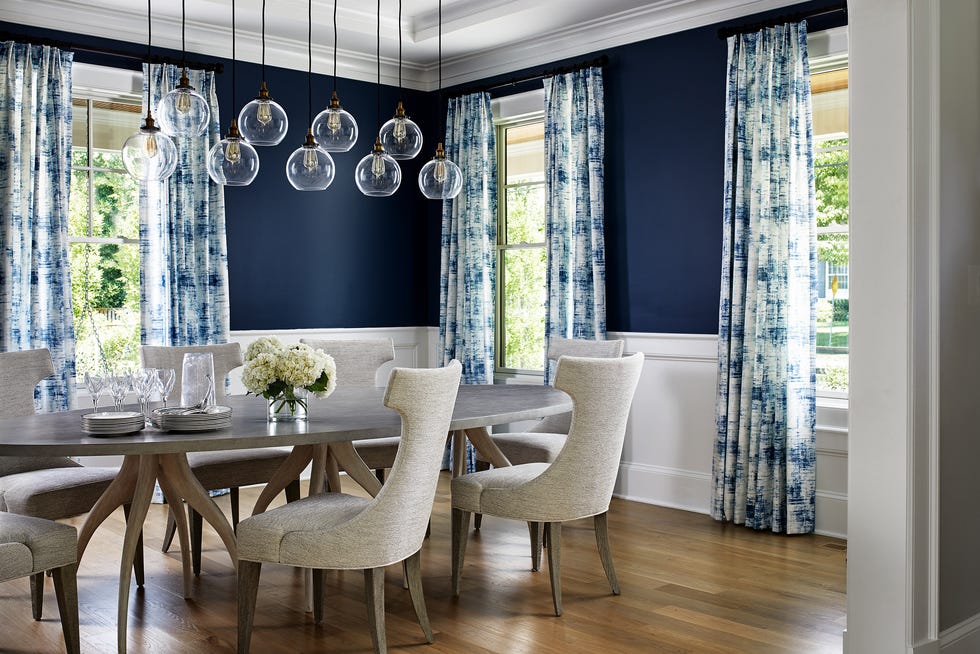 If you feel like plain white walls are generic or impersonal, then this colorful season is yours! Design magazines everywhere, including Elle Decor, have been having fun with two-toned dining rooms, kitchens, bedrooms, and even bathrooms. Key to a nice dual-color wall? Choose paints in contrasting colors and a matte finish, then apply as one solid contrast at waist level (instead of a random shape or a scattered pattern).
8. Dried flowers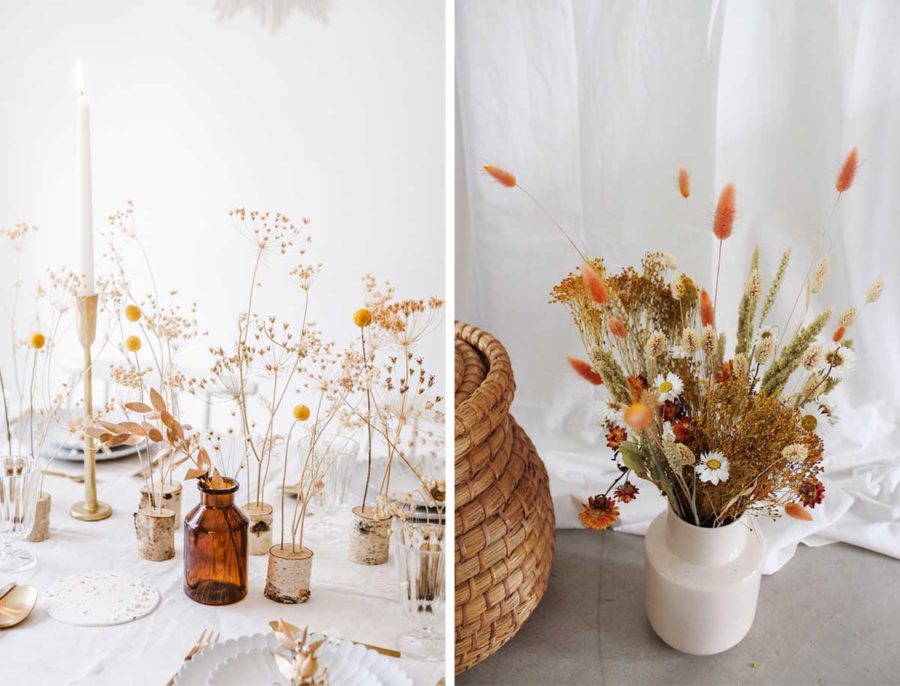 While verdant indoor plants remain timeless as decor, 2020 has sprouted a new trend in dried plant arrangements involving flowers, branches, and grass. This time, dried flower arrangements are not just sparse stick displays but full-on bouquets in specially-selected vases.
What to put in those vases? Anything from pretty lavender stalks to fluffy bunny tail grass to flamboyant pampas grass. No matter which dried plants you put together, they naturally combine to create a beautiful autumnal palette. The best part is, "dry flowers are are low-maintenance, long lasting and eco-friendly (say goodbye to those plastic faux options!)," say the stylists at The Home Studio.
9. Classic blue
Among all the color trends this year, the one hue that tops them all is Pantone's Color of the Year 2020, Classic Blue. You've probably seen this shade dominating interior design lately, from wall paints to furniture to decor accents. It's a beautiful hue that's as versatile as it is timeless -- not too dark, not too pastel, just the perfect amount of blue. That's why it's so easy to incorporate into any room of the house!
For tips on how to best decorate with blue colors, check out our blog post here!
Wall art pictured above: "Family... Love" Premium Square Canvas Wall Art
How beautiful are these Fall 2020 decor trends? We're so excited to redecorate our homes this season. Which ideas are you trying out in your own home? Tell us in a comment?
For more of the wall decor and throws featured here, browse our customer-starred items on GearDen.com -- you'll love them! Happy autumn decorating!
Leave a comment
Comments will be approved before showing up.
---
Also in Gift and Decor Guides
Interior decor enthusiasts have spoken: the 2021 Colors of the Year seem to be hit-or-miss. Let's take a look at various experts' Colors of the Year 2021, from Pantone, Benjamin Moore, Sherwin-Williams, and more.
For an instant decor refresh, you don't have to buy any new decor at all! Just move certain home items from one room to another, repurposing or rearranging them to create a new twist in the space. Read on for some easy, no-cost decor hacks!
The world greets 2021 in a subdued manner, but that doesn't mean it will be completely cheerless! If you're staying at home and celebrating with just your family, here are great decor tips and activities for a festive New Year's Eve 2021.