Fall In Love With These Literary Inspirations For Home Decor
If you're an avid reader, you're familiar with that spellbinding feeling of being immersed in the setting of a novel or a story. Be it a romantic manor from Jane Austen's imagination, a grandiose ballroom as described by F. Scott Fitzgerald, or a whimsical tea parlor concocted by Lewis Carroll, these settings offer plenty of decor inspirations to literature enthusiasts.
Here, we've gathered some of our favorite book settings, translated into beautiful, livable home interiors. Be inspired!
1. The Little Prince by Antoine de Saint-Exupery
The sweet and iconic illustrations of Saint-Exupery himself fill this book with a sense of innocence, tranquility, and delicateness. It's a perfect theme for a nursery or a child's room (above), but even grownups can take an element or two from this book's lovely aesthetic (like the elegant embroidery pair below).
2. The Great Gatsby by F. Scott Fitzgerald
"Art Deco glitz and glamour" may well be the motto of Gatsby's mansion, furnished with luxurious furniture and sparkly accents. A copycat trick to achieve the same opulent feel in your home? Try a rich color palette (like deep blues and reds) accentuated by geometric patterns and faux gilding.
3. Franny and Zooey by J. D. Salinger
Like Salinger's classic The Catcher in the Rye, the short-story duo Franny and Zooey puts us in an upperclass New York apartment. A sampling of the furnishings in this home, as enumerated by the author: phonographs, magazine tables, 12 chairs plus a love seat plus a couch, a writing table made of cherrywood, and no less than a Steinway piano. Talk about a cultured home!
4. The Sun Also Rises by Ernest Hemingway

Hemingway's portrait of expatriate life in Europe is rife with daring 1920s characters and outdoorsy adventures (namely, fishing and running with bulls). The settings match this carefree, progressive attitude -- think smoky Parisian cafes and countryside bed-and-breakfasts.
5. The Hobbit by J.R.R. Tolkien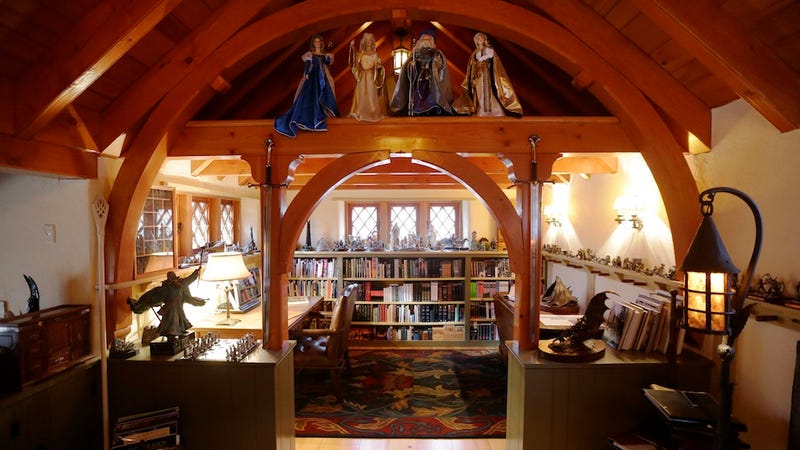 Set partly in the bucolic paradise that is The Shire, The Hobbit features one of the most recognizable homes in literature -- and one of the coziest, too! The hole-in-the-ground abode is characterized by its beautiful wood architecture, sitting room fireplace, and of course, the circular doors and windows. Adapt this style for your home by using lots of rustic wooden elements and incorporating arches instead of full-circle doorways.
6. Sense and Sensibility by Jane Austen
What venue could be more romantic than an English country estate? Such is the setting of this timeless 19th century novel. Decorate your home accordingly with a soft, subdued color palette, floral and chintz upholstery, and even a cozy reading nook. Perfect for afternoon tea, isn't it?
7. Alice's Adventures In Wonderland by Lewis Carroll
Whimsical, playful, and eclectic -- those words would best describe this classic adventure book. Its trademark elements are a colorful mishmash: china teacups, pink flamingos, neon-bright flowers, black-and-white checkerboard patterns, and playing card motifs. Apply these decor elements moderately!
8. The Help by Kathryn Stockett
Southern charm serves as a contrasting backdrop to some important social tensions in this bestseller. The setting is filled with nostalgic 1960s Americana, vintage furniture, and those beautiful front porches that spell home.
9. The Harry Potter Series
We know, we know -- Harry Potter is set in a fantasy castle. Still, there's something cozy about the Great Hall and those Gryffindor dorms, right? Whether it's your kids who are fans of this franchise, or you yourself have gotten into it, you can incorporate some magical style elements without making your house look like a witch's lair. Try adding some dark wood panels, muted lighting, red and gold accents, and a few antiques.
10. Confessions of a Shopaholic by Sophie Kinsella
Naturally, this bestselling chick-lit novel features an apartment that's vibrant, busy, and filled to the brim with apparel. We don't even know where to start among the mismatched furniture, the bead curtain, and the multi-colored bottle collection. While it may seem too youthful for some, the apartment does have a fantastic energy to it, don't you think?
PS. If you loved this novel's 'sister', The Devil Wears Prada, check out our decor tips inspired by the movie here!
Which of these books -- or interiors -- inspires you the most? If you're ready to redecorate your home and pick out your decor items, head on over to GearDen.com for top-shelf products!
Leave a comment
Comments will be approved before showing up.
---
Also in Gift and Decor Guides
Interior decor enthusiasts have spoken: the 2021 Colors of the Year seem to be hit-or-miss. Let's take a look at various experts' Colors of the Year 2021, from Pantone, Benjamin Moore, Sherwin-Williams, and more.
For an instant decor refresh, you don't have to buy any new decor at all! Just move certain home items from one room to another, repurposing or rearranging them to create a new twist in the space. Read on for some easy, no-cost decor hacks!
The world greets 2021 in a subdued manner, but that doesn't mean it will be completely cheerless! If you're staying at home and celebrating with just your family, here are great decor tips and activities for a festive New Year's Eve 2021.