From Blah to Beautiful! 12 Bathroom Decor Ideas to Try Today
The bathroom/shower/toilet area is such a utilitarian space that not a lot of people think too much about styling it. As long as the tiles are clean and the pipes are clear, we're all good, right?
But here's a little secret: once you give more TLC to your bathroom, you'll find it more enjoyable to practice good hygiene or even spend more me-time there. It's like a refreshing little boost for the soul. Plus, a well-decorated bathroom is a surefire way to impress your guests! This is why luxurious hotels don't scrimp on their shower facilities -- they want their guests to feel as close to a spa experience as possible.
Unlike posh hotels, though, you don't have to spend $$$ on making your bathroom at home feel nice. Try these bathroom decorating tips that are affordable, doable, and make an amazing difference. You just might end up looking forward to bath-time every day!
1. Pick a color palette you really like.
Many people prefer bathrooms that are all bright white, but guess what -- your bathroom can be any color you want. One of the growing decor trends these days is actually black bathrooms! Whatever color scheme you choose, just make sure it's thoughtfully coordinated and not all over the place.
2. Add plants.
We know that plants are practical additions to the bathroom because they help purify the air. But we love them even more for their aesthetic value! Experiment with two or more potted plants in your shower -- vary them in size, shape, and location, as shown above.
Bathroom wall decor pictured above: "Nice Butt" Premium Canvas
3. Lean art by the window.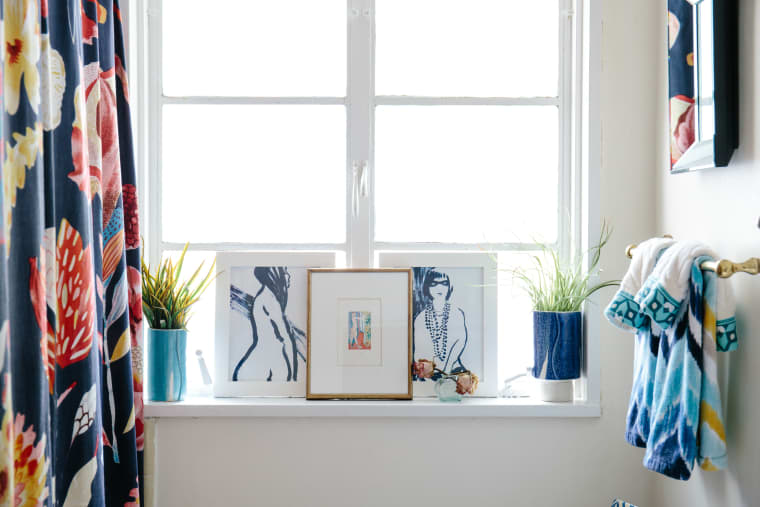 Take your cue from the small yet artful bathroom above. Though it lacks wall space, it takes advantage of its window ledge to display not just one but several art pieces! Choose artworks that are relatively small (great for layering) and with an unbusy visual motif. Also, opt for premium canvas prints -- they last long in humid conditions and they're fuss-free enough to just lean against the window (unlike fragile glass frames).
Try something like this pink flamingo canvas print, which you can then pair with the cheeky watercolor shower print shown further below. They'd be so perfect in a blue-themed bathroom!
4. Brighten it with humor.
Lighten the ambiance in this super-practical part of the house by adding a silly statement piece or two. We love the funny "Wash your hands" wall sign above because it's not only chuckle-inducing, it also has a sunny vibe to it. There's also the "Get naked" shower decor below, which intrigues your guests towards its silly punchline:
5. Glam up with metallics.
Since metal faucets, grips, and handles are vital parts of any bathroom, turn them into a visual treat. Update your hardware by installing elegant polished metallics in lieu of tarnished old steel. Make sure your metallic accents are color-coordinated with each other and with the overall palette of the room. See more tips on decorating with metallics here.
6. Get clever with storage.
It's anyone's ideal to have enough closed storage for stashing away clean linens, toilet paper rolls, and cleaning products -- the less stuff that's out in the open, the airier the room looks. But if the space is tiny and with limited cabinetry, get creative! Take advantage of free vertical space such as that above the toilet. Also, there are tons of storage options that can help contain your bathroom essentials. Try woven boxes and wire baskets for starters.
7. Clear up surfaces (and use a tray).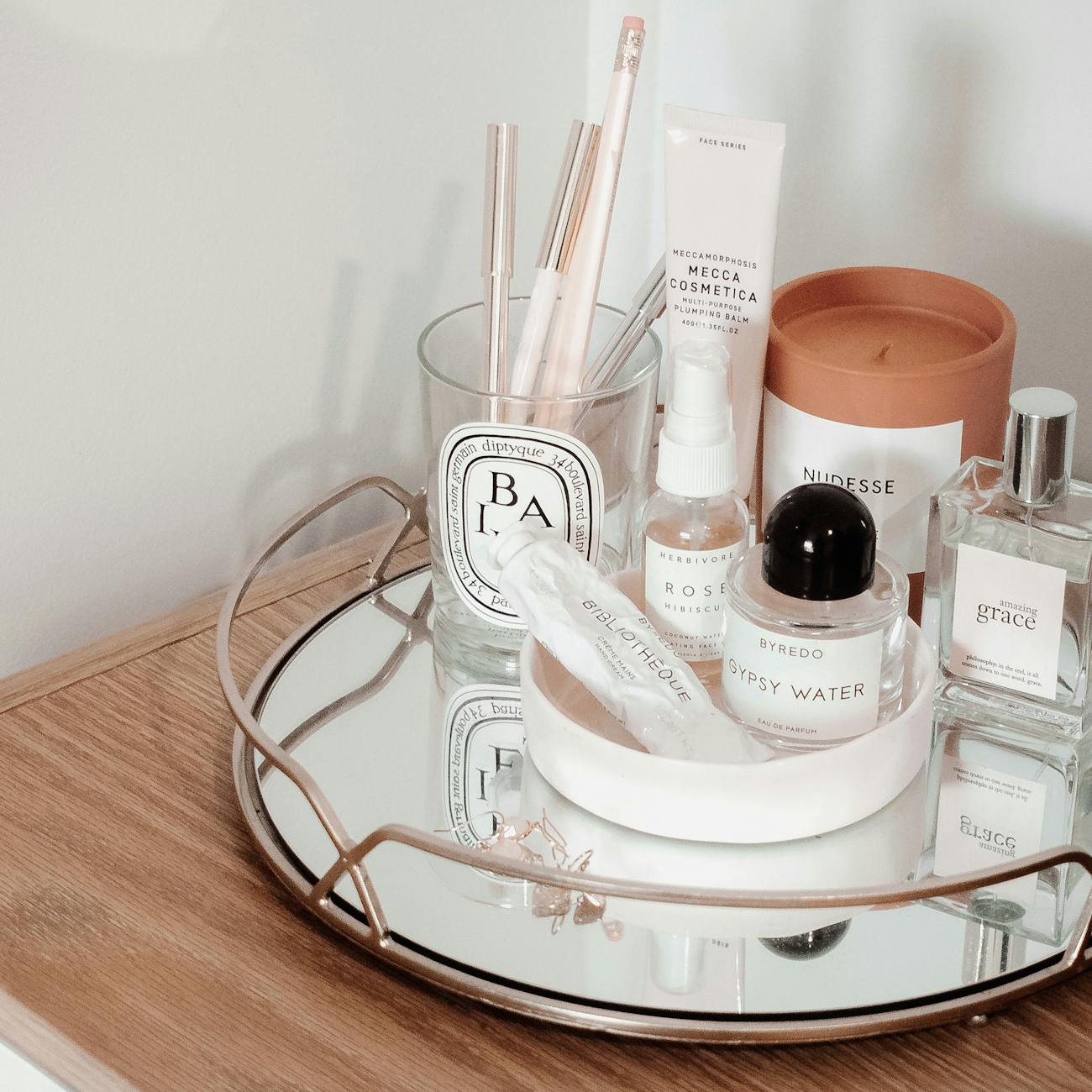 A favorite trick of interior decorators for instant elegance: clear out your horizontal surfaces (sink or counter), put a stylish tray on it, and place only a few select items on the tray. Hotel style in a flash!
8. Opt for similar containers.
Another trick for classy bathroom shelves and counters? Use a set of similar-looking containers for your displayed toiletries. The containers don't have to look exactly alike, but try to stick to a theme (e.g. a group of glass jars and dispensers, or bottles of the same color family). Don't forget to label them in a consistent style, too. This way, you eliminate the visual clutter that comes from the many different brands, shapes, and colors from the products you use.
9. Add dramatic lighting.
If you have a little breathing room in your budget, the most important decor element you can place in your bathroom is arguably a good lighting fixture. It's not just for obvious practical reasons. Statement lighting can dictate the ambiance of the room -- just look at the chandelier above! Anyone who enters this bath area will surely be wowed.
10. Floor flourishes.
If your bathroom is graced with lovely tiling or wood flooring, lucky you! For the rest of us, a pretty bath mat or rug may be our best way to add appeal to the bathroom floor. In many cases, a floor rug is actually all you need to enliven the atmosphere of the room! But don't limit yourself to the usual textiles. This space is prime for other unique textures such as woven grass, bamboo, and even stone!
11. Use mirrors as art.
Mirrors are a basic yet very visible feature in any bathroom. Why not turn them into an artful display, too? Test different looks on the mirror you already have -- you could upgrade its frame, flank it with a gorgeous light fixture, or pair it with other wall decor, like in the photo above.
12. Put up an accent wall.
If you're feeling particularly decorative but still want to keep it classy, just pick one particular wall in your bathroom and fill it with style from floor to ceiling. One foolproof way to do this is by applying a patterned wallpaper that's coordinated with the rest of the space (see above). But you could also just paint the entire wall with a bold color, then add an eye-catching artwork, like below:
Bathroom wall decor pictured above: "Get Naked" Premium Canvas
Which of these decor tips would be perfect for your bathroom or shower? Share with us in the comments! And for more of the wall art pictured here, see our bathroom collection on GearDen.com!
Leave a comment
Comments will be approved before showing up.
---
Also in Gift and Decor Guides
If you'd love to make a good impression on your guests -- or just really love decor that can't be found anywhere else -- we got you! These wall art ideas are unique, one-of-a-kind, and charmingly attractive, they'll add character to your home.
We picked the easiest, most practical, most appealing decor tips and storage tricks for you! No complicated handiwork, no expensive purchases, no shabby-looking results. Just simple, clever solutions. Try these today!
Even if you're tightening your budget this 2021, you don't have to cancel your Easter celebration. We rummaged through decor ideas and party suggestions, and compiled these top tips for a budget-friendly yet charming Easter Sunday. Enjoy!