Get The Look: Decor Tricks To Copy From TV's Famous Homes
Have you ever watched a TV series and just felt wowed by a character's home? You're not alone! At Gear Den, we often find ourselves green with envy over the bedrooms and living rooms we see on our favorite television shows. How amazing would it be to live in Lorelai Gilmore's house or even to lounge in Downton Abbey's library?
So of course, we -- your humble home decor fans -- got to work. Here are creative tips to get the look and feel of TV's most stylish sets. Try them for your home and see the fab difference!
1. Shared Loft - New Girl
Apartment 4D is an LA dream! This loft, shared by Jess, Nick, Schmidt, and Winston, is a super-spacious open-floor home appropriately filled with style points. (Photo via Emily Henderson)
Home decor tip #1: An open floor plan beautifully improves your home's space and light. Don't burden it with full-size dividers and furniture. Opt instead for strategic pieces like the sectional sofa and low-level bookcase above.
Home decor tip #2: Soften the modern-industrial architecture by adding light drapes and some throw pillows. We recommend the cute pet-themed pillow here:
2. The Ricardos' Living Room - I Love Lucy
This beloved '50s sitcom may have aired in black and white, but an elegant style shone through in Lucy and Ricky's home. And as the Lucy Desi Museum now allows us to see, the living room in full color is timelessly gorgeous! Just look at that decorative molding and that navy sofa that crowns it all. (Photo via Jennifer Huber)
Home decor tip #3: Neutral-toned walls set the stage for dramatic furniture. The dark-blue couch above pops up so well against its beige environment, and so does the piano that is framed by dark-blue curtains.
Home decor tip #4: Balance a considerably-sized fireplace by arranging multiple smaller decor pieces above it. Try a multi-piece artwork like the trio below. PS. We've got some tips for hanging wall art in proportion to furniture, here.
3. The Gilmores' House - Gilmore Girls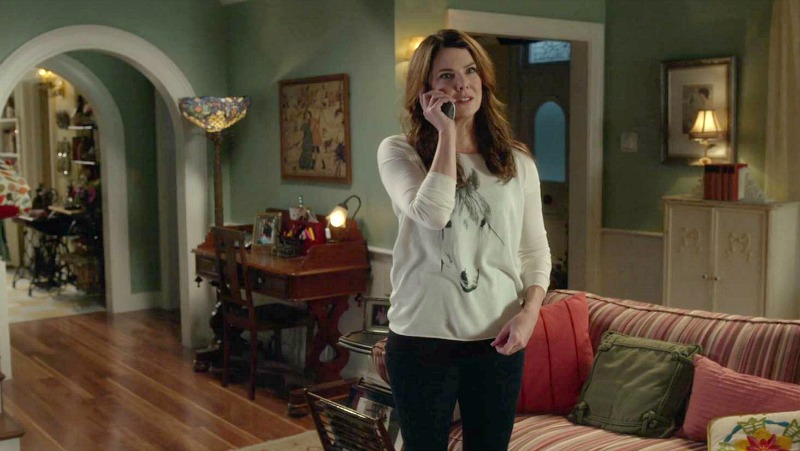 Though they're wholesome and unpretentious, Lorelai and Rory Gilmore have that incredible charm to them. Their suburban house is the same: homey but quirky, nice but extraordinary. We don't even know where to start -- the interior archways, the mish-mash of tchotchkes, or the lovely porch! (Photo via Julia Sweeten)
Home decor tip #5: Don't be afraid to display your collections throughout your home! Every corner of this TV show house features a desk or a shelf showcasing photographs, mugs, and baubles.
Home decor tip #6: Notice how those display desks and shelves don't look like they're random clutter? They're 'anchored' to the wall with complementing artwork! By pairing your furniture with wall decor, they look like deliberate design vignettes -- which they are. Try hanging a soft, non-competing canvas print like this one:
4. Library - Downton Abbey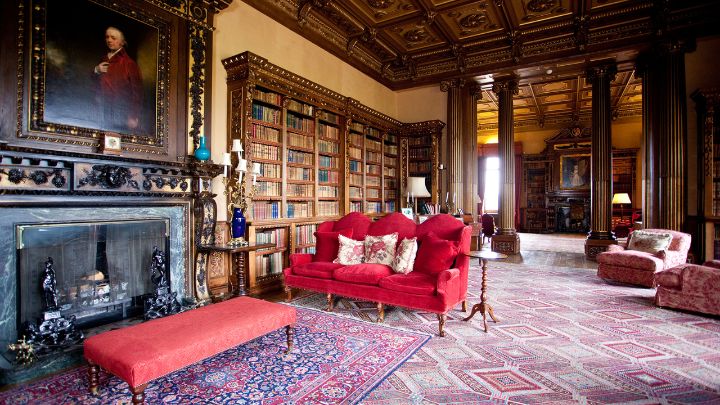 Okay, let's be realistic: this show is set in a castle. But if we could snag just a bit of Highclere Castle's library lavishness, we'd be in bookworm heaven. Can you imagine reading the afternoon away on that velvet couch? (Photo via Four Seasons Hampshire)
Home decor tip #7: Deep reds go well with wood tones for that regal feel. If your home is filled with wood furniture, shelves, and paneling, complement it with a ruby-colored chair or a jewel-toned rug. Just one or two pieces is enough.
Home decor tip #8: Not enough budget for a full-size personal portrait? Go for personalized canvas prints instead! Below is an example of wall art you can customize with your own family photo.
5. Lily's Artwork - Gossip Girl
This juicy series about upperclass New Yorkers is noted for its enviable fashion and interior style. There are at least three different GG homes we could include in this list, but we've picked Lily's apartment for its modern decor and art. (Photo via Stella + The Stars)
Home decor tip #9: Good modern art isn't exclusive for pricey galleries and studios. Sometimes, you score impressive but inexpensive pieces from local artists. See our compilation of chic but budget-friendly artworks here.
Home decor tip #10: Typography is an art, too! The "Prada Marfa" sign above is actually a take on a real-life art installation. Our favorite pick for classy typography art is this (much more affordable) YOLO sign in gold print:
6. Nigella's Kitchen - At My Table
Of course we're including a chef's kitchen in this list! Every time we catch Nigella Lawson on TV, there are always two things that spark our desire: her recipes and her kitchen stuff! (Photo via HouseBeautiful)
Home decor tip #11: Notice the various storage options in this bustling room. There are closed cabinets on the bottom (away from eye level), open shelving above that, and some practical hanging hooks above the island. The open shelves and hooks are meant for lighter, more visually appealing items like glasses and bowls. The rest, you can hide in those cabinets.
Home decor tip #12: When you display items on your wall-to-wall shelves, you don't need so much wall art. Focus your attention instead on the items on display. Handpick items that are practical but also charming, like this cute wine bottle holder:
7. Monica's Bedroom - Friends
No TV show list is complete without this iconic sitcom! Monica's pretty bedroom takes this spot for its sweet but artful taste. The shabby-chic style (distressed paint!) paired with pastel hues could have easily felt saccharine if not for the funky artwork included in this set. (Photo via Scene Therapy)
Home decor tip #13: Always go with your style personality when decorating your bedroom. It's your own private space -- there is no "too girly" or "too boring" or "too youthful" if you're in love with it!
Home decor tip #14: If you want to make like Monica and balance your pastel pinks a little bit, hang artwork that has bold colors in it. You don't have to pick the loudest, brightest painting though! A jewel-toned piece, like the deep-orange canvas print below, should do the trick.
Which of these TV homes are you crushing on? We love all of them! If you have a stylish TV show you'd like to add, tell us in the comments. Or if you're ready to do your home decor shopping, head on over to the Gear Den online shop! See you there!
Leave a comment
Comments will be approved before showing up.
---
Also in Gift and Decor Guides
Celebrating Thanksgiving 2020 is so important, as we should cherish the things that we can still be thankful for. Here are wonderful decorating ideas to fill your home with joy and coziness for your Thanksgiving dinner.
Among our favorite home interiors are those of our customers. No, really! Check out this new batch of real-life homes with great interior decor. No staged magazine photos or unrealistic interior styling here. Just loads of doable styling tips for you!
Move over, gallery walls. Displaying one oversized wall art is the freshest decor trend loved by both interior designers and real home dwellers. Check out these tips and examples that may just convince you to go big!