Modern and Creative Family Tree Ideas You'll Love To Display
A family tree is a wonderful heirloom that can also serve as decor for your home or a gift to a loved one. But while it is a timeless and universal keepsake in any clan, your own family tree should be uniquely beautiful. It doesn't even have to look like a plain old diagram! It can be a genealogy artwork, a wall ornament, a 3D display -- the ideas are endless. Take a cue from these modern takes on the quintessential family tree.
1. Encased in glass
How magnificent is this glass-dome family tree? It will look stunning as a centerpiece, a mantelpiece, or a side table decor. The Martha Stewart website provides inspiration for this, and you can find do-it-yourself instructions here.
2. Canvas print
A canvas-printed family tree is professionally made and stays durable for a long time, making it the perfect wall decor to last for generations. It's almost like having your own piece of commissioned art, except canvas prints are much more affordable!
The example above is a rustic family tree design that you can personalize with your own family members' names. For an extra-special touch, you can order a variant of this print that includes a fitting wall quote about family (below):
3. On a tray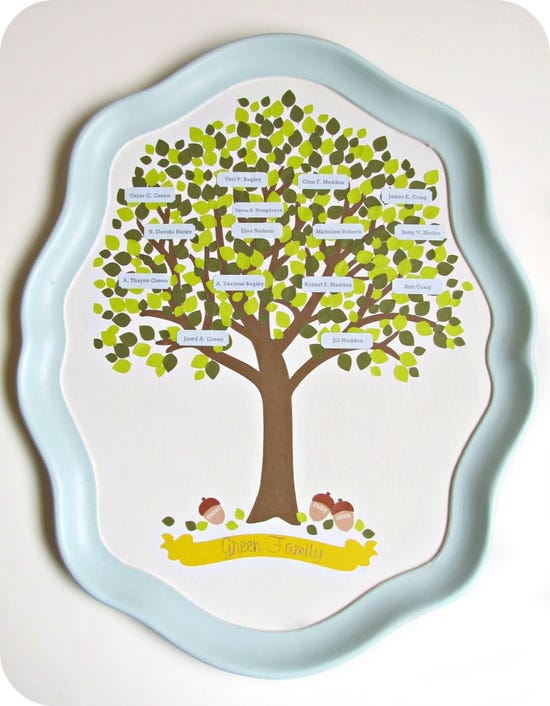 A classic family tree design gets an eye-pleasing update, thanks to the beautiful shape of its frame. The best part? This 'frame' is simply a re-purposed food tray! This easy but pretty DIY craft was even featured on Good Housekeeping -- and it will look just as fabulous on your wall.
4. Zany hearts
"A little bit of crazy, a little bit of love, and a whole lot of love." If that describes your family perfectly, then this personalized canvas print is for you! It veers away from the traditional family tree diagram in favor of an endearing heart-filled design. Plus, you can customize it with as many as a dozen names, printed in sweet calligraphy.
5. Scrabble fun
Now this is a fun version of the family chart. Mommy crafter This Is Sesame used Scrabble tiles to spell out the name of each family member. We figure crafting this 'family tree' is more delightful if you let the kids help! They'll love being able to spell out their name and decide where to place it.
6. Calligraphy art
Calligraphy has earned its much-deserved place in the decor world today. This practice of graceful handwriting (or font styles) makes for elegant yet accessible art pieces. A great example is the custom family wall art above, which features your family name plus the names of your family members. It would make the perfect welcome sign in your entryway or a wall decor in your dining room.
7. Precious diamonds
If you'd like a more minimal and sophisticated family tree, this might be for you. It's an elegant collage of black-and-white family pictures cut to the same diamond size. The framed result would make a chic wall piece for modern, minimalist interiors. See the DIY instructions here (use Google's translation service to switch from French to English).
Inspired by these fantastic family tree ideas? It's never too late (or too early) to start compiling ancestry names and pictures. If you'd rather have your family wall art professionally made and of premium quality, see the many customizable pieces on GearDen.com. Families like yours have fallen in love with their personalized Gear Den art -- start designing yours today!
Leave a comment
Comments will be approved before showing up.
---
Also in Gift and Decor Guides
This February 14th, bring back 'kilig' -- that sweet, giddy feeling of being in love. Forget off-the-rack items and pricey restaurants. Here are romantic V-Day gifts and activities that can make your loved one blush, swoon, or cry tears of joy.
Interior decor enthusiasts have spoken: the 2021 Colors of the Year seem to be hit-or-miss. Let's take a look at various experts' Colors of the Year 2021, from Pantone, Benjamin Moore, Sherwin-Williams, and more.
For an instant decor refresh, you don't have to buy any new decor at all! Just move certain home items from one room to another, repurposing or rearranging them to create a new twist in the space. Read on for some easy, no-cost decor hacks!