Season's Savvy! 9 Holiday Decor You'll Reuse Every Year (Eco-friendly!)
Isn't it strange that we all have that box of Christmas decor we take out from the attic year after year, yet stores still have a huge demand for new decorations each year? This tells us something about how much we really spend on sprucing up our homes for the holidays, plus the waste we continually throw out.
So this year, we at Gear Den have looked into ways we can minimize holiday decor spending and waste by opting for quintessential ornaments that are reusable and environment-friendly. Try these decor items you'll buy (or make) once and enjoy for years!
1. Christmas canvas art
Canvas wall art is an ingenious way to decorate for any season because it has immediate impact, longer durability, and an endless array of beautiful designs. It's also highly convenient -- you can just order a premium piece from Gear Den, we'll ship it straight to your doorstep, and you can hang it right away! Saves you so much time and stress during this hectic season.
You can top your mantel with a charming winter scene (above), brighten your wall with a holiday-red magical print (below), or accent a corner with the joyful words of Christmas (further below).
2. Season's throws
Another super-easy and highly practical holiday decor for your home: throw pillows and blankets! They don't even have to bear poinsettia prints or Santa's face -- even if they have an all-year-round design, as long as they match your Christmas color scheme or theme, they'd fit right in!
How about the cozy personalized family-print blanket above in a lovely teal color, or the elegant navy-blue pillow below for a festive touch?
3. Sustainable garlands
Thanks to brilliant DIY crafters from all over the internet, we can now make our own holiday garlands that are pretty and eco-friendly, too! One quick Google search can give you tons of tutorials using various materials such as paper (above), fabric, and even lace doilies (below). Try DIY-ing this decor item this year!
4. Burlap wreath
Here's another do-it-yourself decor that will keep on giving: crafter Carrie Murphy shares how to make a burlap wreath that you can design and re-design for every season every year! Can you say sustainable?
5. Woodsy touches
The winter holidays call for rustic decor inspired by lovely walks in the woods and cozy cabin fires. You might accentuate your home with pressed leaves immortalized in frames, and tabletop arrangements of twig and holly. For something more enduring and reusable, opt for wall decor with a wood-like design, like the custom "Home" sign above (which features a sweet winter wreath in its design), or the starry dining room wall quote below.
6. Bauble bowl
Don't throw away your faded, chipped, or cracked Christmas baubles just yet! You can keep reusing them in many creative ways, such as by grouping them in a bowl to make a sparkly centerpiece. You can also arrange them on a tray of candles and ribbons for a glimmering coffee table topper. Or stack them in a clear tall glass for an instant corner accent. Or add them to a basket of holiday fruits to create a whimsical variety. Those old Christmas tree balls can basically breathe new life to anywhere you want to add glimmer and shine.
7. Glass containers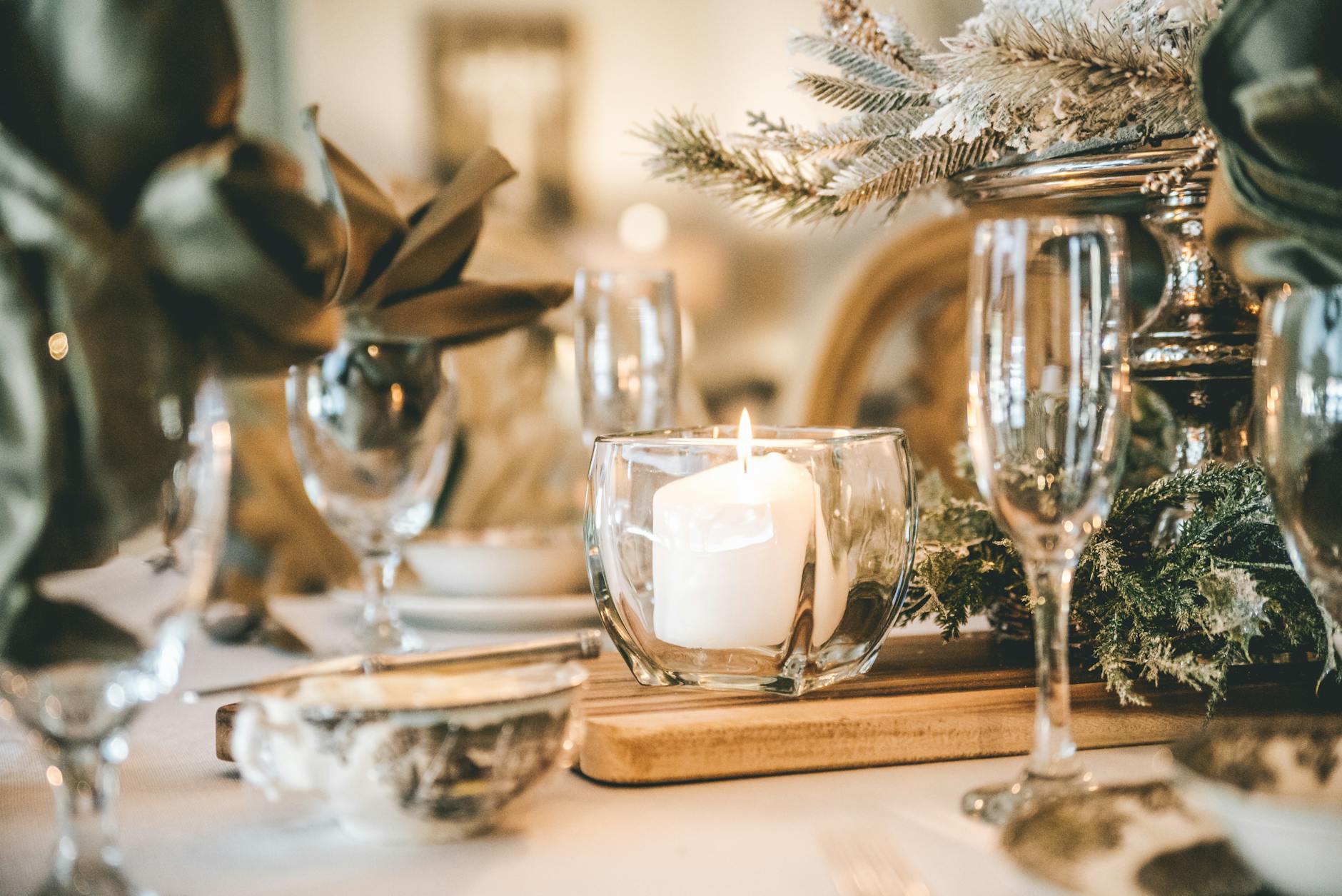 Speaking of glimmer and shine, take out those good old glass containers from their year-round duty, and use them to add gleam to your holiday decor! If you have a lovely glass vase or two, they can accentuate a tabletop just by themselves. Or if you have a simple mason jar, a set of votive holders, or even shot glasses, play around with what you can put in them. Flowers and candles are a good start, but try twigs and leaves, small fruits and candies, tiny trinkets, fairy lights... the list goes on!
8. Gift boxes
Pretty gift boxes may just be what you need to liven up that space under the tree, or to make a bare corner in your house look more festive. Stack them from the floor, arrange them with other decor, or open them up and stuff them with fabric, toys, and ornaments. Plus, after the holidays, you can also use them for extra storage.
9. Wrapping paper
Believe it or not, there are people who take care not to tear up the paper when unwrapping their presents. Try it! With the reusable wrapping paper in your hands, you can make garlands, collages, Christmas cards, cabinet liners, decoupage, and many, many more. Can't think of where to start? Designer mom Lindsey Wilkes shows us how to make the fabulous party coasters above using paper and tile (tutorial here).
Oh, and yes, you can use your saved Christmas paper to wrap smaller presents next year, too. :)
What do you think of these reusable decor ideas? We're trying out many of these this year. What about you?
If you love the decorating ideas here, you'll also like our on-trend tips and tricks for winter decorating. And if you want to see more of the Christmas wall art and home decor featured here, browse GearDen.com now!
Leave a comment
Comments will be approved before showing up.
---
Also in Gift and Decor Guides
This February 14th, bring back 'kilig' -- that sweet, giddy feeling of being in love. Forget off-the-rack items and pricey restaurants. Here are romantic V-Day gifts and activities that can make your loved one blush, swoon, or cry tears of joy.
Interior decor enthusiasts have spoken: the 2021 Colors of the Year seem to be hit-or-miss. Let's take a look at various experts' Colors of the Year 2021, from Pantone, Benjamin Moore, Sherwin-Williams, and more.
For an instant decor refresh, you don't have to buy any new decor at all! Just move certain home items from one room to another, repurposing or rearranging them to create a new twist in the space. Read on for some easy, no-cost decor hacks!