Stunning! 10 Entryway Decor Ideas That Make A Great Impression
The entry, the mudroom, the foyer -- whichever you have in your home (and whatever you choose to call it), the front room of your house is one of the most significant. It has several key functions: it's the first space to keep muddy footwear away from the rest of the house, it's the last room where you put on your finishing touches as you head on to your day, and last but not least, it makes that all-important first impression to your guests!
To decorate this space, you have to balance functionality with style. Just because it's where the dirty shoes are doesn't mean it should look derelict! To guide you, here are decor tips and ideas for a gorgeous entry your family and guests will love.
1. Be strategic about storage.
So many things land in the entryway, from shoes to coats to various last-minute accessories. No doubt ample storage is needed here, but don't let that get in the way of style. See if you can make your shelves and racks fit seamlessly into the space to minimize visual clutter. Notice how the cabinetry above perfectly matches the main wall color? Another good bet are closed cabinets that are cohesive with the rest of the room: you can stash all your stuff in there, shut the door, and poof -- your entry's flawless again.
2. Go minimal.
If the impression you want to make is understated elegance, embrace the minimalist style. Instead of filling the room with ornaments, keep just a few key pieces with subdued color, sleek lines, and clean shapes.
But it doesn't have to be plain and forgettable! Play around with size, symmetry (or asymmetry), and juxtaposition. We love the visual impact created above using a black-framed round mirror above an iron-frame console table. Sleek but striking.
3. Go maximal.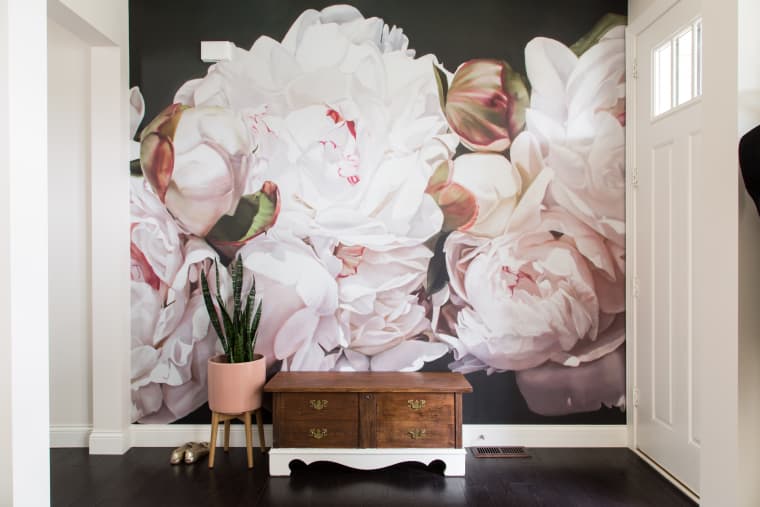 On the other hand, maximalist interiors can definitely look oh-so-chic, too! Just look at this entryway we found on Apartment Therapy, which successfully features a show-stopping mural. The number one trick that makes this work? All the colors in the space are coordinated!
Other decor options you can try for maximal impact: patterned wallpaper, oversize prints and tapestries, a floor-to-ceiling gallery... the list goes on.
4. Hang unforgettable art.
When in doubt, just hang a high-impact artwork. You can forgo any other decor piece if your wall art by itself is eye-catching, genuinely interesting, and unique. At Gear Den, some of the most unforgettable artworks we've seen in homes are either beautiful, large-scale pieces (hard to miss) or custom-made prints with personal touches.
Wall art pictured above: Personalized Family Initial And Name Premium Canvas
5. Create a vignette.
A vignette is a deliberate, artful arrangement of still objects. This is a favorite trick of interior decorators -- and ours, too! Imagine you're walking through your front door and taking a photo of the very first scene you see in your home. That's the vignette you want to work on. A trusty combo you can try is a credenza topped with an artwork and some tabletop decor. Read our step-by-step guide on composing a decor vignette here.
Wall art pictured above: Personalized "Home Sweet Home" Panoramic Wall Art
6. Wow with a welcome.
Nothing is quite like a good old welcome sign to usher your visitors into your family abode. Pick one that's not just homey but stylish, too! We particularly love a custom family monogram because it's classy, striking, and wonderfully personal. Your guests will be asking where you got it made!
Wall art pictured above: Personalized Family Name Premium Canvas
7. Display a statement furniture piece.
A beautiful antique sideboard, an ornate chair, a sophisticated floor lamp -- sometimes, one piece of furniture can already make the room. If you have one that just can't seem to fit well into the other spaces in your house, it just might make an impressive feature in your entry hall! The best part is that furniture like these are good conversation-starters, making a perfect walking-in sight for your guests.
8. Go vertical.
Lots of homes unfortunately have tiny or even non-existent entryways, making it tricky to buffer people's entrance into the main house. But don't give up just yet! You can set apart this space by furnishing it vertically, like with a shoe rack that's tall instead of wide, or a closet that's skinny enough for the designated area. Our favorite trick? Lay down a pretty but functional area rug that's suitably sized for the floor space, then match it with a vertical artwork on the wall.
Wall art pictured above: Personalized Family Name "Home" Premium Panoramic Canvas
9. Emphasize a theme.
Decorating can get pretty brain-racking, especially when it's about making an impression. Which color goes with what? Which wall decor should you pick? For decisions like these, it's incredibly helpful to have one theme for the room and stick to it. We've seen many entry halls and foyers that clearly have one motif in mind, be it glam, coastal or nautical, floral, or black-and-white.
And it seems that there's one theme that's the most popular among American entryways: farmhouse rustic! Who doesn't love some natural wood decor and cozy furnishings?
Wall art pictured above: Personalized Rustic Family Name Premium Panoramic Canvas
10. Treat it like a lounge. 
Don't you just wish you could replicate the comfort level in those reception areas of spas and hotels? The good news is, you can scale down that same style for your own entry hall! A major part of it is how you style the seating. For example, you can outfit this space with a couch or bench, then jazz it up with pretty throws. You can also go the 'mini-salon' route, evoking those sitting rooms and tea parlors of old: arrange a cushy chair or two with a small center table, then top off with flowers (see above). So charming for a mudroom!
Wall art pictured above: "Family... Love" Premium Canvas
We're pretty sure you can try one or more of these ideas for your entryway today. Which one is your favorite? Comment below!
For more of the fantastic wall decor featured here, browse GearDen.com and see lots of customer-starred home items!
Leave a comment
Comments will be approved before showing up.
---
Also in Gift and Decor Guides
Interior decor enthusiasts have spoken: the 2021 Colors of the Year seem to be hit-or-miss. Let's take a look at various experts' Colors of the Year 2021, from Pantone, Benjamin Moore, Sherwin-Williams, and more.
For an instant decor refresh, you don't have to buy any new decor at all! Just move certain home items from one room to another, repurposing or rearranging them to create a new twist in the space. Read on for some easy, no-cost decor hacks!
The world greets 2021 in a subdued manner, but that doesn't mean it will be completely cheerless! If you're staying at home and celebrating with just your family, here are great decor tips and activities for a festive New Year's Eve 2021.