Too Luscious Not to Try: 9 More Ideas To Decorate With Plants
Hands up if you can't get enough of indoor plants! They're one of our favorite decor elements (even though we don't exactly have that enviable green thumb). And we're not just fans of the practical benefits of greenery, i.e. cleaner air, stress relief, and so on. As interior decor fans, we love the style factor of plants, too -- how they instantly add life and beauty to our homes 99 percent of the time.
So, in the name of style, we're always on the lookout for creative ways to display plants at home. Nothing wrong with keeping your leafies potted in a corner, but they could definitely draw more oohs and aahs. We've started with our first batch of tips here, and now, here are more of those cute plant decor ideas that will make you go, "Why didn't I think of that?"
1. Rack 'em up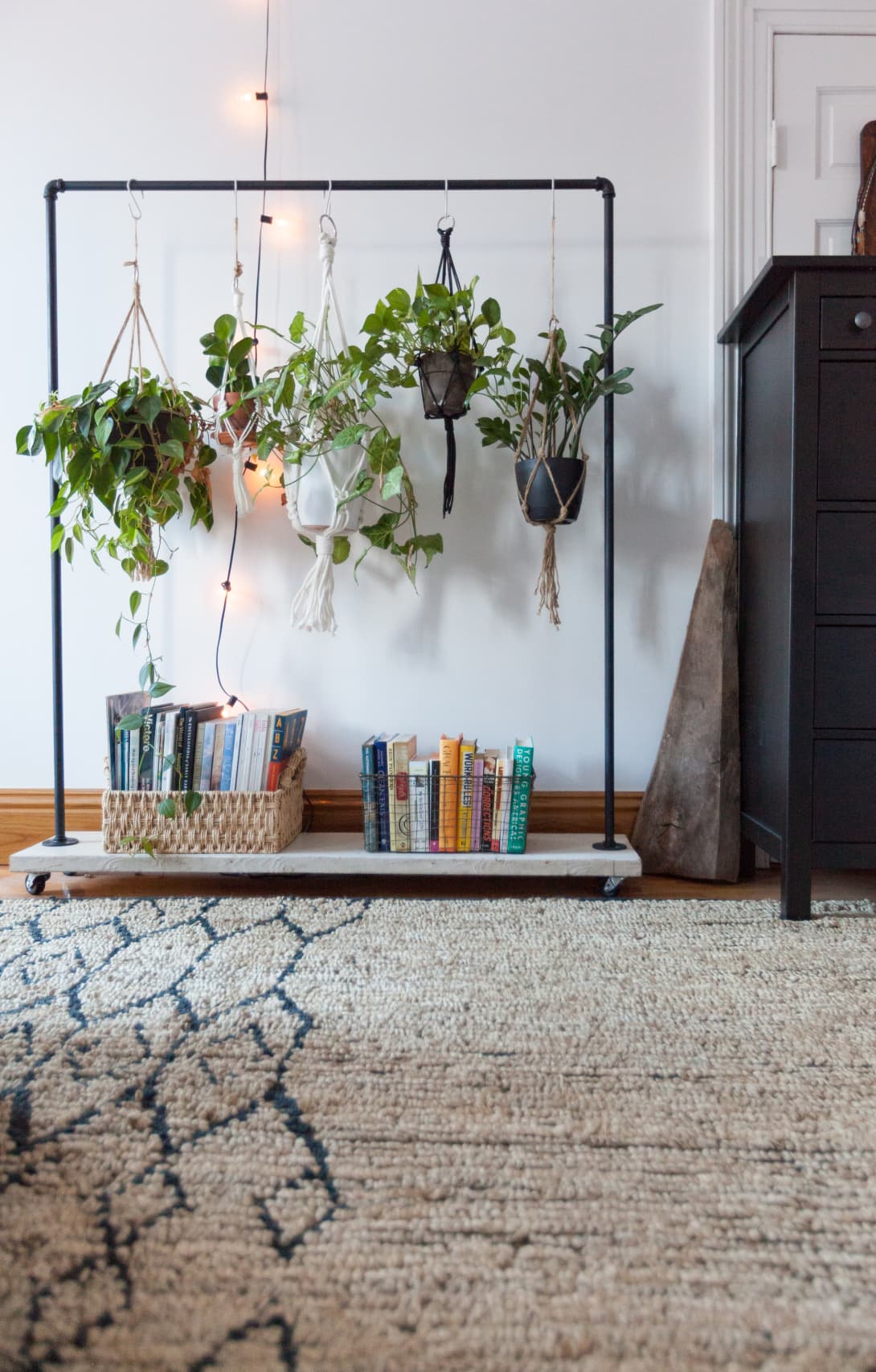 Trend alert: hanging plants on a clothing rack is a new favorite trick of interior stylists! It's so unexpected and definitely makes a stunning impact. It also makes sense, especially if you can't install any more hanging fixtures on your wall or ceiling. We like this particular plant rack we saw on Apartment Therapy, as it cleverly incorporates some additional storage for books at the bottom.
2. A sprinkling of herbs
You're probably familiar with indoor herb gardens, and you probably even have one yourself. How about trying this fresh approach? Instead of grouping all your herbs in one box planter, plant them in smaller pots that are pretty and handy. You can then display your herbs in more locations around the house as cute little accents. Just look at the lovely dining spread above, dotted with luscious herb plants. No need for centerpieces!
Wall art pictured above: "Eat Well, Travel Often" Premium Canvas
3. Family tree
Want something more glorious than small potted plants? Grow an indoor tree! Thanks to modern-day horticulture, we now have so many gorgeous tree species that can thrive well in an indoor container. These include several varieties of fig, citrus, palms, and more. Depending on what you allow, they can grow to a lovely medium height or touch the ceiling, if you prefer!
Wall art pictured above: "Home" Premium Canvas
4. Standout platform
The simplest way to add extra oomph to your potted plant? Give it a lift -- literally!  Home decorators today are partial to elevated planters, whether they're placed atop a dedicated table or nestled in elegant geometric stands (see above). Think of the many attractive platforms you can use to emphasize your house plant! A stack of books, a small side table, a dollar-store plant stand... the possibilities are endless.
Wall art pictured above: "The Best Memories Around The Table" Premium Canvas
5. Birdcage beauty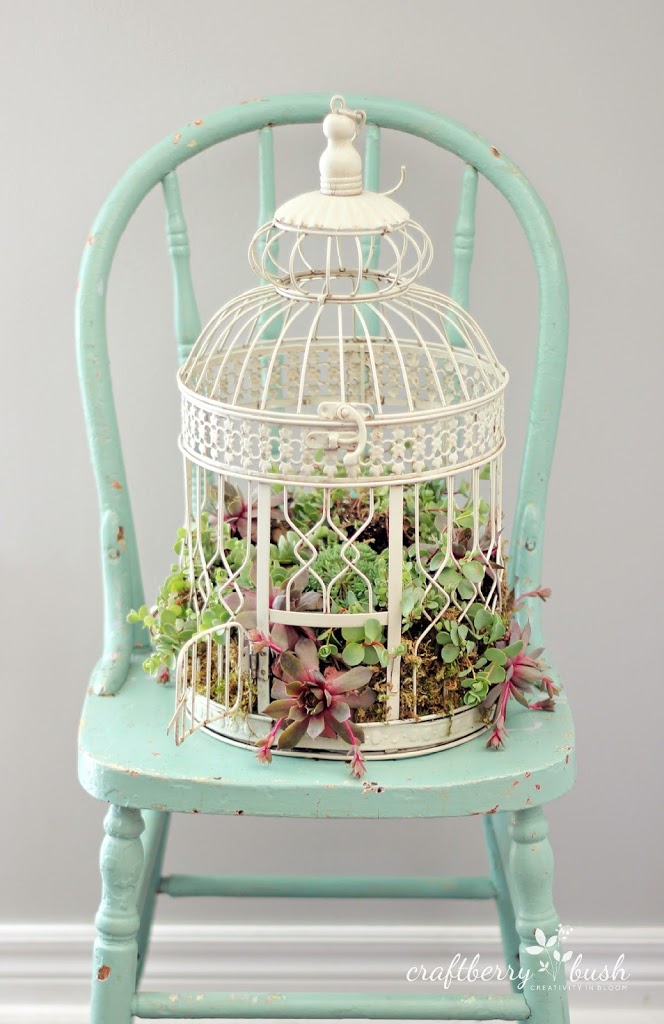 Who doesn't love succulents? They're the perfect combo of cute and low-maintenance! And since they're so easy to grow, there are plenty of ways to show them off. One of our favorites is this incredibly charming birdcage planter teeming with happy little succulents. The creative hands at Craftberry Bush has this tutorial you can follow.
6. Desktop stunner
We usually think of palms as trees growing tall from the ground. Well, here's a surprise: there are indoor palm plants that can grow right on your desk! There are actually several species of these tabletop palms, including the umbrella palm (above), the Bella, and some fountain palms. Though these miniature varieties are relatively low-maintenance, be sure to research on how to keep them in their most beautiful form.
Wall art pictured above: "Gold Framed Art Deco Sky" Premium Canvas
7. Full house
If you browse through recent interior decor magazines, you'll notice that modern homes are far from shy when it comes to house plants. They're filled with them! We're talking planters upon planters of foliage, lush green vines across indoor walls, and even hanging plants used as window treatments!
It can work magnificently, but if you're afraid you might turn your house into a jungle, try a toned-down version. Pick a corner or two where you can mix and match a variety of plants. A combo that works? Big, bold leaves paired with dainty miniatures.
8. Hanging spotlight
And since we mentioned hanging window plants, we just can't help but share this brilliant planter DIY from Miss Alex of Northstory. Just attach a lightweight planter to an embroidery hoop, and voila -- an elegant hanging spotlight for your plant! We've actually seen some similar circle planters being used as window decor in a magazine home. Now you can get the look for a fraction of a price!
9. Verdant art
Another decor trick we often notice in interior magazines is pairing potted plants with a piece of artwork. It's a simple way to create an aesthetic vignette that makes an impression in your guests. If you have just a few basic greens (like the ferns above), this grouping tip will help amplify their attractiveness.
Wall art pictured above: Personalized "Love Grows Best" Canvas
We just can't wait to try several of these plant display ideas! Which one is your favorite? Tell us in the comments, or better yet, start browsing for decor to go with your plants! Check out GearDen.com for five-star home items!
Leave a comment
Comments will be approved before showing up.
---
Also in Gift and Decor Guides
The best interiors are those that strike the perfect balance between comfortable and beautiful. So how do they do it? Here are some of their 'secrets' -- which aren't really secrets, but tips and habits that you can apply in your own home.
The search for your Mother's Day present stops here! After lots of feedback from our real-life customers, we've realized that 
a custom wall art is the best (material) thing to give to mom
 this year. Here's why.
If you'd love to make a good impression on your guests -- or just really love decor that can't be found anywhere else -- we got you! These wall art ideas are unique, one-of-a-kind, and charmingly attractive, they'll add character to your home.