Large-scale Wall Art: The New Decor Trend With Major Impact
A lot of us are fans of gallery walls in our homes. After all, it's fun to mix various artworks and photographs together to create a focal point for our guests (and ourselves). But hear this out: instead of hanging multiple wall decor, putting up a single, oversized wall art can make a bigger, classier impact.
In fact, this is an interior design trend that pros are loving these days. Says interior designer Carneil Griffin: "Large-scale framed, fabric, and canvas pieces are starting to rival gallery wall arrangements above sofas in the living room and elsewhere in the home. The next time you feel compelled to fill a bare wall with a bunch of little works, think about hanging one big statement piece [instead]."
Here at Gear Den, we've learned that large-scale wall art can bring amazing design advantages:
A single wall art looks put-together. Instead of a jumble of small pieces that pull our attention to many directions, a lone artwork eliminates much of the visual clutter, so it looks expertly composed and has that immediate WOW impact.
Big art makes the space feel big, too. As counterintuitive as this sounds, a lone statement art can trick the eye into thinking that the wall is larger than it is. Plus, it will feel like there are fewer objects in the room, less clutter, and consequently, more breathing space.
Large-scale art feels luxe. It gives the impression of opulence and finer tastes (you'll notice that many tastemakers' homes have select artworks that are huge). Thankfully, if you go with canvas artworks, you won't actually have to break the bank because canvas prints are affordable!
Convinced to go big yet? Here are our top tips and artwork picks for decorating with large-scale wall art.
1. Support a local artist.
Your city probably has a wealth of talented painters, sketchers, and photographers who deserve more patronage. See if you can score a statement piece from them for a budget-friendly price. Some places you can look are local studios, exhibitions, and Facebook pages. Also look out for fantastic pieces from those street artists that people just pass by!
2. Get your monogram.
Having your own monogram is an effortless way to show elegance. Get a custom monogram representing your own name, or have one for your family name and display it in your entry, living room, or dining room. Our customers at Gear Den absolutely love their personalized monogram art from our Initials collection and our Family Name collection. They get tons of compliments for these!
Wall art pictured above: Personalized Family Name Color Choice Premium Canvas
3. Magnify public domain images.
There's an endless array of images out there that are public domain, meaning they are completely free for anyone to use as they please. From Van Gogh paintings to classic wallpaper patterns, you can download these images, blow them up on a computer, and print them for display.
Our current favorites are vintage botanical illustrations. Just google "public domain botanical images", and you'll find tons of rustic sketches and watercolors that are perfect for farmhouse interiors!
4. Top off your bed.
Statement art looks so good above your bed, since this area of the bedroom is already visually dominant. You want to hang just the perfect piece in terms of content, size, and proportions. Our best bet? A lovely panoramic art piece that complements the size and color of your bed, like in the photo above.
Wall art pictured above: "Soulmates" Premium Panoramic Canvas
Another good reason to use giant wall art in the bedroom is to help conceal the lack of a headboard! Notice how in the photo below, the pillows and the artwork are arranged so that the bed looks gorgeously complete even without a head panel.
Wall art pictured above: Personalized "Love" Names On Heart Premium Canvas
5. Feature a solo figure.
Sometimes, it's a minimalist artwork that makes an immediate impression. If your style is simple and minimal yet full of character, we recommend displaying a large artwork featuring just one subject or figure in it. Be it a still life, an animal, a symbol, or anything else, make sure it's a figure that you really like for the room! With its size and lack of competition, it will immediately command attention and will set the atmosphere of the space.
Wall art pictured above: Elegant Pink Flamingo Premium Canvas
6. Throw in all your names.
We know you like personalized family art! So if you have a nice blank wall in your living room, dining room, entry, or den, go all out by putting up an oversized wall decor with all your family members' names designed into it. This is a neat alternative to a gallery wall with a mishmash of details about your family.
Wall art pictured above: Personalized Family Names On Hanging Hearts Premium Canvas
7. Display a special map.
Maps have a certain visual appeal, especially when they are aesthetically designed or have gained the richness of antiquity. It's even better when they have an interesting story behind them! If you have a map that has a special meaning to you, you can blow it up into a nice wall mural. Maybe it's about your birthplace, or the place you met the love of your life, or about all the many places around the world that you've been to. Turn it into a decorative conversation piece!
Bonus tip: Wall maps are also a fantastic background for those online video meetings or classes. Hang a nice map on that wall behind your chair!
8. Fill it with colors.
In a home made of beiges and whites, one colorful artwork can make all the difference. You can go with a large piece full of bright Crayola colors, but our current favorites are pretty watercolors and pastel prints, like agbove. They're not garish on the eyes, but they still exude a charming vitality that improves the ambiance of the room.
Wall art pictured above: Personalized "They Are The Beat Of My Heart" Premium Canvas
9. Make a bold statement.
Are you brave enough to display an unusual word as art? The word (or words) you display easily shows off your personality, and so do the choice of colors and font type. See how the "YOLO" print above feels cheeky, but also elegant because of its gold-and-black calligraphy. Thankfully, typography and calligraphy artists have produced an endless variety of interesting pieces -- some are cute and whimsical, while others are dainty and sweet.
Wall art pictured above: "YOLO" Gold Typography Premium Canvas
10. Hang a tapestry.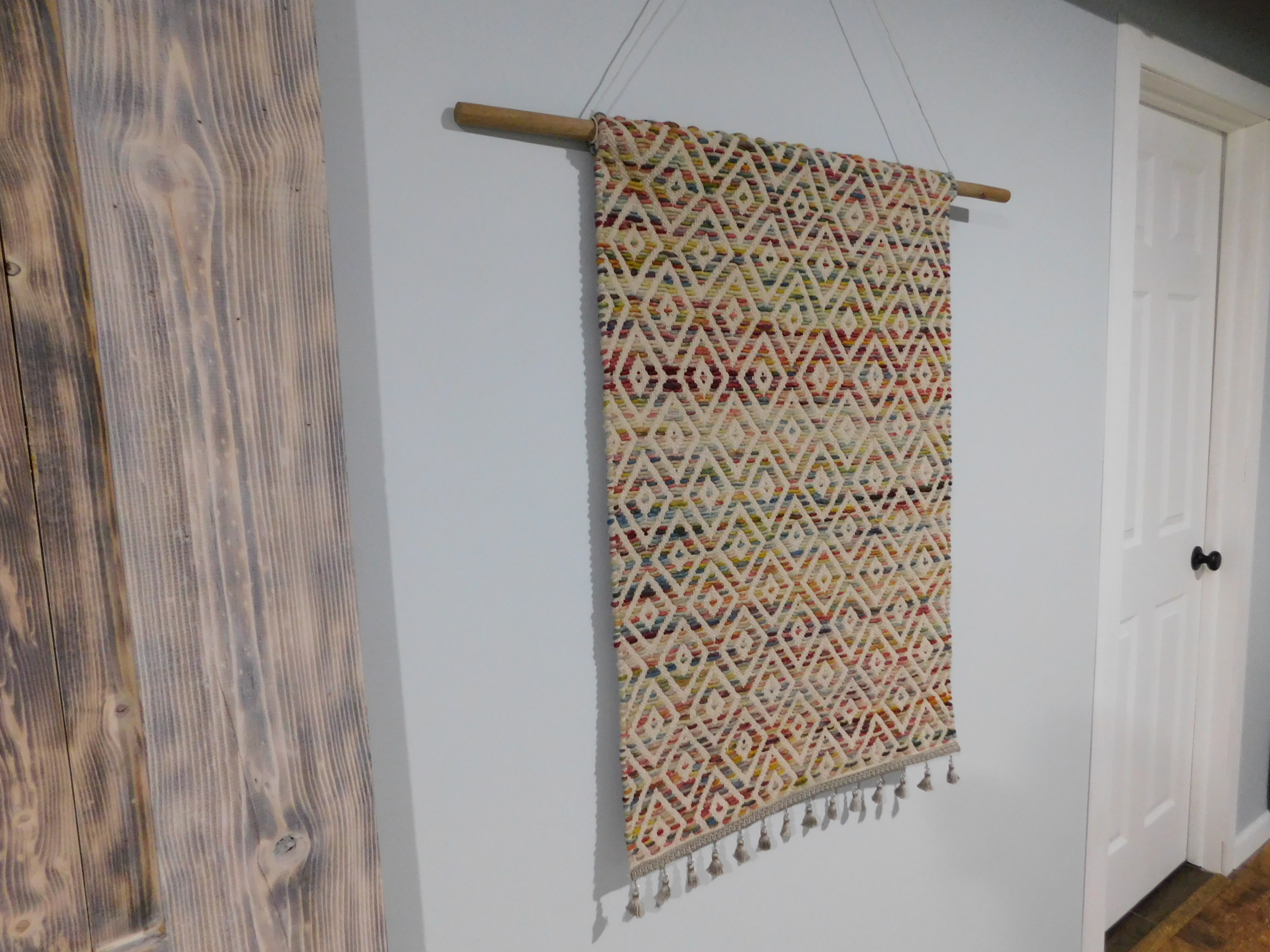 Beautiful textiles can be works of art that deserve to be displayed! And sometimes, we find this beauty in unexpected cloth items such as quilts, curtains, and rugs. If you have a large piece of fabric that would shine in the spotlight, you can google some DIY methods to hang it on your wall. Be inspired by crafter Leah who turned her eye-candy rug into wall decor (above). It's a neat alternative to buying mass-produced tapestries.
11. Lean it on the wall.
No wall hooks? No problem! One stylish way to showcase that large artwork is to prop it up against a wall, on top of your favorite dresser or sideboard. Take a look at the sophisticated vignette that our customer Evy C. has created above. She layered some select decorative items in front of the artwork, so the canvas piece doesn't look like it was randomly placed there. What a sweet corner display!
Wall art pictured above: Personalized "My Favorite Place Is Next To You" Canvas
12. Impact with abstract.
Sometimes, an abstract artwork is just what's needed to complete a room. A geometric print, for instance, fits perfectly in a sleek, modern space (like above). A painting of wild brushstrokes, on the other hand, adds a perfect dose of color and dynamism to an otherwise plain room.
When you find a big abstract piece that you really like, consider if there's a wall in your house that would make a great stage for it. Then watch your guests gravitate towards the piece, and let the interesting conversations roll!
With these tips and examples, we're sold on decorating with large wall art! How about you? If you're eager to hang a new wall piece in your home, browse GearDen.com now! We have lots of customer-starred decor pieces in various styles and sizes. You'll find one or two you'll really love!
Leave a comment
Comments will be approved before showing up.
---
Also in Gift and Decor Guides
This February 14th, bring back 'kilig' -- that sweet, giddy feeling of being in love. Forget off-the-rack items and pricey restaurants. Here are romantic V-Day gifts and activities that can make your loved one blush, swoon, or cry tears of joy.
Interior decor enthusiasts have spoken: the 2021 Colors of the Year seem to be hit-or-miss. Let's take a look at various experts' Colors of the Year 2021, from Pantone, Benjamin Moore, Sherwin-Williams, and more.
For an instant decor refresh, you don't have to buy any new decor at all! Just move certain home items from one room to another, repurposing or rearranging them to create a new twist in the space. Read on for some easy, no-cost decor hacks!